Service Advisor Advice from Steve Shaw [RR 586]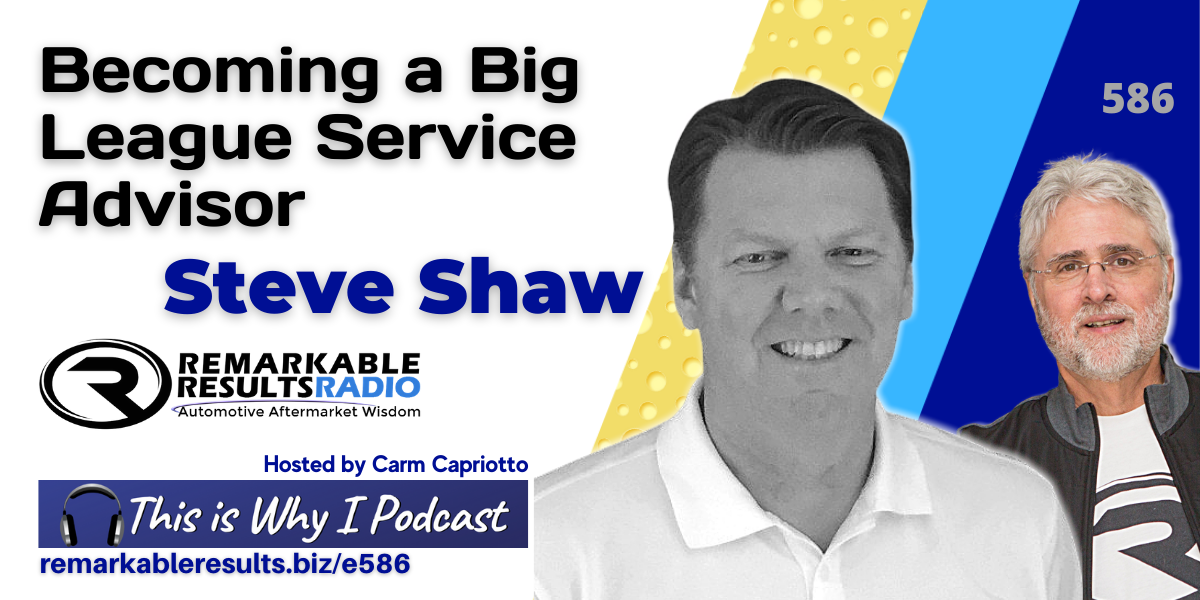 Steven E. Shaw is a Professional Speaker and Trainer. Mr. Shaw holds various educational accomplishments including an MBA and PhD. Steven has trained thousands of service personnel.
Steve provides tools to allow the customer to BUY. Steve has created the ultimate service advisor-training program that is being used in dealerships worldwide. Whether it is the entry-level express advisor to the veteran service consultant, Steven has proven to get results. These results always drive Customer Repair Order Performance and Service Advisor Paychecks.
Prior to COVID Steve hosted Service Advisor Training in locations across the United States. Now Steve has pioneered LIVE-Online Training from his Virtual Studio. Mr. Steven Shaw is hands down an automotive expert and an inspiring speaker for the automotive industry.
Find out more about Steve at SteveShawTraining.com and GOSteveShawTraining.com He can be reached via email at Steve@SteveShawTraining.com
Key Talking Points:
"Tool guy" if you follow the tools and training you will sell more
Once you have a customer, they choose you, then they are your customer- not competition between shops or dealerships. They are YOUR customer to lose.
Customers buy more when they are satisfied with shops performance and they trust
Words with people- right words at the right time to retain customersNever use the word "recommendation" because it puts you in the category as a salesperson- customers distrust anyone's "recommendation"
Never use the word "should"- should is actually a command when oftentimes it seems like an option. Being told what to do is a turnoff and customers will resist on what they "should do."
Instead, present the facts and truth- pass or fail parts in the vehicle. Fail the standards and are no longer safe to operate. "Your brakes are bad and we recommend you replace them" vs "Your brakes have failed our inspection today." Either green or red, no yellow in between based on standards. And let customers know what is "important or require attention."
Why customers buyFear of losing money- "I'm afraid if I don't buy it'll cost me more money" 70% of people buy based on fear of loss
Hope for gain- "I hope I get something in return" value in what you provide
Customers know their budget- shifting the burden of importance
Handling objections- consequence for not buying is what makes a customer buy
"Value gets customers into the shop, the need is what gets them to buy."
Selling more maintenance Using the phrase "minimum requirement"- keep the vehicle in compliance
Selling more tiresTires either pass or fail, let customers know the next time they come in their tires will fail standards- 70% of customers buy from the first person that tells them they need new tires. Ask the customer if they would like an alignment- simple and profitable
Resources:
Thanks to Steve Shaw for his contribution to the aftermarket's premier podcast.
Link to the 'BOOKS' page highlighting all books discussed in the podcast library HERE. Leaders are readers.
Find every podcast episode HERE.
Every episode segmented by Series HERE.
Key Word Search HERE.
Be socially involved and in touch with the show:
Facebook Twitter Linked In Email
Listen for free on Apple Podcasts, Google Podcasts, Spreaker, iHeart Radio, Spotify, Podchaser and many more. Mobile Listening APP's HERE
Join the Ecosystem – Subscribe to the INSIDER NEWSLETTER HERE.
This episode is brought to you by AAPEX, the Automotive Aftermarket Products Expo. AAPEX represents the $740 billion global automotive aftermarket industry and has everything you need to stay ahead of the curve. The Virtual AAPEX Experience 2020 is in the record books. Virtual AAPEX lived up to presenting leading-technical and business management training from some of the industry's best and brightest. Now set your sights on the homecoming in Las Vegas in 2021. Mark your calendar now … November 2-4, 2021, AAPEX // Now more than ever.

This episode is brought to you by Shop-Ware Shop Management. It's time to run your business at its fullest potential with the industry's leading technology. Shop-Ware Shop Management will increase your efficiency with lightning-fast workflows, help your staff capture more sales every day, and create very happy customers who promote your business. Shops running Shop-Ware have More Time and generate More Profit—join them! Schedule a free live demonstration and find out how 30 minutes can transform your shop at getshopware.com/carm