Customer Service vs. Customer Experience with Murray Voth [RR 591]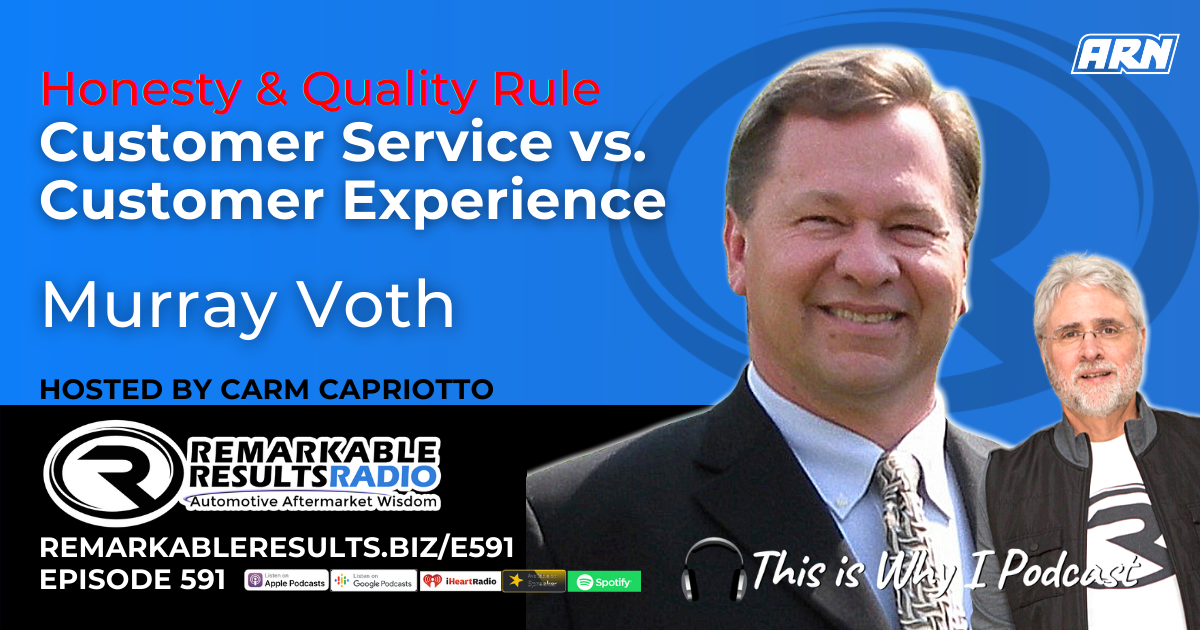 Murray Voth is one of Canada's most knowledgeable experts on the automotive industry, especially as it relates to business development of the independent automotive service and repair sector. He focuses on improving profitability, best practices in management, financial management, systems implementation, human resources and leadership. He spends significant time researching the issues facing the industry from a macro and micro level and brings training and coaching solutions to his clients. He is the owner and principal trainer of RPM Training which provides services to clients such as Napa Auto Parts, Napa AutoPro, Napa AutoCare, Fountain Tire, Integra Tire, OK Tire, TireCraft Canada, Group Touchette, APD Auto Parts, and AutoServe1. Murray is also involved in the Automotive Retailers Association of BC, the Canadian Independent Automotive Association, and the Automotive Industries Association.
From 2006 to 2018 Murray was on contract as the senior trainer and training material consultant for Total Automotive Consulting and Training. He has also done training and material development for RLO Training and Consulting in the United States. As an automotive management trainer and facilitator for the past 15 years traveling to every corner of Canada, his sole focus has been researching, developing and implementing strategies that improve business results for his clients.
He is intimately familiar with the issues and challenges faced by the business owners on a day-to-day basis and exactly what it takes to help them to make the changes necessary to succeed as a business owner. As a trainer and consultant, he has worked all across North America and has firsthand knowledge of what is and is not working in each jurisdiction. His thorough understanding of the automotive business started when he owned and operated automotive maintenance and repair facilities for 20 years. During the time he owned his shops he took all the training that was available. He continuously strives to improve his understanding of what it takes to be successful in this industry. He has firsthand experience of how to successfully implement the various skills, knowledge, tools and processes that he now teaches.
In addition to his facilitation work, Murray has written extensively for industry magazines as a regular business columnist, these include CARS Magazine, Car Care Business, ARA News and Indie Garage. He also writes curriculum for automotive, as well as non-automotive management training. His passion for organizational leadership and development has led him to work with a leading researcher discovering new dynamics that lead to highly effective organizations and leaders.
Murray has a passion for the automotive industry and considers it a privilege and the fulfillment of a lifelong dream to bring information and training that reduces stress, and improves the economic circumstances of small business owners, their staff, and their families. Some of his clients have grown from being the only employee in their shop to 6 employees, and in some cases going from one shop to owning multiple locations, and more than doubling the size of their workforce. Listen to Murray's previous episodes HERE.
Key Talking Points:
Being genuine, be yourself- don't fake it
Can't assume customers know how an automotive repair shops run- think about what it feels like to be a customer that walks in. Customers don't know what to ask or automotive terminology language. They have blind trust.
Honesty and quality is the baseline for any automotive shop in a customer's eyes- they are calling you for a reason.
More than a smile and handshake- do customers feel like they are home and cared for?
Ask questions they know answers to so they feel comfortable – what brings you here, have you had this issue before etc.?
Is your advisor rushing? Do you have enough advisors so they don't feel like they're feeling processed
Touchless business- removing the "friction"Pre-booking appointments and sending reminders
What is the customer expecting? What do they need? What do they want?
But during COVID restrictions people tended to want human interaction- there needs to be a split 50/50
"Qualifying the customer's expectations "- of service experience and of their car (what are your plans with your car for the future?)
Resources:
Thanks to Murray Voth for his contribution to the aftermarket's premier podcast.
Link to the 'BOOKS' page, highlighting all books discussed in the podcast library HERE. Leaders are readers.
Listen for free on Apple Podcasts, Google Podcasts, Spreaker, iHeart Radio, Spotify, Podchaser, and many more. Mobile Listening APP's HERE
Find every podcast episode HERE.
Every episode is segmented by Series HERE.
Key Word Search HERE.
Be socially involved and in touch with the show:
Facebook Twitter Linked In Email
Join the Ecosystem – Subscribe to the INSIDER NEWSLETTER HERE.

As a member of the NAPA family, AutoCare Center owners can take advantage of the NAPA National Health Program from the NAPA Insurance Center. This "NAPA only" program gives you and your employees access to national "large group" rates on medical insurance with premiums discounted up to 30 percent. These rates are based on the collective purchasing potential of 22,500 NAPA locations including both NAPA AUTO PARTS stores and NAPA AutoCare Centers.
The NAPA Insurance Center can help you with a variety of other insurance benefits too. For more information about The NAPA National Health Benefits program as well as all of the insurance benefits available to your AutoCare Center and your employees, visit the NAPA Benefits Center, at www.napabenefitscenter.com or call the NAPA Benefits Center at 844-627-2123.