Hiring Superstars with Jerry Kezhaya and Dr. Laura Shwaluk [RR 594]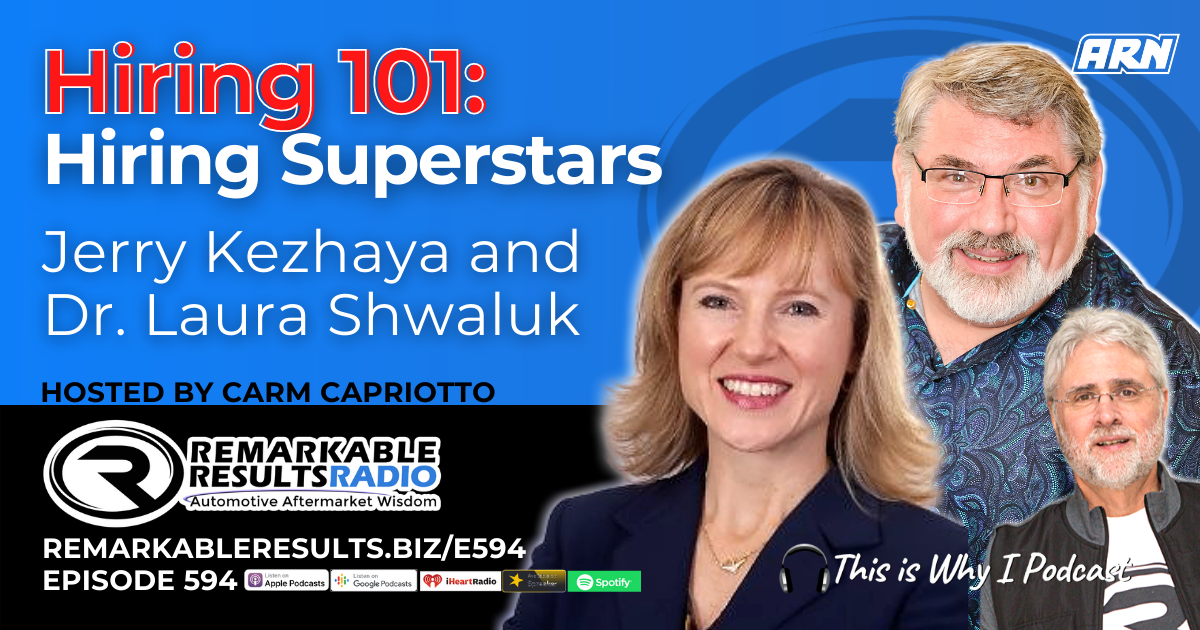 Jerry Kezhaya from The Auto Shop in Plano Texas has been in business since 1981. Plano is a northern suburb of Dallas with a population on 280,000. According to Jerry, it is the top growing county in the US. His 35,000 sq. ft. shop has 21 lifts with two flats per lift.
Jerry is a business coach and prides himself for getting out of the shop between 80 and 120 days a year to work with clients, attends seminars and enjoys wine. Listen to Jerry previous episodes HERE.
Dr. Laura Shwaluk has a Bachelor of Science in the field of Cellular, Molecular, and Microbial Biology and a doctorate in Chiropractic with certificates in neurology, applied kinesiology, nutrition, and functional endocrinology. She practiced wellness and functional medicine in Texas for 20 years and is the author of three books.
Laura is happily married and devoted to the love of her life, Jerry Kezhaya. Together they manage The Auto Shop and Business Builders Mentor and Mastermind USA. Her specialized business interests are in accounting, operational systems, and people management. Her passion is to help entrepreneurs accelerate their business and open the doors of mental blocks that prevent them from succeeding. Listen to Laura's previous episodes HERE.
Key Talking Points:
Hiring superstarsContrary to the common misconception, good people aren't hard to find when you know how to do it and you're a good employee
Ability to grow business correlates to ability to delegate
When testing professional detectives on hiring 50% of the time they make wrong choice
Why do we have employees?.Do the things we don't want to do .
Do the things you can't do (bookkeeping etc)
Problems when hiringTolerating mediocre employees because you think good people are too hard to find
Hiring the wrong person is a very expensive mistake- cost 4x annual salary in first 6 months
Standard interview- looking at resume, call candidates to come in and schedule roughly an hour with each. Out of 12 only 4 might show up.
Hire based on how they "seem" in your personal opinion (good attitude, enthusiastic etc)
Effective hiring system for CSR and marketing help- naturally filter candidates Clear job description
Create outgoing message for anyone that wants to apply- number to call with voicemail about who you are, what you're looking for, what you're not looking for (hosted numbers)
Once they leave a message you can login and listen through phone messages quickly
Effective hiring system for technicians Posting ad on Indeed starts on top then after a month it'll become buried- repost new ad
Call and talk directly to owner- find out why are you leaving current position, where are you currently working, where do you live, are you accepting unemployment etc
Interview with owner and team- walk through shop together
Effective firingKnow your state regulations
Example Texas- must have cause for firing
Premade forms for writing someone up- communication form (expectations for performing job) to be signed by employer and employee and have copy. Firing form- (white, yellow, pink) written warning, final and copy for files/unemployment. Documenting is key , have witness in room and record it
Fire fast, hire slow
Resources:
Thanks to Jerry Kezhaya and Dr. Laura Shwaluk for their contribution to the aftermarket's premier podcast.
Link to the 'BOOKS' page highlighting all books discussed in the podcast library HERE. Leaders are readers.
Find every podcast episode HERE.
Every episode segmented by Series HERE.
Key Word Search HERE.
Be socially involved and in touch with the show:
Facebook Twitter Linked In Email
Listen for free on Apple Podcasts, Google Podcasts, Spreaker, iHeart Radio, Spotify, Podchaser and many more. Mobile Listening APP's HERE
Join the Ecosystem – Subscribe to the INSIDER NEWSLETTER HERE.

This episode is brought to you by AAPEX, the Automotive Aftermarket Products Expo. AAPEX represents the $740 billion global automotive aftermarket industry and has everything you need to stay ahead of the curve. The Virtual AAPEX Experience 2020 is in the record books. Virtual AAPEX lived up to presenting leading-technical and business management training from some of the industry's best and brightest. Now set your sights on the homecoming in Las Vegas in 2021. Mark your calendar now … November 2-4, 2021, AAPEX // Now more than ever.

This episode is brought to you by Shop-Ware Shop Management. It's time to run your business at its fullest potential with the industry's leading technology. Shop-Ware Shop Management will increase your efficiency with lightning-fast workflows, help your staff capture more sales every day, and create very happy customers who promote your business. Shops running Shop-Ware have More Time and generate More Profit—join them! Schedule a free live demonstration and find out how 30 minutes can transform your shop at getshopware.com/carm