A Blessing in Disguise From My Biggest Mistake [THA 200]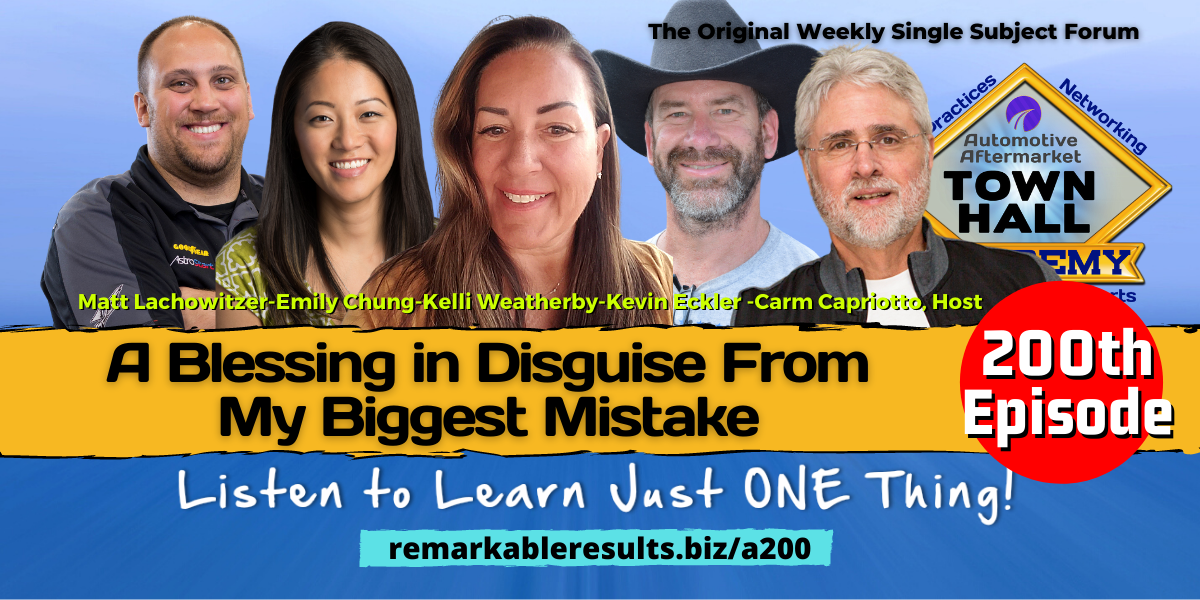 Matt Lachowitzer is a husband, father of 3, avid Minnesota Vikings fan, and owner and founder of Matt's Automotive Service Center. A Herman, MN native, Matt started this company as a two-bay shop back in 2009. He has expanded the company into 6 locations with beautiful, state of the art facilities all over the Fargo-Moorhead area. Matt enjoys being a pillar in the community, giving back in any way he can, and providing knowledge and education in the biggest ways possible. As a result of being a continuous educator and an amazing pillar in the community, Matt won Entrepreneur of the Year in 2015 through the Fargo-Moorhead West Fargo Chamber of Commerce. When Matt's not working, he enjoys fishing, riding ATV's, watching football, and traveling with his family. Check Matt's other episodes HERE.
Emily Chung is a proud mom of two energetic boys. She owns and operates AutoNiche, a family-friendly auto repair shop in Markham. She is a licensed Automotive Service Technician, and Automotive Writer with various publications. She also teaches in the Automotive Business School of Canada at Georgian College. Emily holds a degree from the University of Waterloo in Psychology and Business, and her previous jobs include Psychometrist and Human Resources Associate.
She has appeared on various media including Breakfast Television, Cityline, and the Marilyn Denis Show. She is passionate about her work; together with her staff, AutoNiche's purpose is to bring better communication and client service to the auto repair experience. Check Emily's previous episodes HERE.
Kelli Weatherby co-owner, with husband Lee, in Accurate Automotive, Inc. in Mesa, AZ. Accurate Automotive was founded in July 1994
Their time building Accurate Automotive, Inc. has been very adventurous. Along the way they have been fortunate to have received awards but mostly Kelli treasures her involvement in ATI and being a part of the sole all women 20 groups, Leading Ladies.
Kelli is the mother of 2. Morgan (daughter), Corbin (Son) both married now and working in their careers. Corbin is a father of 3 which makes me a Nana who LOVES to spoil her little's!!! Listen to Kelli's previous episodes HERE.
Kevin Eckler, a Dad and a mentor along with wife Lisa, own Foreign Car Specialists, in Poughkeepsie, NY. Kevin has been named Albany, NY region's ASE Tech of the Year 2019 and 2020. He was also voted Best mechanic in the Hudson Valley, which encompasses Westchester, Putnum, Rockland, Orange, Dutchess, Ulster and Greene counties. Kevin is a 40 year veteran of the industry, and still has a love for it and simply cannot understand why anyone would tell a young person to get out while they can, instead of inspiring them to greatness! Kevin's previous episodes HERE.
Key Talking Points:
Matt Lachowitzer
Not letting go of the cancer in my shop because he was a "super tech"
Some points
I was afraid because he was our best tech, highest producing, could fix anything
I didn't know if our team could replace what he could do
It appeared that he was well liked, and I didn't want to cause issues, even though it was causing lots of issues. Lost front end staff especially.
Emily Chung
I didn't terminate the employee soon enough
I believed that I couldn't run the business without him
The employee was a great technician, and I thought that meant I could take advice from him in other areas e.g. business operations
Lessons learned
Slow to hire, quick to fire
Being a tech and being a business owner are very different skills
I'm more resourceful than I give myself credit for, no matter what happens I'll figure it out
Blessings
The experience has added resiliency to my character
I now know the price I pay when I allow toxicity to persist
I was able to work through that season of my business
Kelli Weatherby
Our 20 group had made mention that we were going to have shop spotlights as a line item in our meetings for 2020 and beyond. As discussed, this would help shops/owners in reaching goals set along with many other advantages. Lee and I along with another local shop had been part of an in-person shop tour. So my thought was there is NO way we would be considered for a spotlight. OH BOY WAS I WRONG.
We were lucky to have 5 separate committees 1.) Facilities 2.) Marketing 3.) Management 4.) Finance 5.) Lee and Kelli Headspace support
Outcome (PRICELESS) – With the help that was rendered I believe we were prepared and STRONG in all that was 2020. We put together AND finalized our organization chart. Our standard operating procedures were dialed in with new manuals. Our financials and budgets along with our 3 yr business plan have been shared with our whole management team. Our succession is going forward. Lee and I are working diligently on our 35 yr marriage and have included a counselor that we BOTH agree is helpful. I mentioned this last but I certainly believe with ALL that I am, this is the most important work we do. In a business where the owner/operators are all in and on deck looking to manage personal challenges AND business growth and personnel engagement along with customer experience….MAN OH MAN this will spin the head
If you feel any of this is relevant to where you would like to go, I am an open book and glad to share. If not, l have had many experiences with what started out as a train wreck, turned to a golden opportunity for growth!!
Kevin Eckler
Being too busy and drawn up into the moment and not seeing the bigger picture was my fatal flaw.I was so consumed in the daily work that I never seriously sought out bettering myself thru business education and only sought out technical knowledge.
My focus was being the best at what I did, which is fine, except I continued to view myself as a tech and not an owner. It was safe, comfortable, familiar, and completely the wrong way to, which held growth and prosperity way back and kept us as a shop from being who we could have been.
So in short, not stepping into and owning the position that had come to hold and clinging to what was safe almost financially, physically, and emotionally destroyed me.Accepting and finally embracing my responsibilities and putting the same efforts into becoming an educated owner as I did as a tech is when the change began in the business towards being successful. It is still a fight to not fall back into what is safe, but I now own my place and responsibilities.
Resources:
Facebook Twitter Linked In Email
Join the Ecosystem – Subscribe to the INSIDER NEWSLETTER HERE.

This episode is brought to you by Shop-Ware Shop Management. It's time to run your business at its fullest potential with the industry's leading technology. Shop-Ware Shop Management will increase your efficiency with lightning-fast workflows, help your staff capture more sales every day, and create very happy customers who promote your business. Shops running Shop-Ware have More Time and generate More Profit—join them! Schedule a free live demonstration and find out how 30 minutes can transform your shop at getshopware.com

This episode is brought to you buy Shop Marketing Pros. Your guides are Kim and Brian Walker with a rich history as shop owners and industry veterans. When someone searches for a shop, who are they finding? Your competitors? It should be you! The good people over at Shop Marketing Pros know how to drive website traffic and make Google work for you! www.shopmarketingpros.com