Thinking Way Outside the Box with Greg Buckley [RR 597]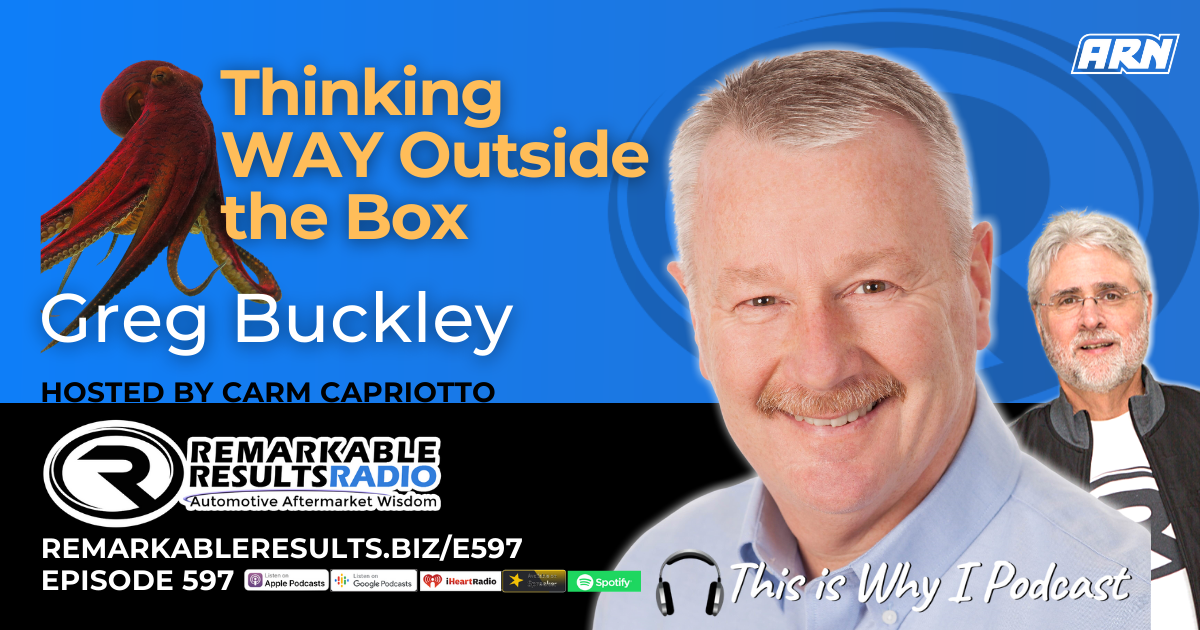 Greg Buckley is the CEO of the 50 + year young Buckley Personalized Auto Care in Wilmington, DE. He's a member of ASA, an ATI Coach, a member of the Delaware Automotive Service Professionals, past member of the NAPA advisory board council, is vice-president of NAPA business development groups, and is involved as an advisory board member of Kukui, along with AutoVitals. Hear Greg's previous episodes HERE.
Key Talking Points:
Get involved with associationsNetworking, training, being heard in your community and in the industry
Getting inspired National Geographic- learning the root of how thought is generated Nature produces- we translate and learn
Communication- being relatable and understanding how to communicate with the person across from you
Open yourself up and look from different perspectives
Everything you do is negotiable- have upper hand by knowing what other person is thinking and understand each other
Body language- observe customer body language as they get out of the car , walk in, and express themselves initially. Be able to control the conversation.
People speak more than they listen- we have two eyes and two ears for a reason. Listen to learn, not to reply.
OctopusEach tentacle is almost independent of itself
Neurological makeup is similar to a network
Tentacle will regenerate itself
Resources:
Thanks to Greg Buckley for his contribution to the aftermarket's premier podcast.
Link to the 'BOOKS' page, highlighting all books discussed in the podcast library HERE. Leaders are readers.
Listen for free on Apple Podcasts, Google Podcasts, Spreaker, iHeart Radio, Spotify, Podchaser, and many more. Mobile Listening APP's HERE
Find every podcast episode HERE.
Every episode is segmented by Series HERE.
Key Word Search HERE.
Be socially involved and in touch with the show:
Facebook Twitter Linked In Email
Join the Ecosystem – Subscribe to the INSIDER NEWSLETTER HERE.

The NAPA Smart Sign, previously known as Digital Menu Board, gives your shop a professional, state-of-the-art look and feel. It's a great way to educate and inform your customers about needed repairs and service, plus increase awareness of your current promotions. NAPA AutoCare Center that have installed a Digital Menu Board found one out of five consumers ask for a repair or service they've seen on the board. Targeted promotions resulted in double-digit increases. You choose the content from a library of auto care service and repair topics. The latest NAPA national promotions are downloaded to you automatically. And with the Digital Menu Board it's easy to change your services, prices, and video content anytime you'd like.
Learn more about NAPA Smart Sign and the hundreds of other benefits NAPA offers. Talk with your servicing NAPA store or visit www.NAPAAutoCare.com visit the NAPA Benefits Center, at www.napabenefitscenter.com or call the NAPA Benefits Center at 844-627-2123.