Brainstorming on Shop Ownership – A Business Not a Hobby [RR 607]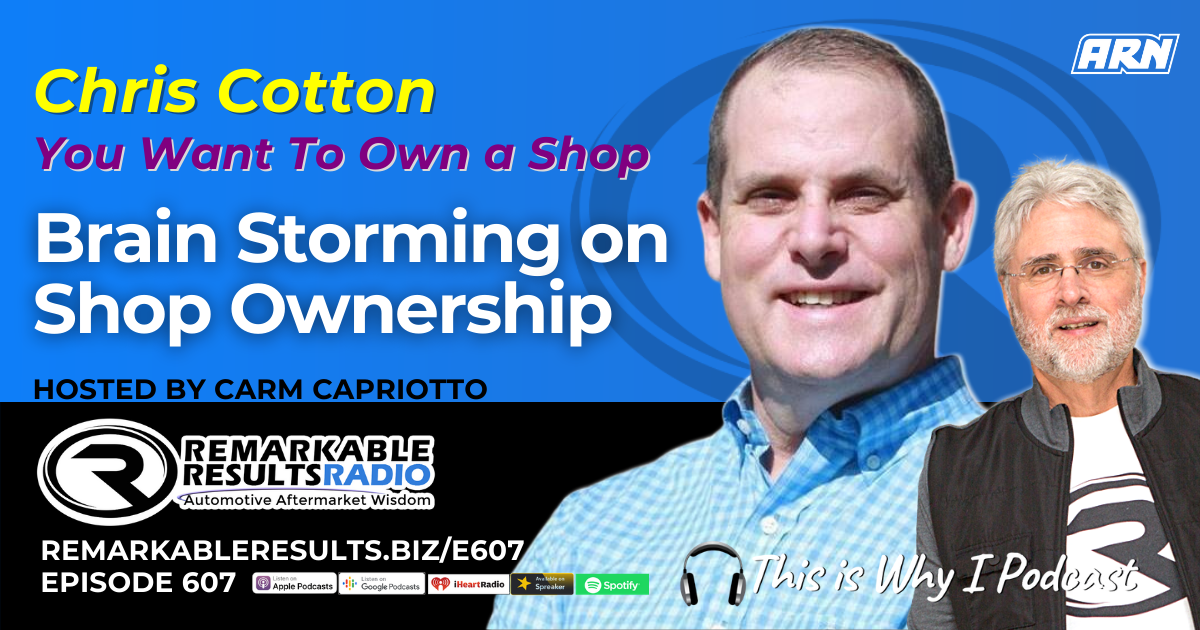 Chris Cotton has been in the customer service industry for over 40 years and has been in the auto repair industry for over 25 years. He is a former shop owner that has dedicated his life to helping YOU to get your business where you want it to be and helping you FOCUS on the things that matter to you. Find Chris' previous episodes HERE.
Key Talking Points:
Cannot fall under the assumption that once you buy a business it will start generating cash flow return- most of the time you need cash flow to put into the business
Additional expensesMarketing expense 3-5% – Facebook Ads, website, ad words campaigns, direct mail Need more than a website (need to have SEO content and ranking): need people to be able to find you. Potential customers will Google search for repair shops.
POS system, software upgrades, systems/processes
Payroll, accounting, business coach
Evaluate the business- budget, budgets, sales level, profit
Equipment maintenance- age of equipment, upgrades, inspections on lifts, set aside money for what will wear out and need to be replaced
Seek help from other shop owners/business coaches
Make your business work for you, don't let you work for the business
Succession planningEasier when it's done in house
Transition to go from one of the coworkers to now the boss
HR- Always changing and evolving, refer to handbooks, job descriptions, training, and state requirements when it comes to firing an employee
Resources:
Thanks to Chris Cotton for his contribution to the aftermarket's premier podcast.
Link to the 'BOOKS' page, highlighting all books discussed in the podcast library HERE. Leaders are readers.
Listen for free on Apple Podcasts, Google Podcasts, Spreaker, iHeart Radio, Spotify, Podchaser, and many more. Mobile Listening APP's HERE
Find every podcast episode HERE.
Every episode is segmented by Series HERE.
Key Word Search HERE.
Be socially involved and in touch with the show:
Facebook Twitter Linked In Email
Join the Ecosystem – Subscribe to the INSIDER NEWSLETTER HERE.

NAPA AutoCare's PROimage program makes it easy for you to make the most of the NAPA brand. A PROimage upgrade lets you maintain your shop's identity as a reliable, locally-owned business while letting your customers and potential customers know you're partnering with NAPA, the most recognized and trusted name in the automotive aftermarket. AutoCare Centers that have completed a PROimage exterior upgrade enjoy an average 23 percent sales increase during the first year. You can also choose to go PROimage on the interior and transform your customer waiting area from merely utilitarian to warm and welcoming.
You can even get a free look by visting www.NAPAAutoCare.com and clicking on the NAPA PROimage link under the NAPA PROimage tab. Of course, the AutoCare site is also the place to go to find out about all the advantages being part of the NAPA family has to offer. Visit the NAPA Benefits Center, at www.napabenefitscenter.com or call the NAPA Benefits Center at 844-627-2123.