Owner, Technician, Service Advisor – Working Together – AAPEX 2020 Honors [RR 606]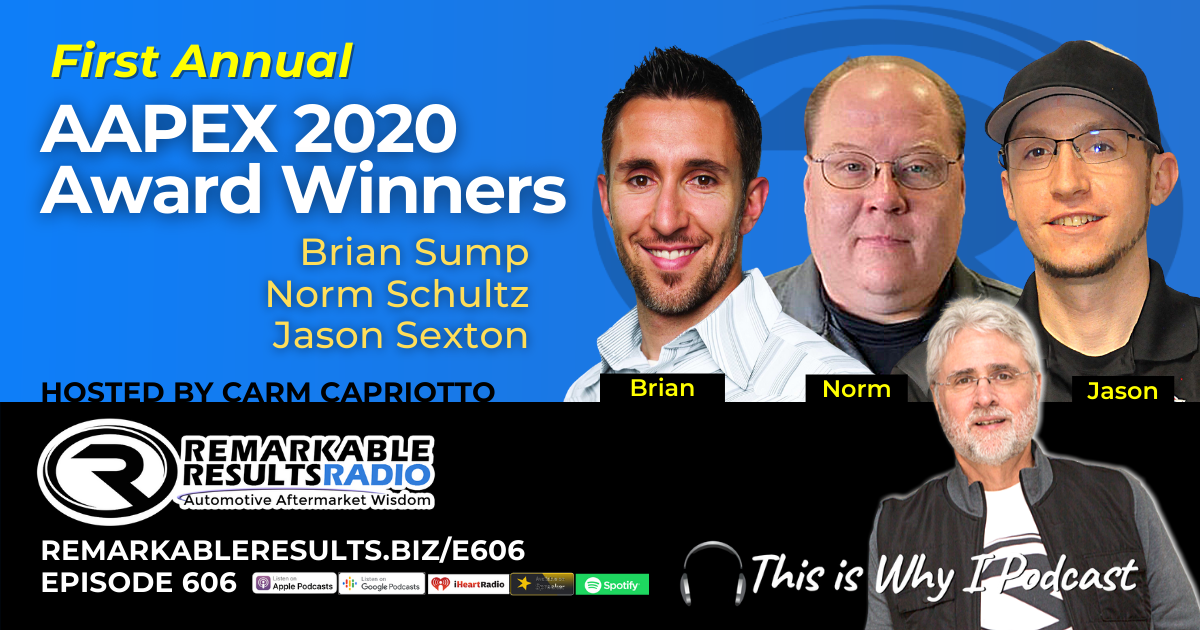 Brian Sump is the AAPEX 2020 Shop Owner of the Year. He owns Avalon Motor Sports and Urbana Auto Care, Denver Colorado Area
Norm Schultz is the AAPEX 2020 Technician of the Year.
He is an ASE Master Certified and he is from Interstate Auto Care, Madison Heights, MI owned by Bill Nalu.
Jason Sexton is the AAPEX 2020 Service Advisor of the Year. He is from Dynamic Automotive, Frederick, MD which is owned by Dwyane Myers, Jose Bueso and Lee Forman
Brian Sump is not your typical shop owner. A former professional athlete, Sump had never turned a wrench in a shop before starting Denver-based Avalon Motorsports in 2007. But in the years since, he has used his business acumen and detailed, process-based management philosophy to grow the German-specialty shop into what a number of industry consultants consider to be an industry leader. Brian now has four locations. Listen to Brian's previous episodes HERE
Norm Schultz. With no formal trade school training, Norm has worked 50 to 60 hrs per week throughout his 20 career. Getting a minimum of 40 hours of training. Making steps to a proper diagnosis. Because Norm is a ASE master technician in an auto/light truck and heavy duty truck, his workload can vary greatly day to day. His tools of the trade are everything from IATN and Identifix, to a network of seasoned technicians that he networks with regularly. Additionally, Norm has full discretion to source new diagnostic equipment/tools, and sign himself up for online and offline training for himself and his crew. Listen to Norm's episodes HERE
Jason Sexton has excellent sales skills. He has no problem getting the sale. He loves to learn. To keep him engaged, shop needed to send him to some form of major training a year. He is a sponge for knowledge. He has been to Vision, AAPEX, Automechanika,, Elite Worldwide 6 month Master training class, Jason Servito sales class and more. Listen to Jason's episodes HERE
Key Talking Points:
Company valuesYou're either demonstrating values or you are not
Can be easily forgotten if not at forefront of business- needs to be talked about during hiring process, employee reviews, training and day to day work environment
Instead of owner solely deciding on values, let team do it together
3 categories- aspirational (striving towards those everyday) minimum (minimum values you must possess) core/cornerstone (unwavering value)
Being a team player- celebrate the small wins and support each other during the difficult times
Learn how to communicate with each other and guide each other- read body language
Toxicity in the work environment can be a detrimental decline in business- what is causing the toxicity within that employee and how can it get turned around
Finding a "home" and reinventing yourself Discover Norm Shults "2.0"
Norm drives 86 miles one way to work. Sacrifices will be made to find the right work environment
Share the 'secret sauce' to success instead of protecting it
Always be of the mindset that you are training your replacement
Create leaders in your businessSecond in command
3 types of people in business- sponges (new people soaking up information and culture, hyengas (gossip, unpleasant) camels (one hump- loyal and make right choices, two hump- ideal employee, servant leader)
Always be recruiting
There's always tomorrowYou will get through it- no matter how difficult a situation may be
New customers tomorrow and the support of employees around you
Resources:
Thanks to Brian Sump, Norm Schultz, and Jason Sexton for their contribution to the aftermarket's premier podcast.
Link to the 'BOOKS' page highlighting all books discussed in the podcast library HERE. Leaders are readers.
Find every podcast episode HERE.
Every episode segmented by Series HERE.
Key Word Search HERE.
Be socially involved and in touch with the show:
Facebook Twitter Linked In Email
Listen for free on Apple Podcasts, Google Podcasts, Spreaker, iHeart Radio, Spotify, Podchaser and many more. Mobile Listening APP's HERE
Join the Ecosystem – Subscribe to the INSIDER NEWSLETTER HERE.

This episode is brought to you by AAPEX, the Automotive Aftermarket Products Expo. AAPEX represents the $740 billion global automotive aftermarket industry and has everything you need to stay ahead of the curve. The Virtual AAPEX Experience 2020 is in the record books. Virtual AAPEX lived up to presenting leading-technical and business management training from some of the industry's best and brightest. Now set your sights on the homecoming in Las Vegas in 2021. Mark your calendar now … November 2-4, 2021, AAPEX // Now more than ever.

This episode is brought to you by Shop-Ware Shop Management. It's time to run your business at its fullest potential with the industry's leading technology. Shop-Ware Shop Management will increase your efficiency with lightning-fast workflows, help your staff capture more sales every day, and create very happy customers who promote your business. Shops running Shop-Ware have More Time and generate More Profit—join them! Schedule a free live demonstration and find out how 30 minutes can transform your shop at getshopware.com/carm