Career Upgrade: Service Manager to Shop Owner at 29 Years Old [RR 608]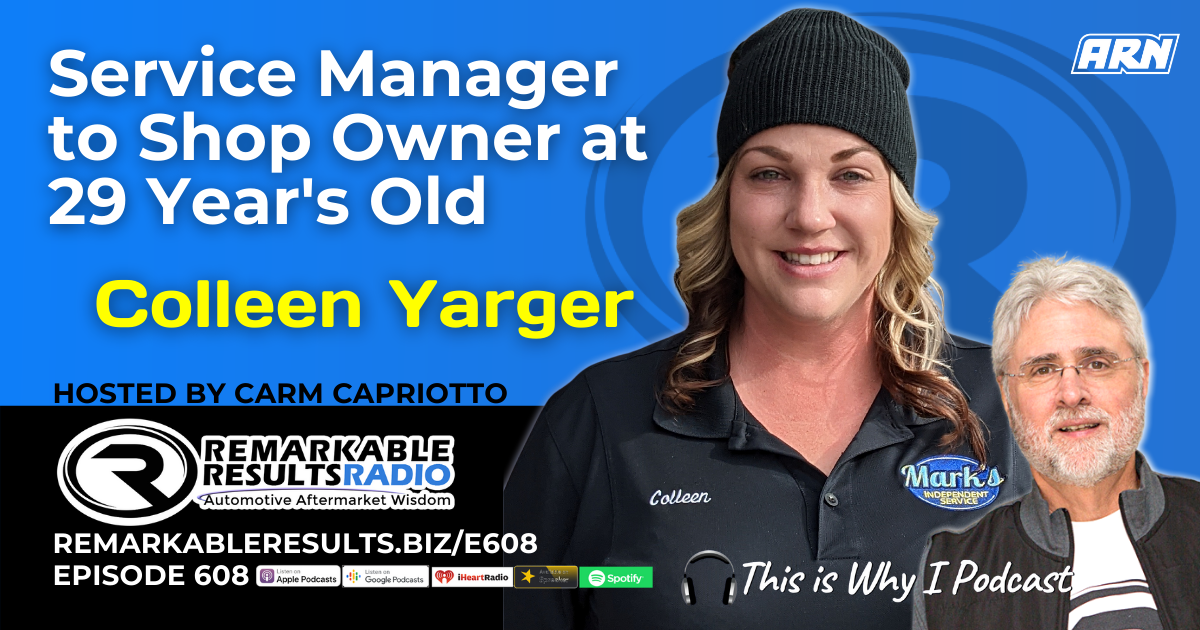 Colleen Yarger came from the hotel industry 10 years ago and now owns her own shop today. Colleen's career has been a whirlwind! She always had a passion for helping others and to become a true customer advocate in whatever job she had. She truly enjoyed being a service manager and thought what better way to continue her path than to become a shop owner.
Colleen enjoys taking time for the little things and traveling, a true old soul stuck in a millennial body. She spends most of her free time with family and loves to garden. Colleen's episodes HERE.
Key Talking Points:
Owner of Mark's Independent Service Owner as of January 4th, 2021. Purchased form Mark Goldsmith
Buys the shop before owning her own home
Came from the hotel industry (working front desk at 19 years old)- met Maylan Newton (hosted service writers school at the hotel). After sending him her resume and interview with Ryan Tunison and accepted the job without knowing what it was going to entail
The first day of the job was to sell work orders- didn't have any knowledge about cars but had a customer service experience
Spent time learning about cars and taking classes on the weekends
Moved back home and with the help of her business coach, had an interview with Mark- hired on a trial basis and hired after 3 days
Worked for Mark for 3 years and then bought the business at 29 years old
Constantly working with technicians on processes and procedures for business – written in tablet form
Has 4 bays, 1 technician, and 1 apprentice technician- interviewing to gain another technician and apprentice technician
Female service advisor- warming and inviting to customers when they first walk-in
Values the importance of belonging to associations- networking with other people and gaining insight on their input
Succession planDo I really want to do this? Where am I at in my career? Where do I want to go from here?
Worked with Bob Ward on the succession plan
Nerves took over her first day as owner- working on building self-confidence, often overthinks and second-guesses herself
Owners often don't know when they want to retire- if becoming a business owner is your goal communicate that with the owner
Resources:
Thanks to Colleen Yarger for her contribution to the aftermarket's premier podcast.
Link to the 'BOOKS' page highlighting all books discussed in the podcast library HERE. Leaders are readers.
Find every podcast episode HERE.
Every episode segmented by Series HERE.
Key Word Search HERE.
Be socially involved and in touch with the show:
Facebook Twitter Linked In Email
Listen for free on Apple Podcasts, Google Podcasts, Spreaker, iHeart Radio, Spotify, Podchaser and many more. Mobile Listening APP's HERE
Join the Ecosystem – Subscribe to the INSIDER NEWSLETTER HERE.

This episode is brought to you by AAPEX, the Automotive Aftermarket Products Expo. AAPEX represents the $740 billion global automotive aftermarket industry and has everything you need to stay ahead of the curve. The Virtual AAPEX Experience 2020 is in the record books. Virtual AAPEX lived up to presenting leading-technical and business management training from some of the industry's best and brightest. Now set your sights on the homecoming in Las Vegas in 2021. Mark your calendar now … November 2-4, 2021, AAPEX // Now more than ever.

This episode is brought to you by Shop-Ware Shop Management. It's time to run your business at its fullest potential with the industry's leading technology. Shop-Ware Shop Management will increase your efficiency with lightning-fast workflows, help your staff capture more sales every day, and create very happy customers who promote your business. Shops running Shop-Ware have More Time and generate More Profit—join them! Schedule a free live demonstration and find out how 30 minutes can transform your shop at getshopware.com/carm