MSO: 18 Team Members Tested Positive for Covid. How We Survived [RR 609]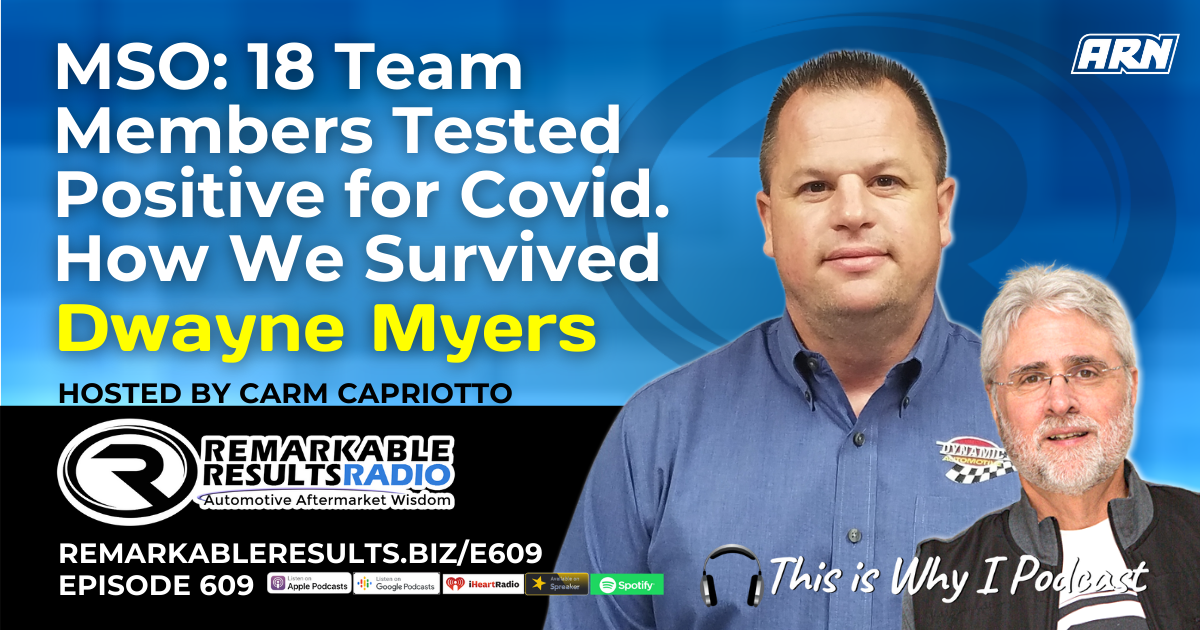 Dwayne Myers is a partner in Dynamic Automotive in the greater Maryland area. Dwayne invests time in the industry with the Auto Care Association and serves on the education committee with CCPN (Car Care Professional Network). Dwayne was recently honored as one of only 17 outstanding individuals that qualified for the prestigious 2017 World Class Technician Award presented by The Auto Care Association and ASE. He is very passionate about hiring and sustaining a strong and engaged team. Listen to Dwayne's previous episodes HERE.
Dynamic Automotive is an MSO (Multi Shop Operation). They have stores in Frederick, Libertytown, Urbana and New Market. Webiste: https://dynamicautomotive.net/
Key Talking Points:
Two locations shut down at two different times
November 2020- few cases with employees, health department quarantined everyone
Loss of $100,000 during shut down
18-20 employees out of 40 total have tested positive in 6 month period- only 3 spouses have caught it
Adapted with phone service from home- Jose used app on cell phone to continue to service customers and shuttle vehicles to other locations or reschedule for the future (air traffic controller)
Tell customers the truth- the team is sick and you are doing everything you can. Received gratitude and understanding from customers
Need to take care of the customer, each other and the business
Paid all employees when shut down- had savings. Keeps cash flow of 6+ months for 'in case of emergency.' If you keep 8 months it can be used for opportunities (equipment or another business)
Preparation is the key to survival- the business had already been preparing for possible shut down due to Covid
Other locations showed ownership and caring nature for the affected employees and business owners
Communication is always most important during everyday occurrences, crisis and personal life
Everyone is dealing with the pandemic in one form or another
Freedom is on four wheels during the pandemic People are traveling via their vehicles more than ever
Vehicle maintenance is an investment now, not a luxury
Annual Christmas party (pre Covid)- over 150 peopleInvite your family and who you are closest with- Dwayne wants to meet them and get to know them
Way to get team members and their family completely on board
Resources:
Thanks to Dwayne Myers for his contribution to the aftermarket's premier podcast.
Link to the 'BOOKS' page, highlighting all books discussed in the podcast library HERE. Leaders are readers.
Listen for free on Apple Podcasts, Google Podcasts, Spreaker, iHeart Radio, Spotify, Podchaser, and many more. Mobile Listening APP's HERE
Find every podcast episode HERE.
Every episode is segmented by Series HERE.
Key Word Search HERE.
Be socially involved and in touch with the show:
Facebook Twitter Linked In Email
Join the Ecosystem – Subscribe to the INSIDER NEWSLETTER HERE.

The NAPA Smart Sign, previously known as Digital Menu Board, gives your shop a professional, state-of-the-art look and feel. It's a great way to educate and inform your customers about needed repairs and service, plus increase awareness of your current promotions. NAPA AutoCare Center that have installed a Digital Menu Board found one out of five consumers ask for a repair or service they've seen on the board. Targeted promotions resulted in double-digit increases. You choose the content from a library of auto care service and repair topics. The latest NAPA national promotions are downloaded to you automatically. And with the Digital Menu Board it's easy to change your services, prices, and video content anytime you'd like. Talk to your servicing NAPA store to find out more.
Visit the NAPA Benefits Center, at www.napabenefitscenter.com or call the NAPA Benefits Center at 844-627-2123.