Stop Selling From Your Wallet [THA 208]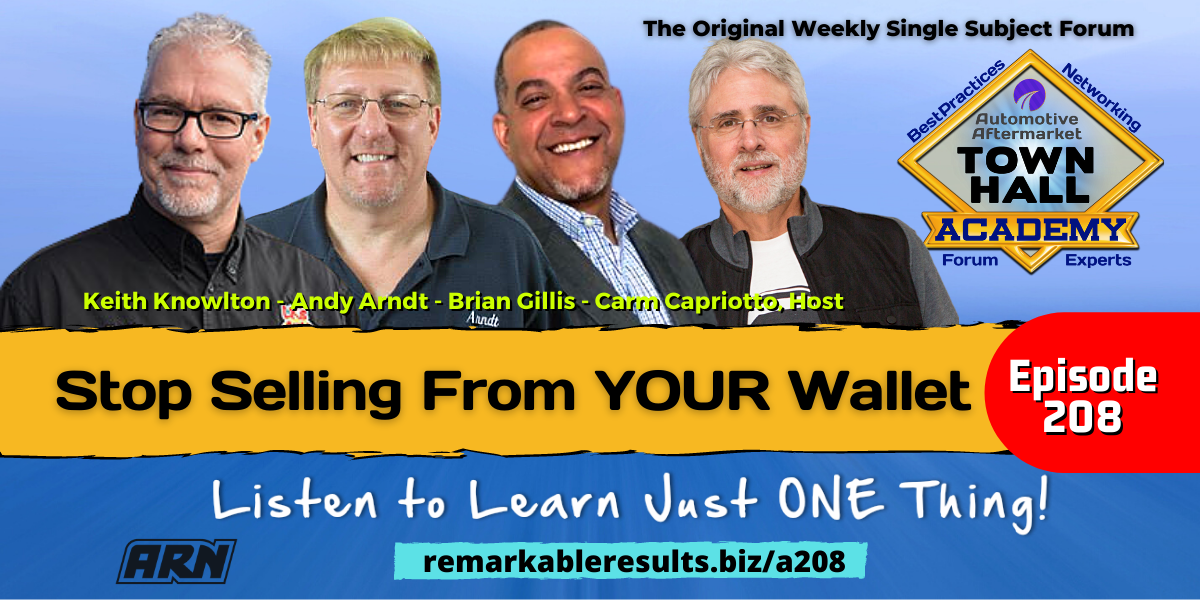 Keith Knowlton. Keith and Linda started LK's Auto in 1994, Keith has been in the automotive business since 1979 working as a gas station attendant. Keith has been an ASE master technician for 25 years, AAM degree, and completed many Service Advisor courses being able to run 5 technicians with over 100k in sales each month. Keith wants to have complete customer satisfaction while expanding sales. Keith's previous episodes are HERE.
Andy Arndt has now has three shop buildings rather than two. He owns the original two and also rents a building across the street. Andy has one son in the business, Corey, who acts as general manager. . Andy's previous episodes are HERE.
Brian Gillis is the Chief You Net Results Strategist, with 25+ years experience in auto shop operations, hiring, recruiting, systems, processes, multi-store experience, and employee training.
More about Brian Gillis…
25+ Years owning and operating auto repair shops in Texas, Georgia and Colorado, multi-unit stores
Hired and Trained over 2000 staff members
Budgeting and Profits Brian's Specialty
Smooth as silk with customers
Brian's previous episodes are HERE.
Key Talking Points: 
The panel played a game on how much each of them would spend on certain items:Gym Membership
Dress Shoes or Boots
Birthday Gift for a Good Friend
Surround Sound System
Laptop Computer
Family Pet
Necktie
Bottle of Wine
It's not a matter of how much disposable income someone has… so we can't look at a customer and just start making decisions on pricing
Technician recommendation vs Invoice… ask the advisor why didn't you recommend the repairsDon't think for the customer
Don't be a bleeding heart for customers
Having sympathy for older customers… can cost you
Have empathy, but don't give away the shops moneyDon't think "wow, this is gonna cost a lot of money"
Push that thought to the side
If not, you will be limiting your potential
"Wisdom Credits" for seniors, emotional attachmentIs there sentimental value to the car
Be tough on coupons
Guidance for the boomer generationHave senior or military discounts pre-established in your books
Have discounts across the board so you're prepared for it $$
Don't put money ahead of safetyPeople play the poverty story all the time
Don't compromise the safety of a vehicle over money
If they are truly down on their luck financially, you can…
Prioritize the repairs in an effort to help the customer
The power of understanding the profit and lossKnowing what the parts costs
Having an understanding of the overhead costs
Teach your service advisors these costs
The goals for average work order can result in a loss of salesDon't just hit the goal, work beyond that
Don't get complacent in the afternoon if you've had a good morning
Final WordsBrianRun out there and run this game
AndyThe help from Brian with my advisors is amazing
KeithIt's always about training, about getting better
Always identify the next training needs
Too many times we think about our own money tolerance instead of the customer needs
We think what others believe is a lot of money
We have different lines in the sand, you'll limit yourself to and your potential
Don't make the customer decision for them
Resources:
Facebook   Twitter   Linked In   Email
Join the Ecosystem – Subscribe to the INSIDER NEWSLETTER HERE.

This episode is brought to you by Shop-Ware Shop Management. It's time to run your business at its fullest potential with the industry's leading technology. Shop-Ware Shop Management will increase your efficiency with lightning-fast workflows, help your staff capture more sales every day, and create very happy customers who promote your business. Shops running Shop-Ware have More Time and generate More Profit—join them! Schedule a free live demonstration and find out how 30 minutes can transform your shop at getshopware.com

This episode is brought to you buy Shop Marketing Pros. Your guides are Kim and Brian Walker with a rich history as shop owners and industry veterans. When someone searches for a shop, who are they finding? Your competitors? It should be you! The good people over at Shop Marketing Pros know how to drive website traffic and make Google work for you! www.shopmarketingpros.com