The Give to Get Principle: How Relationships & Reciprocity Build Raving Fans [RR 610]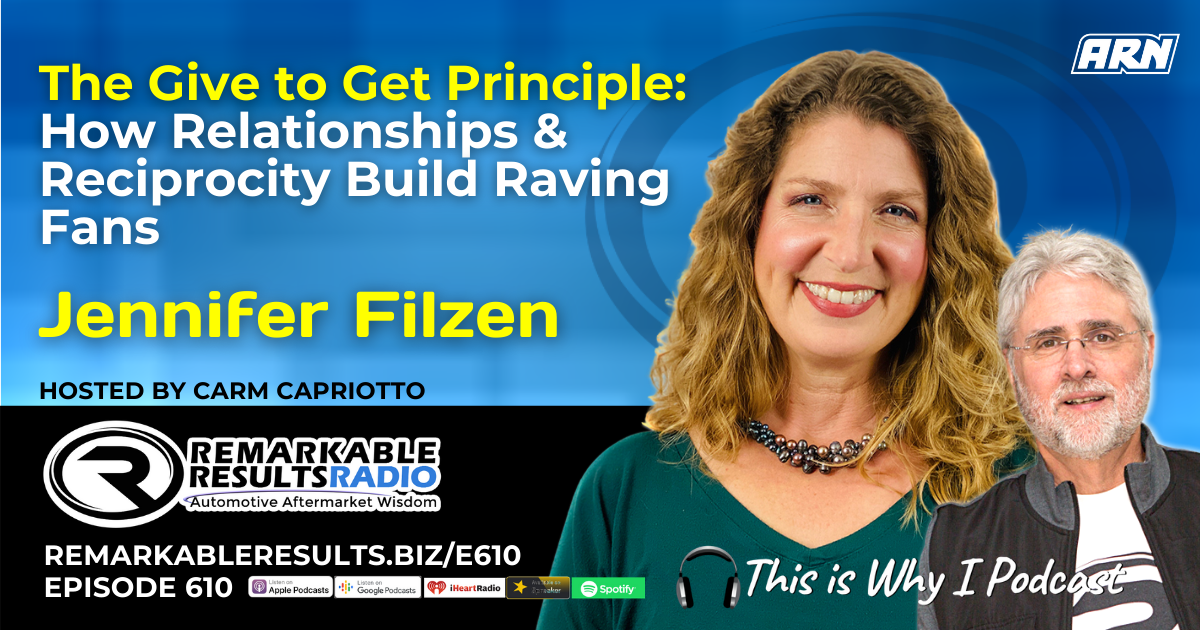 It all started when Jennifer Filzen decided to become a singer/songwriter and created her first pop music album, Sirena. Her marketing and sales talents afforded her the opportunity to get her music heard around the world, including India, China, Europe, Australia, and the United States.
Her writing talents launched her into writing SEO content for websites, social media marketing posts, and custom blogs. Today, many auto repair shops around the country choose Rock Star Marketing to put their businesses in the limelight.
Jennifer Filzen Previous Episodes HERE. Rock Start Marketing Website HERE.
Link to the new book on Amazon HERE.
Key Talking Points:
"The Giveth to Get Principle: How Relationships & Reciprocity Build Raving Fans. 5th book for Jennifer Filzen. See link to book above.
Not only attract ideal customers but surprise and delight them so they are excited to see you and want to tell others about your services
Give before you think of receiving
Jennifer's passion- she loves making the world a better place by spreading joy, bringing people together, and share ideas, teaching about marketing
Helping one person sends a ripple effect that comes back as a wave of abundance
Discovering your three most important principles in your life your 'why', your superpower, your attitude
Finding your superpower- realize you have one, you ARE a big deal
Rockstar MarketingFocuses on what makes you unique, who is your target demographic, what is your "why" and what are the cities you want to serve
Focus on your strengths, delegate your weaknesses
Flexing your confidence muscle
Speaker at Vision 2021: Video marketing. What to say, how to edit etc.
Loving your customer- verb, the action of caring
Resources:
Thanks to Jennifer Filzen for her contribution to the aftermarket's premier podcast.
Link to the 'BOOKS' page highlighting all books discussed in the podcast library HERE. Leaders are readers.
Find every podcast episode HERE.
Every episode segmented by Series HERE.
Key Word Search HERE.
Be socially involved and in touch with the show:
Facebook Twitter Linked In Email
Listen for free on Apple Podcasts, Google Podcasts, Spreaker, iHeart Radio, Spotify, Podchaser and many more. Mobile Listening APP's HERE
Join the Ecosystem – Subscribe to the INSIDER NEWSLETTER HERE.

This episode is brought to you by AAPEX, the Automotive Aftermarket Products Expo. AAPEX represents the $740 billion global automotive aftermarket industry and has everything you need to stay ahead of the curve. The Virtual AAPEX Experience 2020 is in the record books. Virtual AAPEX lived up to presenting leading-technical and business management training from some of the industry's best and brightest. Now set your sights on the homecoming in Las Vegas in 2021. Mark your calendar now … November 2-4, 2021, AAPEX // Now more than ever.

This episode is brought to you by Shop-Ware Shop Management. It's time to run your business at its fullest potential with the industry's leading technology. Shop-Ware Shop Management will increase your efficiency with lightning-fast workflows, help your staff capture more sales every day, and create very happy customers who promote your business. Shops running Shop-Ware have More Time and generate More Profit—join them! Schedule a free live demonstration and find out how 30 minutes can transform your shop at getshopware.com/carm