Hiring Practices with Bryan Kelley [RR 611]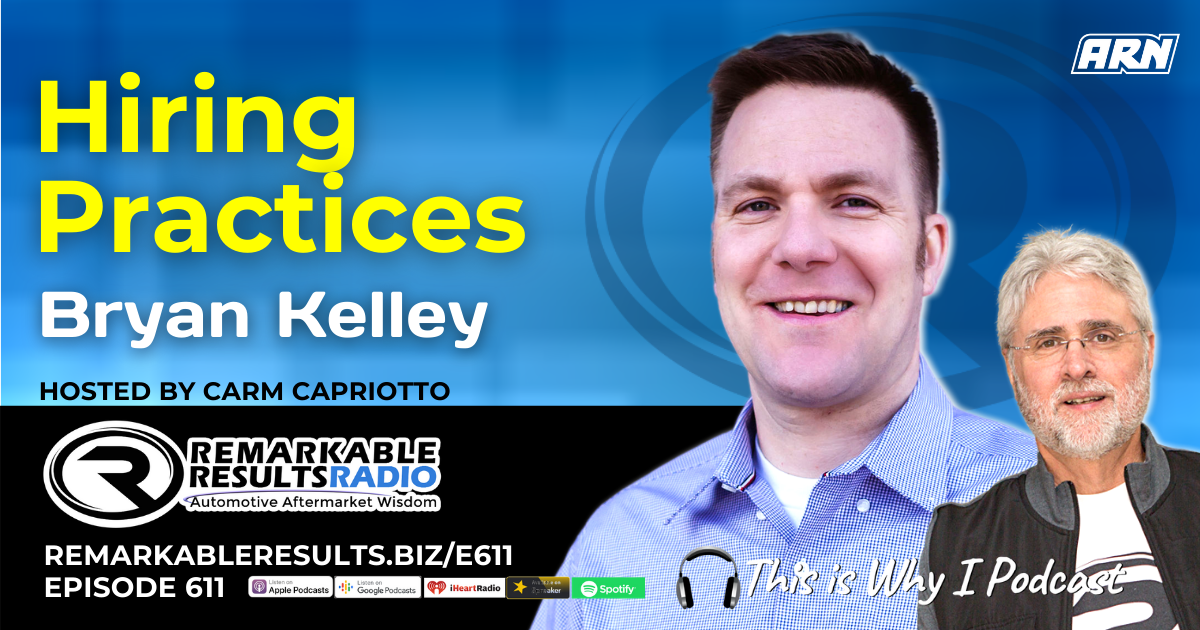 Bryan Kelley, owner of Valley Automotive Electric, Covington, WA, and Chairman of ASA Northwest. Brian's previous episodes HERE.
Key Talking Points:
Understand what it is you're looking for and be able to name the behaviors and qualities you are looking for
Think of hiring like going on a first date- know what you're looking for
Tailor questions based on what you are specifically looking for in a candidate
Bryan would rather work short-handed with good team members than hire the wrong candidate just to fill the spot
Ask yourself "Do they fit the culture of the organization?"
"Humble, Hungry, Smart" from "The Ideal Team Player" by Patrick Lencioni
Smart- people smart
Rockstar or superstar?Rockstar- they want to stay in the position they're in
Superstar- want to rise to continue to grow in the company
If you truly care about people, they tend to care about you in return
Look for indicators during the hiring process- ask key questions and dive into answers
Bring in other employees to gauge candidate together- each takes notes and compare after
Explain the hiring process on a first phone call- phone screen, in-person interview, second interview/working interview, then profile assessment of the candidate. After that take them outside of the business to see how they really are. Reference checks.
Post job description/job details with advertisement- should sound personable and engaging
"The Culture Code" by Daniel Coyle
What Bryan offers in terms of pay is based on what he sees- not set in stone, based on what he expects. Reevaluate after 90 days
Thanks to Bryan Kelley for his contribution to the aftermarket's premier podcast.
Link to the 'BOOKS' page, highlighting all books discussed in the podcast library HERE. Leaders are readers.
Listen for free on Apple Podcasts, Google Podcasts, Spreaker, iHeart Radio, Spotify, Podchaser, and many more. Mobile Listening APP's HERE
Find every podcast episode HERE.
Every episode is segmented by Series HERE.
Key Word Search HERE.
Be socially involved and in touch with the show:
Facebook Twitter Linked In Email
Join the Ecosystem – Subscribe to the INSIDER NEWSLETTER HERE.

Since 1989 TRACS has been the industry's leading shop management system. And in the last 30 years it's gotten better and better. Today TRACS Enterprise offers even more of the features AutoCare Center owners want—things like a powerful interactive scheduling calendar, faster and streamlined work flow, plus streamlined parts ordering and purchasing options. And there's more—Punch-out to Mitchell ProDemand, mobile VIN capture, and multi-shop capabilities. That means you can count on TRACS Enterprise to help drive your success today and well into the future.
Learn more about TRACS Enterprise and the hundreds of other benefits the NAPA family has to offer. Visit the NAPA Benefits Center, at www.napabenefitscenter.com or call the NAPA Benefits Center at 844-627-2123.