Building Deep Ties to the Community [THA 209]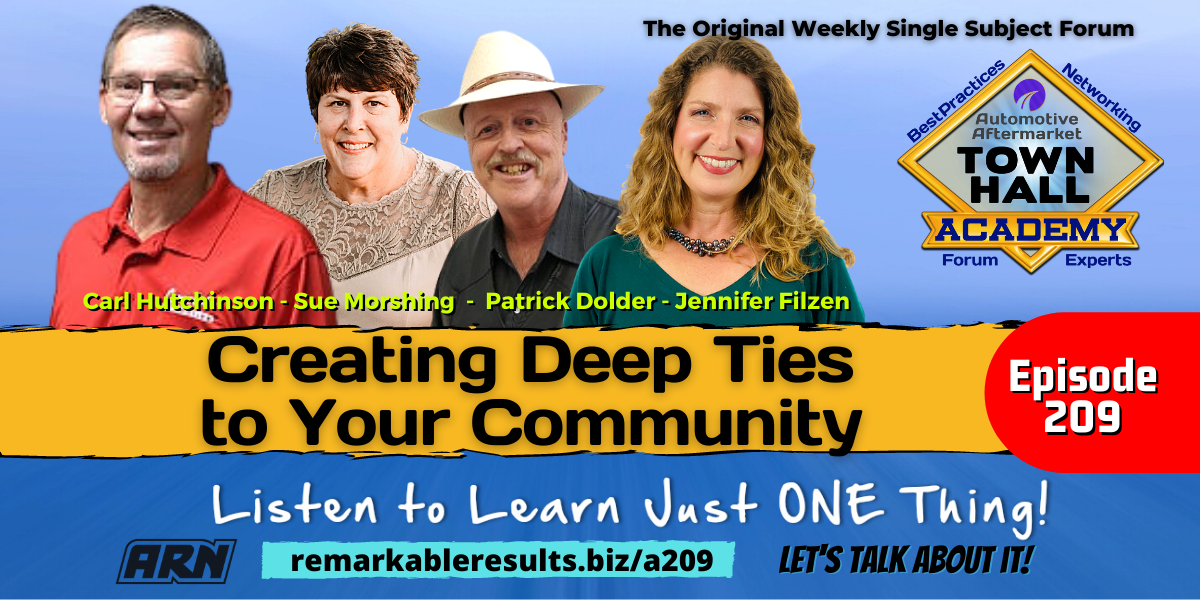 Sue Morshing of Elysian Auto Service, Elysian, MN. Sue's Previous Episodes HERE.
Jennifer Filzen decided to become a singer/songwriter and created her first pop music album, Sirena. Her marketing and sales talents afforded her the opportunity to get her music heard around the world, including India, China, Europe, Australia, and the United States.
Her writing talents launched her into writing SEO content for websites, social media marketing posts, and custom blogs. Today, many auto repair shops around the country choose Rock Star Marketing to put their businesses in the limelight.
Jennifer Filzen Previous Episodes HERE. Rock Start Marketing Website HERE.
Link to the new book on Amazon HERE.
Patrick Dolder of PALS Ocala Auto Repair, Ocala, FL. Patrick's Episodes HERE.
Carl Hutchinson has been the car industry since 1982, but has worked on vehicles long before that time. He has a passion for engineering, for understanding how vehicles operate, and how to repair a customer's concern. Earlier in his career, Carl started worked at a GM Dealership, then went to work at independent repair facilities as a technician and eventually became a service advisor. Carl's experience in the automotive industry led him to his current position as co- owner with Maureen Hutchinson of Complete Automotive in Springfield MO., where he works every day to provide high quality, valuable service to all customers.
Carl is an Alumni with Ozarks Technical Community College, Springfield MO Campus. He currently sits on the Automotive Advisory Board with Ozark Technical Community College, member of South East Rotary, and a member of the Springfield Midwest Auto Care Alliance chapter.
Carl has his Master ASE Certification, L1 and Service Advisor certification and is an AMI Graduate.
After over 32 years in the automotive business, giving back the knowledge and experience to those of the next generation that are coming into the industry is an honor. It's exciting to see the culture of the industry change to a more positive, cleaner, technical atmosphere, with an emphasis on great customer service.
Changing the culture of the industry is exciting to move into the next generation of automotive technicians, service advisors, and owners. Carl's Episodes HERE.
Key Talking Points:
You should always expect to get from the community what you give to the communityYou reap what you sow
Do genuine and small things for your customers
You don't decide to give so you get something backOnce you start giving just to give to your community, you find creative ways to give, and that creates relationships with your community
Have you turned to employees to find ways to reach out to your community?Find ways to help someone without putting them in a spotlight
Work with your internal customers
Help people quietly, without having to make a splash
The importance of being involved in community groupsYou find like-minded individuals in other businesses in the community and they tend to frequent each others business
It's all about connections and networking
You have to go into it with not expecting something in returnYou gotta get involved in community groups
You gotta get involved in local church groups
Food banks, playgrounds, serve dinners
Use time and talents to give back
"I never thought I would be _____________"Get involved and give to the community
You will be disappointed if you are expecting something in return
It's actually kinda cool being involved
Why didn't I do this sooner?
It's part of branding your businessNetworking and recommendations with like-minded business
Create a community page on your website
The "How to Do It"Figure out the why. Start with a conversation on "why" you are doing it
Figure out the superpowers that each team members have
Figure out the attitude that the company wants to represent
Ways to accommodate your customers and employees with a community approach:Have a grill at lunchtime
Be pet friendly
Donut Fridays
Give out cookies, brownies, waters
Weekly drawing for a bouquet of flowers
Final WordsJenniferI just love that we can all share these ideas and that we are providing value to people
When you adopt the "The Give To Get Principle" not only will you feel good yourself, but you will also see a difference in your bottom line
CarlJoin community groups
When you get the call, say "yes"
PatrickTake a leap of faith
If you keep doing what you've always done, you're not going to be successful
Talk to a business you know nothing about
Find out who the charities are in your community
SueYou have to be passionate about your community
Approach people, you want to work with
Teddy bear hunt – donations for closed restaurants
Resources:
Facebook Twitter Linked In Email
Join the Ecosystem – Subscribe to the INSIDER NEWSLETTER HERE.

This episode is brought to you by Shop-Ware Shop Management. It's time to run your business at its fullest potential with the industry's leading technology. Shop-Ware Shop Management will increase your efficiency with lightning-fast workflows, help your staff capture more sales every day, and create very happy customers who promote your business. Shops running Shop-Ware have More Time and generate More Profit—join them! Schedule a free live demonstration and find out how 30 minutes can transform your shop at getshopware.com

This episode is brought to you buy Shop Marketing Pros. Your guides are Kim and Brian Walker with a rich history as shop owners and industry veterans. When someone searches for a shop, who are they finding? Your competitors? It should be you! The good people over at Shop Marketing Pros know how to drive website traffic and make Google work for you! www.shopmarketingpros.com