How To Make Your Business Better and More Productive Than What it is Today? – Bob Greenwood [RR 612]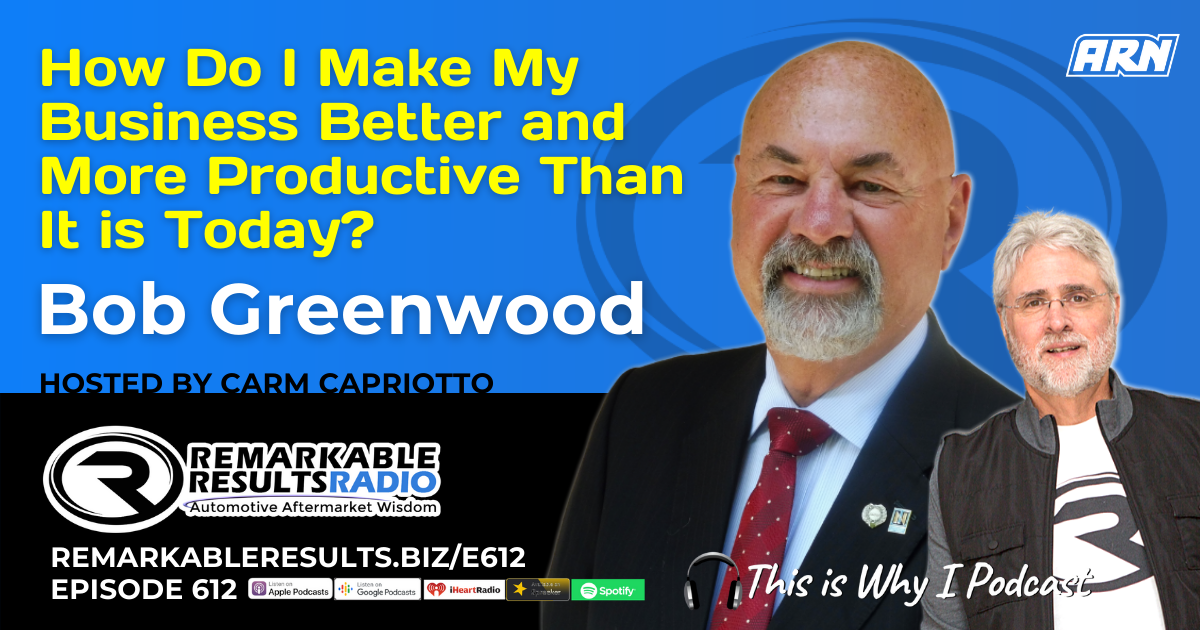 Bob Greenwood, AMAM (Accredited Master Automotive Manager) is President and C.E.O. of Automotive Aftermarket E-Learning Centre Ltd. (AAEC). AAEC is a company focused on providing Business Management Resources and Development for the Independent Sector of the aftermarket industry. AAEC content and technology is recognized as part of the curriculum of the Fixed Operations Diploma and the Aftermarket Degree courses taken at the Automotive Business School of Canada at Georgian College located in Barrie Ontario Canada. This school is the leader and only college in Canada that offers an automotive business education. AAEC is also recognized by the Automotive Management Institute (AMI), located in North Richland Hills, Texas USA, allowing 80 credits for successful completion of the AAEC E-Learning portion of the site towards the 120 credits required to obtain the reputable Accredited Automotive Manager (AAM) designation.
Bob has over 40 years of Business Management experience within the Independent sector of the automotive aftermarket industry in North America, consulting Independent retail shops on all facets of their business operations. His 18 years of running his own local consulting and accounting firm in Ottawa, Ontario Canada created some of the most productive and financially successful entrepreneurs within the Independent sector today.
Bob is one of 150 Worldwide AMI approved instructors. He has created Business Management development courses for aftermarket shop employers/managers, Jobbers and Jobber Sales representatives which are recognized as being the most comprehensive, industry-specific courses of their kind in North America. His courses address the creation of measurable bottom-line profitability and not just developing activity to keep busy, by covering the very detailed nuts and bolts issues that are required to be clearly understood by every level of the industry if an independent shop is going to financially prosper and enjoy a professional future. Bob's previous episodes are HERE.
Link to Automotive Aftermarket E-Learning Centre Ltd. (AAEC) HERE.
Classic Episodes
Episode 571– Bob Greenwood with Chris Cloutier: Industry terminology, time to change it
Episode 387– Bob Greenwood Eric Ziegler
Key Talking Points:
We need to better understand our target clients. Who are they? Why do they buy? What do they really want? What is our internal gameplan as a company to build a long-lasting trustworthy relationship?Building client base business vs customer base business- clients have relationships and trust with the business. Building relationships takes time, you can't do it while understaffed. One service advisor for every 2 licensed technicians. Educating the client takes full conversations- manage their vehicle based on how they use it and expectations of vehicle.
There's a need to improve focus and productivity, we need to create a culture of commitment and accountability and we must deal more effectively with non-performance. Do we believe in accountability as an important part of the business culture?Business culture- what do you stand for? Team concept in business that everyone wants to be a part of, everyone's opinion counts including feedback. Employees are working on their career instead of working their 'job' because they want to be a part of the business. Committed and accountable to each other. Accountable- what are we doing on behalf of the clients and how do we measure that? Measure it in billed hours per repair order. Are we producing the right billed hours as a team daily, weekly monthly?
We need more clarity and consistency from the top- is management fully accountable to the business?Leader of the discussion for team- clarity, and consistency in message, explain it properly, have a discussion on how you see it and how the team sees it. Daily discussion 5-8 minutes keeps the team engaged
We need to create true two-way communication throughout our organizationOwners often use generalities instead of specifics when engaging with the team. Don't be afraid of discussing numbers- only confidential numbers are on your balance sheet. Let your team understand how income works and how they each affect it. Educate your team on the business in every aspect
Ask about your employees- mutual respect and care about their life outside of the business
Our industry is changing quickly- redefine and reinvent some aspects of the business. Are there specific courses we must take to clarify our industry and business knowledge?Education is everything- technical, business, front counter, etc. Has to be ongoing. Technician minimum 100 hours a year of training, management 6-8 days a year of training. You need to plan out courses/training for the year ahead of time.
Resources:
Thanks to Bob Greenwood for his contribution to the aftermarket's premier podcast.
Link to the 'BOOKS' page highlighting all books discussed in the podcast library HERE. Leaders are readers.
Find every podcast episode HERE.
Every episode segmented by Series HERE.
Key Word Search HERE.
Be socially involved and in touch with the show:
Facebook Twitter Linked In Email
Listen for free on Apple Podcasts, Google Podcasts, Spreaker, iHeart Radio, Spotify, Podchaser and many more. Mobile Listening APP's HERE
Join the Ecosystem – Subscribe to the INSIDER NEWSLETTER HERE.

This episode is brought to you by AAPEX, the Automotive Aftermarket Products Expo. AAPEX represents the $740 billion global automotive aftermarket industry and has everything you need to stay ahead of the curve. The Virtual AAPEX Experience 2020 is in the record books. Virtual AAPEX lived up to presenting leading-technical and business management training from some of the industry's best and brightest. Now set your sights on the homecoming in Las Vegas in 2021. Mark your calendar now … November 2-4, 2021, AAPEX // Now more than ever.

This episode is brought to you by Shop-Ware Shop Management. It's time to run your business at its fullest potential with the industry's leading technology. Shop-Ware Shop Management will increase your efficiency with lightning-fast workflows, help your staff capture more sales every day, and create very happy customers who promote your business. Shops running Shop-Ware have More Time and generate More Profit—join them! Schedule a free live demonstration and find out how 30 minutes can transform your shop at getshopware.com/carm