Discover the Hard Truths. Fix Your Attitude. [RR 613]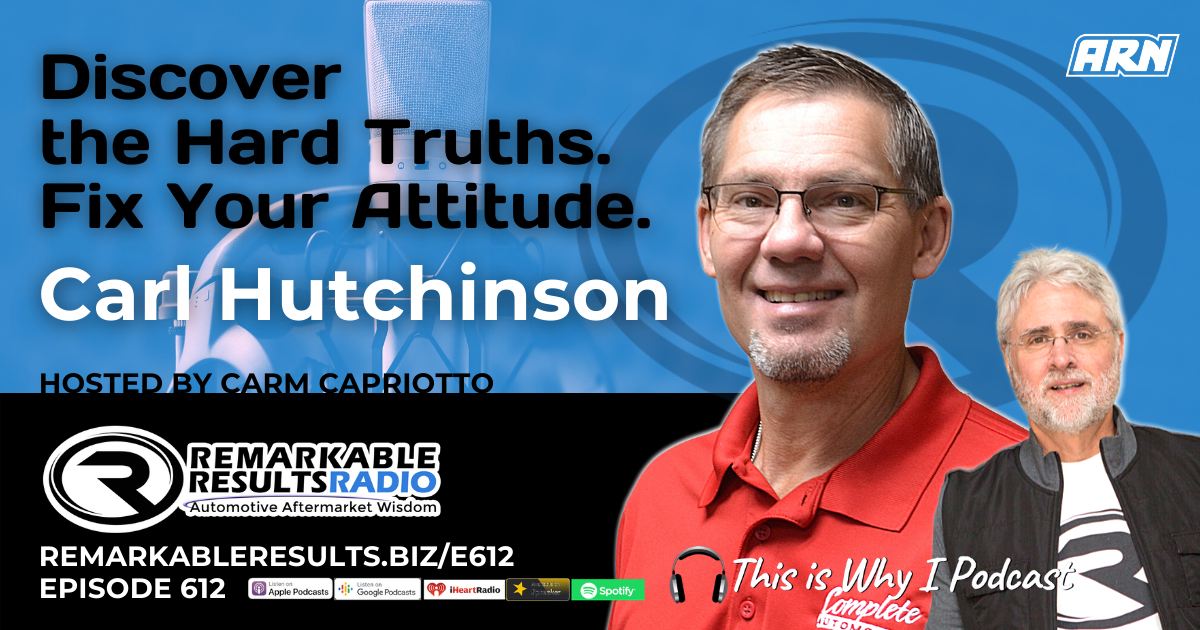 Carl Hutchinson has been in the car industry since 1982, but has worked on vehicles long before that time. He has a passion for engineering, for understanding how vehicles operate, and how to repair a customer's concern. Earlier in his career, Carl started working at a GM Dealership, then went to work at independent repair facilities as a technician and eventually became a service advisor. Carl's experience in the automotive industry led him to his current position as co- owner with Maureen Hutchinson of Complete Automotive in Springfield MO., where he works every day to provide high quality, valuable service to all customers.
Carl is an Alumni with Ozarks Technical Community College, Springfield MO Campus. He currently sits on the Automotive Advisory Board with Ozark Technical Community College, member of South East Rotary, and a member of the Springfield Midwest Auto Care Alliance chapter.
Carl has his Master ASE Certification, L1 and Service Advisor certification and is an AMI Graduate.
After over 32 years in the automotive business, giving back the knowledge and experience to those of the next generation that are coming into the industry is an honor. It's exciting to see the culture of the industry change to a more positive, cleaner, technical atmosphere, with an emphasis on great customer service.
Changing the culture of the industry is exciting to move into the next generation of automotive technicians, service advisors, and owners.
Key Talking Points:
Founding member of Midwest AutoCare Alliance
ASC Master Certification L1, Service Advisor Certification, AMI GraduateLead by example with continuous training
Involved with automotive technology education with local community college80% of board members and influence are from dealerships
Independent shop owners MUST get involved- incite for students on real world perspectives on the automotive industry (soft skills required)
Attitude changeWasn't known as the "nice guy" 10 years ago- pessimistic, saw negative in everything
Surround yourself with the right people that will tell you the hard truths- will be hard to hear, when you don't know what's wrong you also don't know how to change. You are the average of the 5 people you are with most.
Carrying baggage- alters how you treat peopleCarl came from a fatherless background. He began to see his negative outlook on that situation weigh on his children. Reconnected with his father and baggage was lifted. Didn't realize how much that situation affected him emotionally until it was addressed.
Start by getting small wins- create list and focus on what you can do each day
Read "Emotional Intelligence" by Daniel Goleman instilled the knowledge he needed to address as a person.
Starting writing 1 thank you card every week for 1 year- thanked the people around him and acknowledged what was impactful to him. Lifted burden and was pivotal point in life- became grateful for the small things in life
Positive change is infectious
Started getting involved with community- church and youth groups
We are what we tell ourselves we are
Business cultureOpen, friendly, family environment- employees want to come to work and be apart of the team
Taking care of internal employees and external customers
Identify the attitude and culture of business prior to hiring
Easy to get a bad reputation within industry, takes longer to develop positive reputation
Entrepreneurial operating system- how many jobs do you do?"What is EOS," "Traction," and "How to be a great boss" by Gino Wickman
Having people obtain ownership in their position- giving your 'seats' away, divide and conquer
Resources:
Thanks to Carl Hutchinson for his contribution to the aftermarket's premier podcast.
Link to the 'BOOKS' page, highlighting all books discussed in the podcast library HERE. Leaders are readers.
Listen for free on Apple Podcasts, Google Podcasts, Spreaker, iHeart Radio, Spotify, Podchaser, and many more. Mobile Listening APP's HERE
Find every podcast episode HERE.
Every episode is segmented by Series HERE.
Key Word Search HERE.
Be socially involved and in touch with the show:
Facebook Twitter Linked In Email
Join the Ecosystem – Subscribe to the INSIDER NEWSLETTER HERE.

Gold Certification recognizes top tier NAPA AutoCares with a high level of participation in the AutoCare program. The program was built by AutoCare Centers for AutoCare Centers to provide a consistent consumer experience, maximize technology leverage, and reward NAPA's most committed partners. In other words, Gold Certified AutoCare Centers are the standard bearers for the AutoCare brand nationwide. Simply put, the Gold Certified NAPA AutoCare program, powered by your local shop brand, will separate you from the rest helping you boost your bay counts and your average repair orders.
Learn more about NAPA AutoCare, Gold Certification, and the hundreds of other benefits the NAPA family has to offer by talking with your servicing NAPA store or Visit the NAPA Benefits Center, at www.napabenefitscenter.com or call the NAPA Benefits Center at 844-627-2123.