EOS Part 2: Vision with Barry Barrett [RR624]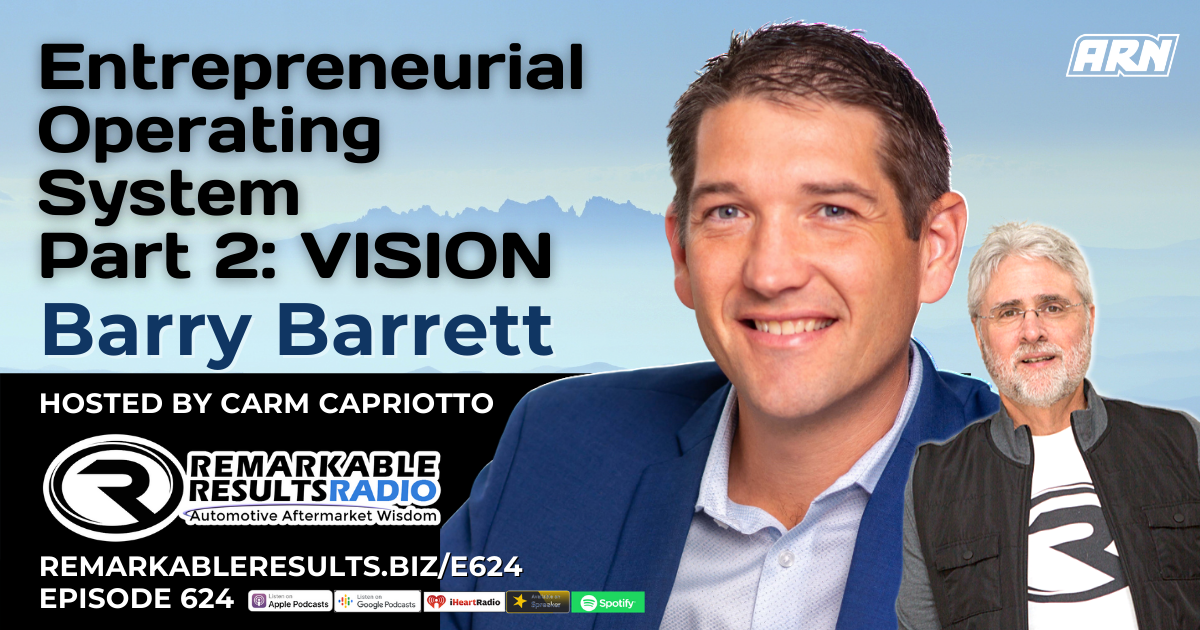 EOS Part 2: Vision with Barry Barrett [RR624]
Part 2 of a 7 part series.
Barry Barrett, a Certified EOS Implementer
As an EOS Implementor in his company, Business With Purpose brings dedicated support to Leadership and Sales teams in all types of organizations, helping them structure the six key components of their business to make it operate with the best processes for their specific industry, using the EOS Model.
Barry's energy is contagious no matter if he is in a session with a client, giving a keynote address, or rolling up his sleeves in a workshop. Barry is a business coach with his positive mental attitude, incredible work ethic, and determination for excellence, his results-oriented approach is matchless.
Barry is driven, caring, and passionate; traits that he uses to help his clients grow their businesses in a positive way. Find Barry's other episodes HERE.
Key Talking Points:
VisionFor every 7 visionaries, there is 1 integrator- that 1 integrator will take your business to the next level.
Visionaries need integrators, integrators don't need visionaries to be successful
"Rocket Fuel"- Gino Wickman and Mark Winters- Visionary and integrator relationship
Answer 8 questions in EOS to obtain your vision for the future (what are your core values, what is your core focus, what is your 10-year target, what is your marketing strategy, what is your 3-year picture, what is your 1-year plan, what are your rocks, what are your issues?) Answering the 8 questions comes from your team members as a collective group- employees buy into your business. Change "I" thinking to "we" thinking.
Core values exist in your organization they just need to be discovered. Starts with the business owner but includes the entire team.Integrity as an owner- integrate what you say with what you do
Core focus- why and whatWhy-purpose, cause, and passion
10-year target- large goal, chase the horizonEnergize yourself and others around you
Chase the lion, don't run from it
Marketing strategy- Marketing is "catching ears and eyeballs," sales is "converting once they are caught."
"This list"- target marketing for best customers (geographic, demographic, psychographic)
3 uniques about your business- start by asking your customers. What do they want? What would they say about you?
3-year pictureHas revenue/profit/measurables
What does it look like?
1-year planWhat must happen THIS year to hit the 3-year picture and 10-year target?
Actual goals
RocksBig things that must get done in 90 days in order to hit 1-year plan
How do you add rocks, pebbles, sand, and water to a bowl as full as possible? If you add rocks, pebbles, and water first then sand last the water will overflow. The rocks in the bowl are the most important.
90% of people live each day in the "important urgent" category and barely spend time in "important and not urgent." Leadership is "important and not urgent" because you are working on your business instead of in your business.
Issue list VTO- big issues that can't be handled this week or next week or next 90 days
Level 10
Shared by allShare once a quarter with your entire team- where the business is, where it is going and how to get there.
Resources:
Thanks to Barry Barrett for his contribution to the aftermarket's premier podcast.
Link to the 'BOOKS' page highlighting all books discussed in the podcast library HERE. Leaders are readers.
Find every podcast episode HERE.
Every episode segmented by Series HERE.
Key Word Search HERE.
Be socially involved and in touch with the show:
Facebook Twitter Linked In Email
Listen for free on Apple Podcasts, Google Podcasts, Spreaker, iHeart Radio, Spotify, Podchaser and many more. Mobile Listening APP's HERE
Join the Ecosystem – Subscribe to the INSIDER NEWSLETTER HERE.

This episode is brought to you by AAPEX, the Automotive Aftermarket Products Expo. AAPEX represents the $740 billion global automotive aftermarket industry and has everything you need to stay ahead of the curve. The Virtual AAPEX Experience 2020 is in the record books. Virtual AAPEX lived up to presenting leading-technical and business management training from some of the industry's best and brightest. Now set your sights on the homecoming in Las Vegas in 2021. Mark your calendar now … November 2-4, 2021, AAPEX // Now more than ever.

This episode is brought to you by Shop-Ware Shop Management. It's time to run your business at its fullest potential with the industry's leading technology. Shop-Ware Shop Management will increase your efficiency with lightning-fast workflows, help your staff capture more sales every day, and create very happy customers who promote your business. Shops running Shop-Ware have More Time and generate More Profit—join them! Schedule a free live demonstration and find out how 30 minutes can transform your shop at getshopware.com/carm