Employee Review Process with Bryan Kelley [RR 625]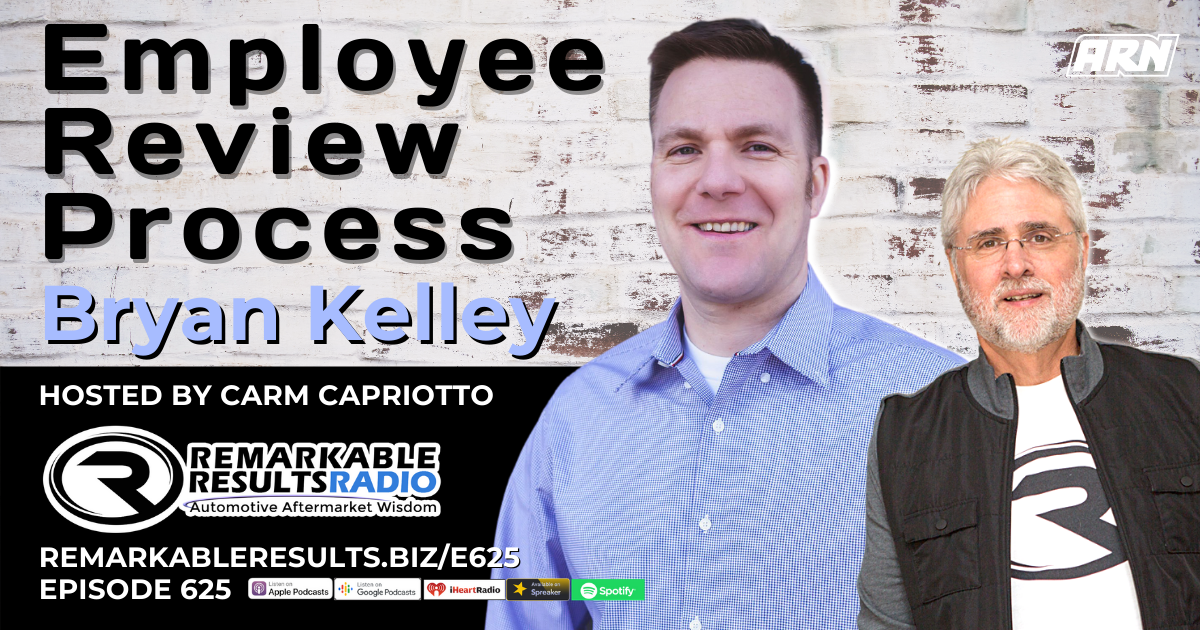 Bryan Kelley, owner of Valley Automotive Electric, Covington, WA, and Chairman of ASA Northwest. Bryan's previous episodes HERE.
Hiring Practices RR 611 Humble
Hungry
People Smart
Employee reviewsShould be a win for the business and a win for the internal customer (employees)
The corporate review process tends to be about the business covering its backside- a reason to fire an employee with justification, and building an employee database
Is your supervisor the person that should be doing employee reviews?- If you're not around your employee more often than not being around them, then how are you able to do a full review? What is the pulse of the culture inside the business?
Owners focus on KPI's, building the business and building employees- but are you building your employees as a person? Are you making them better people?
The more employees know and can do, the more they can do for you.
Review process- you must have trust with all employees and management Schedule one on one informal meeting- listen to your employee and ask questions (Bryan goes to Thai restaurant) and give them a goal sheet- 1 year, 5 years, tomorrow both in work and personally
Set peer review during 1 hour Friday lunches together- each employee discusses best and worst 3 things about themselves.
The other employees can only respond by asking for clarification- no prejudging negatives or positives. Also rate themselves 1-3 with "Humble, hungry smart"
Often times the team will rate you higher than you rate yourself
When everyone has had their individual turn, everyone can start discussing each other
If no one talks, Bryan knows there's a problem
Peer review matters more to an individual person- attitudes can affect business culture
Thanks to Bryan Kelley for his contribution to the aftermarket's premier podcast.
Link to the 'BOOKS' page, highlighting all books discussed in the podcast library HERE. Leaders are readers.
Listen for free on Apple Podcasts, Google Podcasts, Spreaker, iHeart Radio, Spotify, Podchaser, and many more. Mobile Listening APP's HERE
Find every podcast episode HERE.
Every episode is segmented by Series HERE.
Key Word Search HERE.
Be socially involved and in touch with the show:
Facebook Twitter Linked In Email
Join the Ecosystem – Subscribe to the INSIDER NEWSLETTER HERE.

Gold Certification recognizes top-tier NAPA AutoCares with a high level of participation in the AutoCare program. The program was built by AutoCare Centers for AutoCare Centers to provide a consistent consumer experience, maximize technology leverage, and reward NAPA's most committed partners. In other words, Gold Certified AutoCare Centers are the standard bearers for the AutoCare brand nationwide. Simply put, the Gold Certified NAPA AutoCare program, powered by your local shop brand, will separate you from the rest helping you boost your bay counts and your average repair orders.
Learn more about NAPA AutoCare, Gold Certification, and the hundreds of other benefits the NAPA family has to offer by talking with your servicing NAPA store or visiting www.NAPAAutoCare.com.