Have You Started Your Apprentice Program? [THA 216]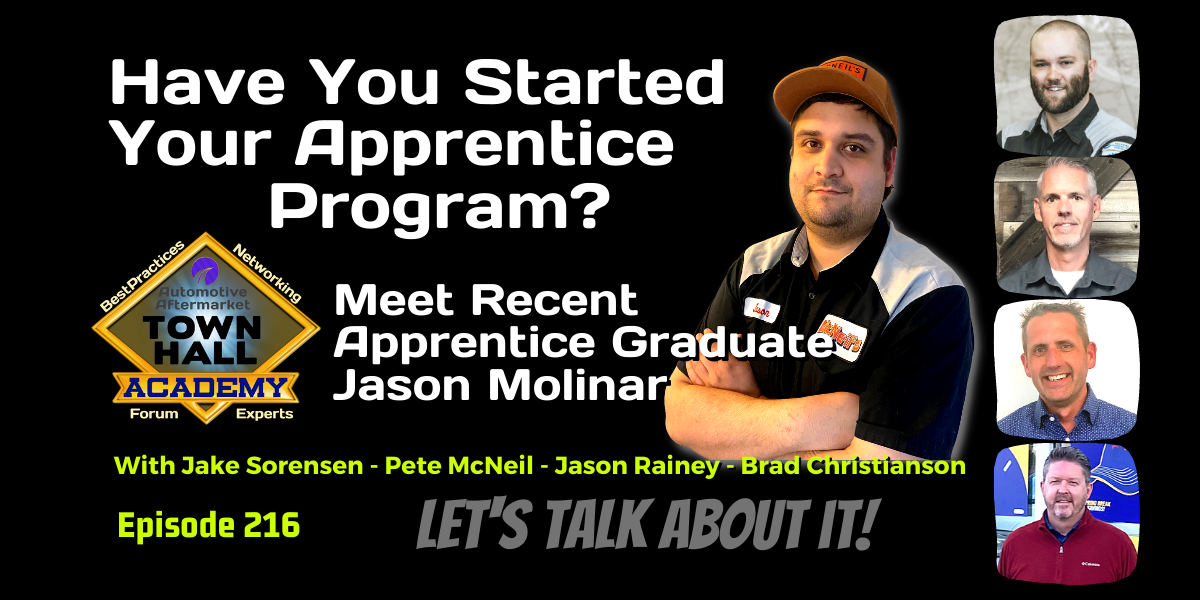 Jason Molinar- Newest Industry Apprentice Graduate at McNeil's Auto Care
Pete McNeil is a second-generation family-owned business that started out as a Volkswagen specialist. They quickly recognized their potential for all makes and models and expanded their service offerings. During this time, they joined the NAPA AutoCare program, expanded their footprint in the Salt Lake valley and became a pillar in the automotive repair industry.
In 2018 alone, McNeil's expanded their Sandy location to 16 bays to help accommodate their growing business, training center and partnership with local schools for the continued growth of their apprenticeship program. During this time McNeil's also took advantage of the Interior ProImage program and remodeled their entire showroom! This included new counters for their 4 Service Advisors, new epoxy flooring, signage, and upgraded comfortable furniture and fixtures! This is truly a place where their customers can relax while having their vehicle repaired.
In addition, Pete opened a 2nd location in Riverton, Utah in May of 2019. Pete is very involved in the community both locally and abroad He is active in the local Church Youth Conference, Angel Hands, which assists people with disabilities.
Very active in youth soccer with contributions and cars washed to raise money for Sparta-United. He has donated time and resources to "Sandy Pride" which helps residents clean up and beautify the city.
Jake Sorensen- 2019 NAPA ASE Technician of the Year and 2019 Ratchet + Wrench All-Star technician of the year. He is an ASE Master technician with L1,2 and 3 advanced level certifications. He is the shop manager and diagnostic technician at McNeil's Auto Care in Sandy, UT where he helped develop an apprenticeship program that is registered with the U.S. Department of Labor. This program has graduated several high-performing automotive technicians and was used by NAPA Auto Care as a template for their automotive apprenticeship program. Jake also developed the curriculum for an automotive course that he teaches at an adult education high school.
Brad Christianson– NAPA Sales Person
Special Guest Jason Rainey– Vice President, NAPA Auto Care
Key Talking Points
Jason- from pharmacy to an auto technician Spent 10 years as pharmacy technician out of high school
Realized he didn't enjoy his job or looked forward to it anymore
Always had a love for cars (especially Jeeps) and started learning about how to fix them
Took a maintenance and light repair class at a local college and loved it
Saw an advertisement for McNeil's apprentice program, interviewed for it and received the apprenticeship
Larger pool for industryYou don't need to only focus on hiring out of high school students or someone that has previous experience in the auto industry
Hire for attitude not skillset- they will learn skill during the programCommitment and willingness to learn qualities
Napa Apprenticeship Program- built in collaboration with Jake and Pete9 stages, 2-year program with 4 ASE certifications
National program and approved by Department of Labor
Receive apprentice tool kit worth $3500
Register your shop at www.napaautocare.com, resource tab and employee recruitment
ROI calculator- customizable with also a gross profit impact chart
Currently, 451 total registered apprentices participating in the program
Mentor- willing to invest time and effortEveryone learns differently and at different paces- it will be a continual learning curve for both mentor and apprentice
Shop owner needs to see the benefit for an apprentice program
Previous apprentices turning into mentors
Unrealized revenue When Jason was completing stage 7/9 during the program the profit for the shop in that category was 13K
2021 Jason has generated 47K on his own first two months
Family sacrificesWorking 2 jobs at the start of the program with a newborn at home
Was rewarded with hard work and could quit the second job after a few months
AdviceTake advantage of the training (free and paid)
"Pizza night" weekly during virtual Vision training
There isn't a technician shortage, there is a shortage of qualified technicians
Takes 2 years for apprentice graduate to complete the program so keep the cycle going
Learning doesn't stop after 2 years- continue training, career-pathing and goal forecasts
Learning is contagious- other seasoned technicians at the shop realize they need to continue learning as well
Grows individuals and families
A special thanks to Jason Molinar, Jake Sorensen, Pete McNeil, Jason Rainey and Brad Christianson for their contribution to the aftermarket.
Books Page HERE
Listen to all Remarkable Results Radio, For The Record and Town Hall Academy episodes.
Facebook Twitter LinkedIn Instagram Youtube Email
Join the Ecosystem – Subscribe to the INSIDER NEWSLETTER HERE.

This episode is brought to you by Shop-Ware Shop Management. It's time to run your business at its fullest potential with the industry's leading technology. Shop-Ware Shop Management will increase your efficiency with lightning-fast workflows, help your staff capture more sales every day, and create very happy customers who promote your business. Shops running Shop-Ware have More Time and generate More Profit—join them! Schedule a free live demonstration and find out how 30 minutes can transform your shop at getshopware.com

This episode is brought to you by Shop Marketing Pros. Your guides are Kim and Brian Walker with a rich history as shop owners and industry veterans. When someone searches for a shop, who are they finding? Your competitors? It should be you! The good people over at Shop Marketing Pros know how to drive website traffic and make Google work for you! www.shopmarketingpros.com