A Very Personal Story with Kevin Eckler [RR626]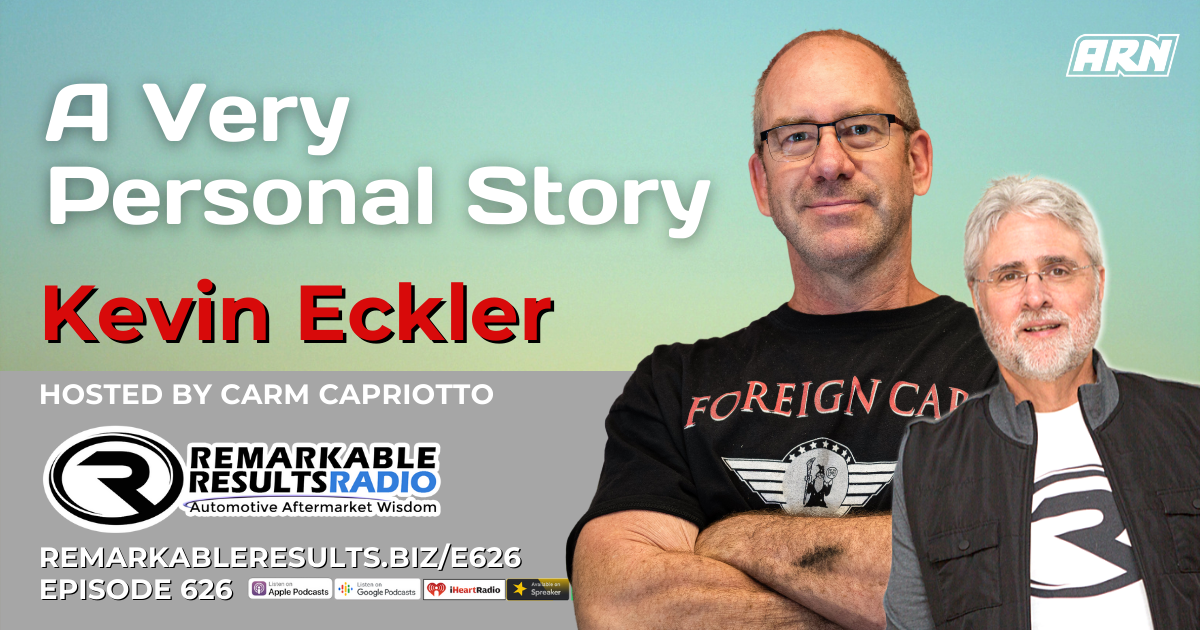 Kevin Eckler is a native New Englander who moved to New York State's Hudson Valley with his parents back in the mid-1980's. Kevin began his automotive career at the age of 14, pushing a broom in a mom and pop shop in Rhode Island, he attended a trade school, graduating at the top of his class and went right to work as a tech in a prestigious Porsche/Audi dealership in Cape Cod. Kevin continued his dealership work when he moved to NY and eventually came to work for two brothers who owned Foreign Car Specialists. When the owners retired in 1995, Kevin bought the business and the rest is history. Kevin's previous episodes HERE.
Key Talking Points:
Disney takeaways- traveled to Disney recently and learned from the COVID protocols in placeYour approach is incredibly important- selling benefits and not reinforcing the rules
Benefit- keeping you safe and enjoy your experience
Prices have increased but Kevin continues to go because of the experience he has there. Feels cared for and accommodated.
Forgetting a face mask is handled by someone saying "Hey Friend"- a positive and non-aggressive approach and attitude
"Is it easier to fix a car than a person? There's good and bad in everyone, there's potential and incredible opportunities.
People can be whoever you project into them to be if you're willing to invest in them
People will grow when encouraged and recognized
Ryan's storyKevin hired a young man named Ryan- he had learning disabilities but was passionate about cars. Worked hard and graduated from the automotive Boces program. He always stopped to look at the shop on his walks but never had the self-confidence to come in until his mom brought him one day. Kevin saw his potential and eagerness to learn.
Ryan's father was no longer in his life after parent's divorce- Kevin became a father figure to him. Kevin saw he needed someone to believe in him and invest in him. Was emotionally rewarding for Kevin
Bought Ryan $10,000 toolbox with the agreement after set term it would be his
People in times of need or times of insecurity tend to not make the best decisions- Ryan had an unstable relationship with his girlfriend that would spill over into his attitude and performance at work.
Kevin became torn with being boss and holding Ryan accountable and also being his friend and father figure that wants to help him- lead to serious issues within the culture of business with other employees
Kevin continued to protect Ryan and sacrificing the rest of the shopHad fear about firing him due to Ryan's past
Ryan began compensating his values- passion and desire for his job was no longer there
Holding someone accountable, creating boundaries and borders brings employees a sense of safety and security
Kevin finally made the decision to let him go and both felt a sigh of relief
Collateral damage along the way- lost 2 really good employees that were very upset Ryan was held at a different standard than them.
You can't fix someone's personal issues outside of work
Thanks to Kevin Eckler for his contribution to the aftermarket's premier podcast.
Link to the 'BOOKS' page, highlighting all books discussed in the podcast library HERE. Leaders are readers.
Listen for free on Apple Podcasts, Google Podcasts, Spreaker, iHeart Radio, Spotify, Podchaser, and many more. Mobile Listening APP's HERE
Find every podcast episode HERE.
Every episode is segmented by Series HERE.
Key Word Search HERE.
Be socially involved and in touch with the show:
Facebook Twitter Linked In Email
Join the Ecosystem – Subscribe to the INSIDER NEWSLETTER HERE.

This episode is brought to you by AAPEX, the Automotive Aftermarket Products Expo. AAPEX represents the $740 billion global automotive aftermarket industry and has everything you need to stay ahead of the curve. The Virtual AAPEX Experience 2020 is in the record books. Virtual AAPEX lived up to presenting leading-technical and business management training from some of the industry's best and brightest. Now set your sights on the homecoming in Las Vegas in 2021. Mark your calendar now … November 2-4, 2021, AAPEX // Now more than ever.

This episode is brought to you by Shop-Ware Shop Management. It's time to run your business at its fullest potential with the industry's leading technology. Shop-Ware Shop Management will increase your efficiency with lightning-fast workflows, help your staff capture more sales every day, and create very happy customers who promote your business. Shops running Shop-Ware have More Time and generate More Profit—join them! Schedule a free live demonstration and find out how 30 minutes can transform your shop at getshopware.com/carm