Interesting New Technology with Chris Cloutier [RR 638]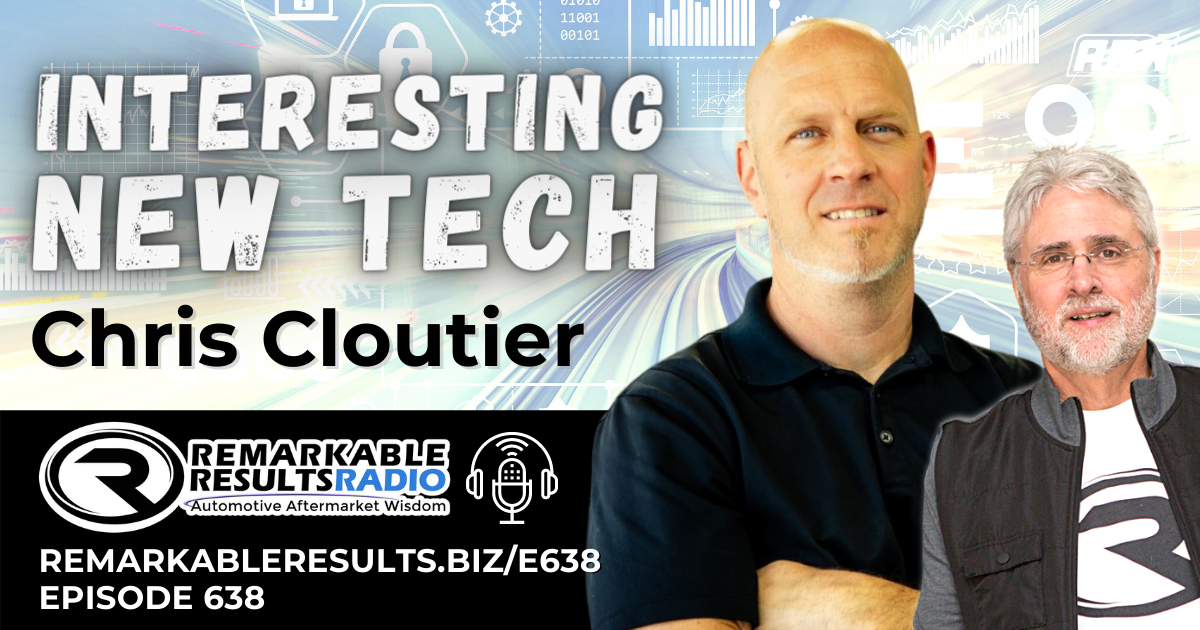 Chris Cloutier is co-owner of Golden Rule Auto Care in Dallas Texas and CEO of Auto Tex Me. He spent many years in the software industry developing solutions for companies like Southwest Airlines, and Wyndham Intl. He's worked for companies that understood the marriage of service and software, and have applied it in an effective way. Chris has his ASE C1: Automobile Service Consultant Certification Test (C1). He brings the business side to the business and his brother Pat brings the Braun. Chris is also a musician. Hear Chris's previous episodes HERE. Autotex.me website HERE.
Key Talking Points
3D printingWill change the way shops do business and how parts are delivered
Customization- printing car in future?
Speed of delivery with parts
Voice technologyHaving conversations with technology instead of keyboard use
Intuitive user interface- "point, swipe and talk" technicians can talk faster than they can write on paper for DVI's
Ask Alexa who's the best auto shop in your area- get your name in voice results Consider getting an Alexa and using it in your shop to acclimate your employees to emerging technologies
Google searchAI/ML- Artificial intelligence and machine learningMachines are learning and becoming 'smarter'
Data models- your data is important because it "feeds' models
AutoText.meBaywatcher.io- real time based statistics with cameras and license plate recognitionShop efficiency 30-40% of time your shops making money in bays
60% of time bays aren't making money
Bay management- how long has car been in bay?
Free brake check- is it really free?
Hour diagnostics- is it really an hour?
Thanks to Chris Cloutier for his contribution to the aftermarket's premier podcast.
Link to the 'BOOKS' page, highlighting all books discussed in the podcast library HERE. Leaders are readers.
Listen for free on Apple Podcasts, Google Podcasts, Spreaker, iHeart Radio, Spotify, Podchaser, and many more. Mobile Listening APP's HERE
Find every podcast episode HERE.
Every episode is segmented by Series HERE.
Key Word Search HERE.
Be socially involved and in touch with the show:
Facebook Twitter Linked In Email
Join the Ecosystem – Subscribe to the INSIDER NEWSLETTER HERE.

This episode is brought to you by AAPEX, the Automotive Aftermarket Products Expo. AAPEX represents the $740 billion global automotive aftermarket industry and has everything you need to stay ahead of the curve. The Virtual AAPEX Experience 2020 is in the record books. Virtual AAPEX lived up to presenting leading-technical and business management training from some of the industry's best and brightest. Now set your sights on the homecoming in Las Vegas in 2021. Mark your calendar now … November 2-4, 2021, AAPEX // Now more than ever.

This episode is brought to you by Shop-Ware Shop Management. It's time to run your business at its fullest potential with the industry's leading technology. Shop-Ware Shop Management will increase your efficiency with lightning-fast workflows, help your staff capture more sales every day, and create very happy customers who promote your business. Shops running Shop-Ware have More Time and generate More Profit—join them! Schedule a free live demonstration and find out how 30 minutes can transform your shop at getshopware.com/carm