10 Things That Require Zero Talent [THA 222]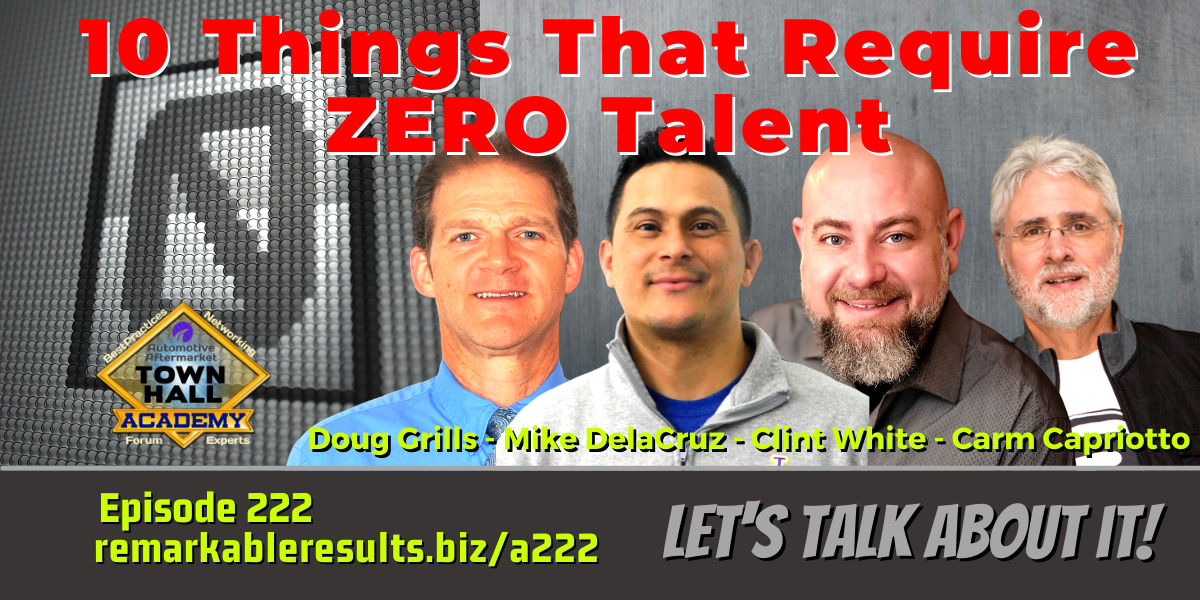 Doug Grills from AutoStream Car Care Center is a chain of 7 family-owned, automotive service facilities that deliver honest and professional automotive repair and maintenance services to customers in the Greater Baltimore/Washington, DC area. Doug along with his partner Rick Levitan has been around the service station business for over 25 years and has built their reputation by offering best-in-class service to their customers. All AutoStrem Car Care technicians are ASE Certified and the shops are AAA approved. Listen to Doug's previous episodes HERE.
Mike DelaCruz- National Sales Manager, Auto at Broadly
Clint White has been passionately immersed in the Automotive Industry for over 25 years. He is a Service Advisor Coach & Shop Consultant with CWI and currently holds multiple ASE certifications. He began his career as a Technician at a local two bay shop in 1995 and over the course of the next two and a half decades honed his sales, technical, and management skills while living in Washington & S.E. Idaho. During his journey, he has never stopped learning and has been blessed to work for and with those who value education, training, and coaching. In everything he does, Clint is focused on people and excellence! Whether it be coaching & training Service Advisors to sell with passion & integrity or working directly with Shop Owners to improve team accountability and streamline process implementation, Clint's passion is to elevate the Automotive Industry across the nation to ensure every customer consistently receives the highest level of service. Previous episodes HERE
Key Talking Points
Being On Time
Responsibility and create an environment you want to be in and be on time
Avoid anxiety when rushing
Be early to be on time for your customers
Being late affects ourselves and other people
Making an Effort
Showing effort and giving 100% is showing commitment, demonstrating to everyone else on team
Be focused on your work, lead by example, don't miss things you're required to do
Being High Energy
Doesn't mean coffee or energy drinks, its having an internal flame
People are drawn to others with high level energy
Introvert- quietly stir the flame, be intentional, choose enthusiasm
Stress kills energy- humor, exercise, sleep etc
Create work life harmony- life outside of work that stirs your passion will reenergize you
Having a Positive Attitude
Take a hard look at the impact you have on people and business
You don't know what is going on in other peoples lives- words and attitude are powerful
Do you want to have a positive or negative impact on others?
Leave your problems at the door and be kind
Failures and disappointments happen- vent upward not downward
Being Passionate
Passion involves feeling and emotion and is infectious
Smile when answering the phone- "feel the smile"
Sales- the transference of feelings
Using Good Body Language
First impressions are everything- made within 7 seconds of contact
Positive non verbal cues- engaged, approachable
Eye contact, smiling, posture, arms and hands (cross arms, hands in pockets =not engaged)
Non verbal cues must match your verbal cues!
Being Coachable
No ego when coming together to achieve a common goal- build together
Allow yourself to be coachable- be humble and open to learning/new ideas
Doing a Little Extra
Be willing to go above and beyond
Price of entry- doing what you're required to do. Living the job description
Push yourself and take initiative
Being Prepared
100% effort- proactive to be prepared
Cant serve others when ill prepared
Essential and not optional when it comes to reducing stress
Success doesn't come from what you do occasionally, it comes from what you do consistently
Having a Strong Work Ethic
Always building a reputation- invest in yourself, team and company
Work hard and generate results.
BONUS
Chick fil-A https://www.youtube.com/watch?v=2v0RhvZ3lvY
Facebook   Twitter  LinkedIn   Instagram  Youtube   Email  
Join the Ecosystem – Subscribe to the INSIDER NEWSLETTER HERE.

This episode is brought to you by Shop-Ware Shop Management. It's time to run your business at its fullest potential with the industry's leading technology. Shop-Ware Shop Management will increase your efficiency with lightning-fast workflows, help your staff capture more sales every day, and create very happy customers who promote your business. Shops running Shop-Ware have More Time and generate More Profit—join them! Schedule a free live demonstration and find out how 30 minutes can transform your shop at getshopware.com

This episode is brought to you by Shop Marketing Pros. Your guides are Kim and Brian Walker with a rich history as shop owners and industry veterans. When someone searches for a shop, who are they finding? Your competitors? It should be you! The good people over at Shop Marketing Pros know how to drive website traffic and make Google work for you! www.shopmarketingpros.com