EOS Part 4 Data with Barry Barrett [RR 639]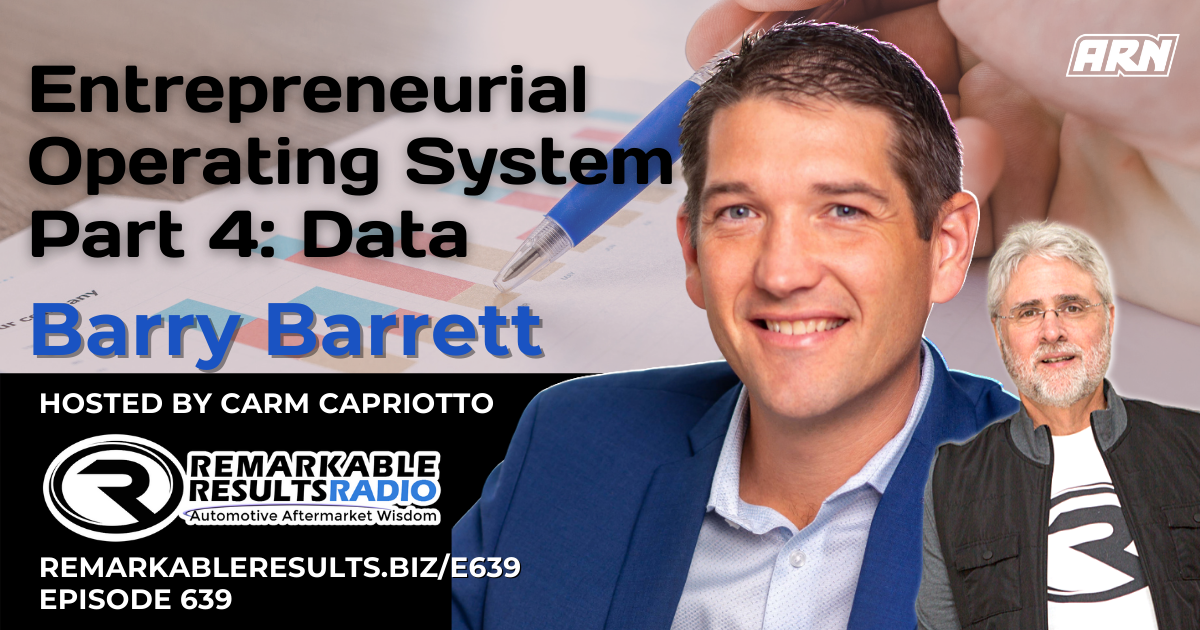 Barry Barrett, a Certified EOS Implementer
As an EOS Implementor in his company, Business With Purpose brings dedicated support to Leadership and Sales teams in all types of organizations, helping them structure the six key components of their business to make it operate with the best processes for their specific industry, using the EOS Model.
Barry's energy is contagious no matter if he is in a session with a client, giving a keynote address, or rolling up his sleeves in a workshop. Barry is a business coach with his positive mental attitude, incredible work ethic, and determination for excellence, his results-oriented approach is matchless.
Barry is driven, caring, and passionate; traits that he uses to help his clients grow their businesses in a positive way. Find Barry's other episodes HERE.
Key Talking Points
Data- 5 to 15 most important numbers that drive the pulse of your businessYou can't manage your business by only looking at the money in the bank
What are the numbers you need to drive your business? What are they for you? What do you want? What do you think?
Not using "KPI" acronym- use "measurables" instead to keep it simple and keep all employees on same team
Measurables- numbers don't lie or have blindspots Company, departmental, individual- different layers that work together to drive success
Every individual should have 1-3 measurables they are accountable for each day
Employees obtain clarity with job when they know the company's core values, understand 5 major roles and measurables
Accountability leads to fulfillment and job satisfaction
Review measurables weekly- the goal is the minimum expectation
Managing motivates- never be afraid of aiming to high because what's worse is when you aim too low and you hit, or not aim at nothing
'Accountability slide'- missing the mark and being okay with it and making excuses for itHave consequences for yourself when make a mistake
ScorecardIn business and life- ranking from 0-5
Have goals in each scorecard
Thanks to Barry Barrett for his contribution to the aftermarket's premier podcast.
Link to the 'BOOKS' page, highlighting all books discussed in the podcast library HERE. Leaders are readers.
Listen for free on Apple Podcasts, Google Podcasts, Spreaker, iHeart Radio, Spotify, Podchaser, and many more. Mobile Listening APP's HERE
Find every podcast episode HERE.
Every episode is segmented by Series HERE.
Key Word Search HERE.
Be socially involved and in touch with the show:
Facebook Twitter LinkedIn Instagram Youtube Email
Join the Ecosystem – Subscribe to the INSIDER NEWSLETTER HERE.

NAPA Autotech Training helps your technicians keep their skills sharp and their NAPA Know How up to date. It's the highest quality technical training that covers almost every vehicle system and every make and model. NAPA Autotech is presented by experienced instructors who are ASE master certified technicians. Even after a class is over, techs can access course information online with ClassPass. So when questions come up later they can get the answers. AutoCare Center owners who have taken advantage of Autotech Training say that well-trained technicians are helping to increase their shop's repair capability and raise bay productivity. That results in fewer comebacks, more satisfied shop customers, and reduced technician turnover.
Learn more about NAPA AutoCare and the benefits of being part of the NAPA family by visiting www.NAPAAutoCare.com.