My Biggest Mistakes [THA 223]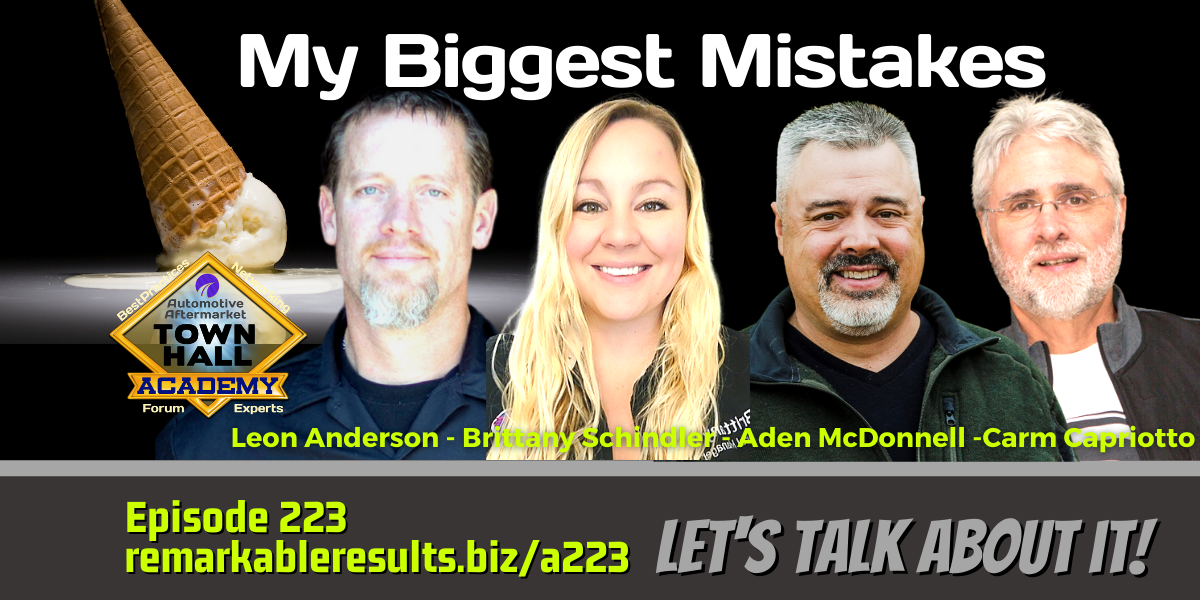 Panel:
Leon Anderson, owner of Integrity Auto Care, South Beloit, Illinois and Belvidere, Illinois. A long career with Ford dealerships starting as a technician and ending his Ford career as a General manager. Celebrated by Ford Motor Company for Customer service satisfaction. Lessons learned during that time were the growth of female customers in total purchase decisions. Twelve years ago Leon started Integrity with the thought that he could employ some of the people that lost jobs during the closure of dealerships that were going on in the area and hopefully move some of the customers that were orphaned into longtime customers. Integrity Auto Care caters to customers with a focus on women and baby boomers, as the main customer base.
Brittany Schindler, GM of her father's shop in Rod's Japanese Auto Care in Bellingham, WA for over 10 years. She loves working at the shop and being able to help people every day. Brittany has learned so much over the years by going to classes with great trainers and having a great business coach. One of her main focuses is to raise the standard of the automotive service and repair industry.
Aden McDonnell is a second-generation shop owner, his parents have been in the business for 64 years. Aden has owned and operated since 2003. He worked for Ford dealership for 9 years and was the youngest service manager in Montana during his employment. Aden believes in coaching and has been with ATI for 8 years. He attended his first SuperConference in 2019 and it was a big change in his thought processes and operations. Aden is married and has two daughters.
Key Talking Points
Too prideful- Thinking you can do everything yourself instead of training people what to do. Too proud to call customers to ask for a review/ask how they are doing/when they will come back
SOP's- be prepared for daily SOP's and unpredictable events that take the owner out of business. What is going to make you dispensable? Write down answers to questions your employees have to ask you.
Establishing second in command- letting teams manage and be accountable. Trust and empower the people you put into place. Have your second in command go through training and train others in shop.
Margins- believing in your shop and the benefits of going there as a customer. Believing you are worth what you're asking for.
Procrastination and pushback from the things you need to do- listening to coach/mentor.
Definition of insanity- doing the same thing over and over again expecting different results
Trusting people- giving authority to employees to handle customer situations immediately.
Establish expectations with employees- too often owners get stuck wearing management hat and never switch to leadership hat. Instead of managing, you need to continue to grow your people.
Mistakes when growing (inner growth, outer growth, shop growth)- getting lean with processes to get customers in and out as efficiently as possible
Never taking a vacation- if you say you don't have time for it then it's not a priority to you
20 groups/coaches saving a marriage- surrounding yourself with people you want to emulate. Having accountability in professional and personal life.
A special thanks to Leon Anderson, Brittany Schindler and Aden McDonnell for their contribution to the aftermarket.
Books Page HERE
Listen to all Remarkable Results Radio, For The Record and Town Hall Academy episodes.
Facebook   Twitter  LinkedIn   Instagram  Youtube   Email  
Join the Ecosystem – Subscribe to the INSIDER NEWSLETTER HERE.

This episode is brought to you by Shop-Ware Shop Management. It's time to run your business at its fullest potential with the industry's leading technology. Shop-Ware Shop Management will increase your efficiency with lightning-fast workflows, help your staff capture more sales every day, and create very happy customers who promote your business. Shops running Shop-Ware have More Time and generate More Profit—join them! Schedule a free live demonstration and find out how 30 minutes can transform your shop at getshopware.com

This episode is brought to you by Shop Marketing Pros. Your guides are Kim and Brian Walker with a rich history as shop owners and industry veterans. When someone searches for a shop, who are they finding? Your competitors? It should be you! The good people over at Shop Marketing Pros know how to drive website traffic and make Google work for you! www.shopmarketingpros.com