Technician Outlook with Jake Sorensen- Part 1 [RR 643]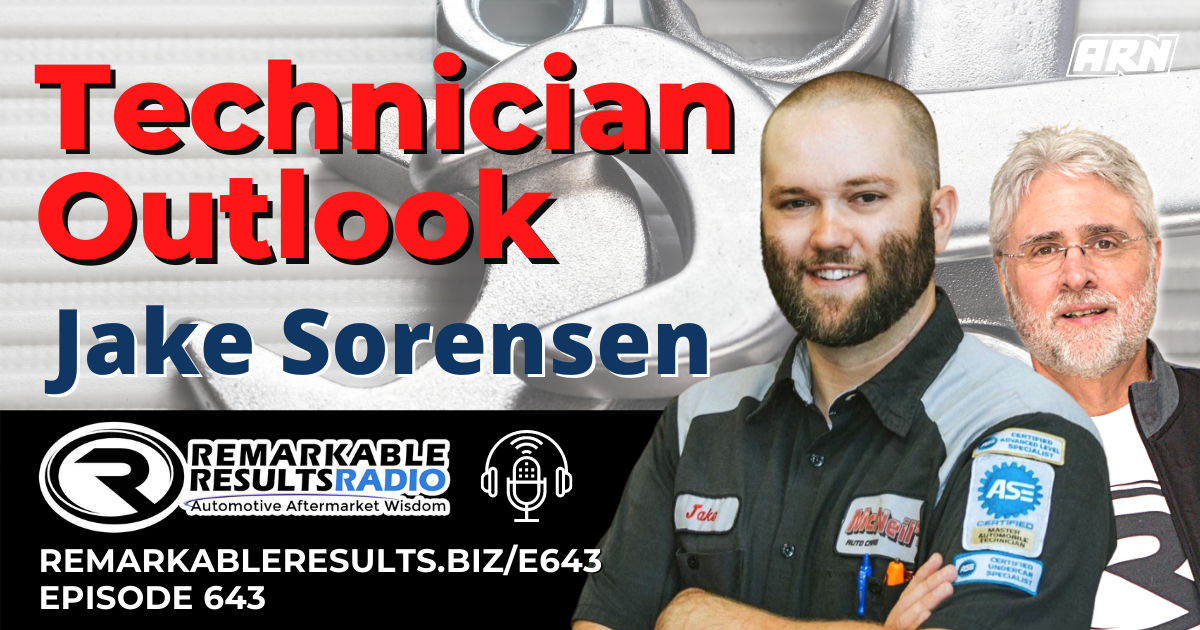 Jake Sorensen- 2019 NAPA ASE Technician of the Year and 2019 Ratchet + Wrench All-Star technician of the year. He is an ASE Master technician with L1,2 and 3 advanced level certifications. He is the shop manager and diagnostic technician at McNeil's Auto Care in Sandy, UT where he helped develop an apprenticeship program that is registered with the U.S. Department of Labor. This program has graduated several high-performing automotive technicians and was used by NAPA Auto Care as a template for their automotive apprenticeship program. Jake also developed the curriculum for an automotive course that he teaches at an adult education high school. Listen to Jake's previous episodes HERE
Key Talking Points
How & why start building an apprentice program- Call it a Tech shortage or a shortage of qualified Techs either way almost every shop is looking for at least one technician right now. Set your shop apart by offering an apprenticeship. Quality Technicians are more likely to accept a job offer when they see the shop has a commitment to training. Training becomes contagious for everyone in the shop
Use a program that is already available.
Incorporate pay- This is not an internship, make sure pay increases as they progress and hit milestones. Take advantage of all learning styles available to you. Some learn better through videos others through in-person or hands-on. Use every option.
Finding apprentices- schools, running a local ad for an apprenticeship. Look for someone who has been at previous employment for a significant amount of time. "No previous experience necessary"
Finding the right mentor and the time to do so- Qualified technician. The right personality and compensated accordingly. Willingness to share, help and learn. Doesn't have to be the most seasoned veteran in the shop.
In House training- Offer training specific to your shop's needs- evening vs day, offer variety to meet everyone's needs and preferences. Share case studies with everyone- discuss issues and how it was resolved. Answer questions about it.
Who will instruct? You or your lead Tech if that is an option. You will learn the topic better than anyone when you research to teach. Ask your local mobile techs. Check with your parts distributors. If you cannot find an option, use recorded training and play on a large screen
Make it as enjoyable as possible- Close the shop a little early. Give away prizes. Provide food
Thanks to Jake Sorensen for his contribution to the aftermarket's premier podcast.
Link to the 'BOOKS' page, highlighting all books discussed in the podcast library HERE. Leaders are readers.
Listen for free on Apple Podcasts, Google Podcasts, Spreaker, iHeart Radio, Spotify, Podchaser, and many more. Mobile Listening APP's HERE
Find every podcast episode HERE.
Every episode is segmented by Series HERE.
Key Word Search HERE.
Be socially involved and in touch with the show:
Facebook   Twitter  LinkedIn   Instagram  Youtube   Email  
Join the Ecosystem – Subscribe to the INSIDER NEWSLETTER HERE.

NAPA AutoCare's PROimage program makes it easy for you to make the most of the NAPA brand. A PROimage upgrade lets you maintain your shop's identity as a reliable, locally-owned business while letting your customers and potential customers know you're partnering with NAPA, the most recognized and trusted name in the automotive aftermarket. AutoCare Centers that have completed a PROimage exterior upgrade enjoy an average 23 percent sales increase during the first year. You can also choose to go PROimage on the interior and transform your customer waiting area from merely utilitarian to warm and welcoming. You can even get a free look by visting www.NAPAAutoCare.com and clicking on the NAPA PROimage link under the NAPA PROimage tab. Of course, the AutoCare site is also the place to go to find out about all the advantages being part of the NAPA family has to offer.