Building Customer Trust [THA 225]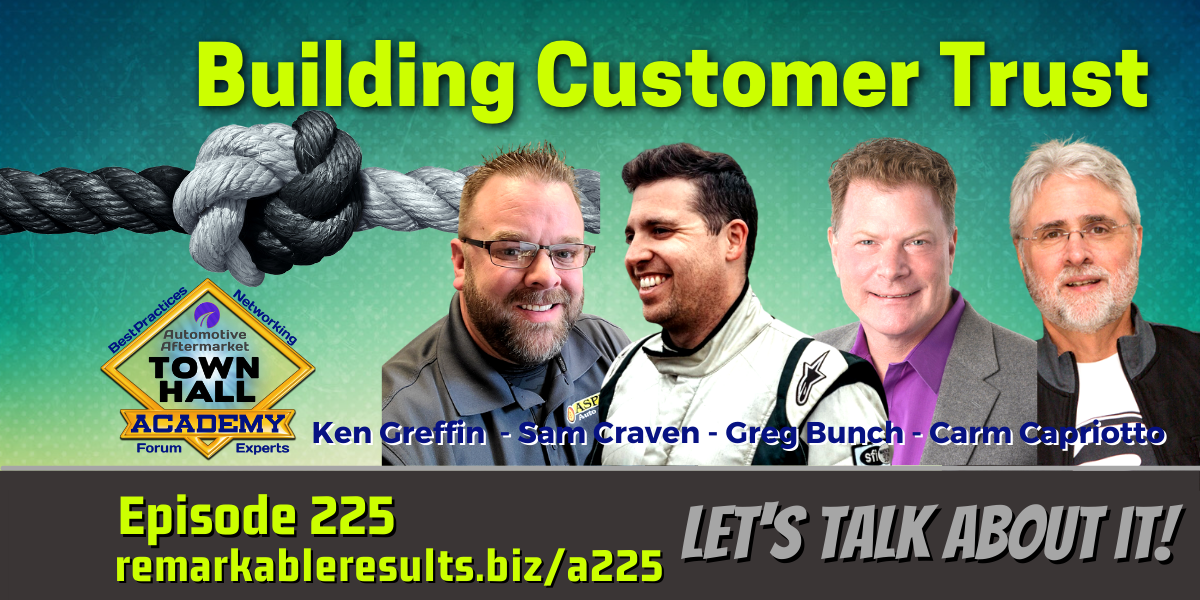 Kenneth Greffin-28 years in the automotive industry. President of Aspen Auto Clinic with 5 locations. He's done a bit of everything; tire buster, oil changer, Shop Owner, Franchise Consultant and Big Box Automotive Retail Executive.
Sam Craven– Owner of The Garagisti, Houston, TX. Following an established career in business and real-estate, native Houstonian Sam Craven has brought his passion for business and racing together with a return to his roots within the world of cars and motorsports. A graduate of Texas A&M's Mechanical Engineering school, Sam was a busy student. While some headed to the bars on the weekend, Sam headed out all over the country between classes (and sometimes during classes…) to work as a mechanic and run data systems for Ferrari, Porsche and open wheel race cars. Sam created The Garagisti to be a space for both the hardcore enthusiasts and people who simply desire trusted, quality work combined with an excellent client experience. The Garagisti was made for the people that appreciate their car and expect a dealer level experience.
Greg Bunch is the owner of Aspen Auto Clinic, a five-location automotive and service business in Colorado. Greg started his passion for cars at 15 when he began rebuilding a 1966 Volkswagen Bug. Greg has moved from a Volkswagen mechanic to ASE Master Technician, to Management, to starting his shop 18 years ago in his garage, to an award-winning multi-location business.
Greg is currently a board member for the STEM-based charter school call "Automotive Institute of Science & Technology" and on the Advisory board of Ratchet and Wrench Magazine. Greg is also a board member of the Autocare organization and a certified instructor for the Worldpac Training Institute and Carquest Technical Institute. Greg's unwavering passion for the industry has also led him to form a company called Transformers Institute, a coaching and training company dedicated to transforming the automotive industry.
Listen to Greg's previous episodes HERE. Transformers Institute HERE.
Key Talking Points
Build a culture where technicians meet owners of vehicles- brings more relationship and effort to repair.
Break down the wall of what technician knows and what customer understands- if the customer doesn't understand, they don't feel comfortable buying
Build trust at every touchpoint- mailer, curb appeal, roads on way to location (are mom and kids comfortable driving there?) marketing, follow up after the customer has left, answering the phone, how does the shop look? How do technicians look and speak to customers? Make it a point that technicians should say "hello" to customers when walking by.
Little things lead to big things- both positive and negative
"I need my car towed to your shop" – set it up yourself instead of giving them the tow truck phone number
"No update update" -keeping customers in the loop
Phone etiquette- beginning of first human interaction, the customer is calling because they are looking for help. Take the stress level of customers down. Building trust and making them feel like they called the right place. Tonality, customers can't see your face, your only tool is your voice. Record and listen to your phone calls. Get the basics done.
Make it personal- use pictures of owner/employees
Collaborative interaction with customers- make them a part of the process. Show them the DVI. The choice is their own, how you relay the message and repairs makes the difference.
Collaborative interaction with employees- everyone needs to hold each other accountable, share ideas, support, offer feedback
Transparency- no one makes decisions unless they 100% understand, consider showing the customer their fluid sample colors
"Test procedures" can help customers understand diagnostic work
"Key droppers"- are they repeat customers?
Service advisor's goal- win skeptical customers over with exceptional customer service
How do you handle complaints? Find resolution and recovery to repair the relationship
Consultive style selling techniques- ask the customer what they use their car for, what is their relationship with their car, how long do they plan on keeping it
A special thanks to Ken Greffin, Sam Craven and Greg Bunch for their contribution to the aftermarket.
Books Page HERE
Listen to all Remarkable Results Radio, For The Record and Town Hall Academy episodes.
Facebook   Twitter  LinkedIn   Instagram  Youtube   Email  
Join the Ecosystem – Subscribe to the INSIDER NEWSLETTER HERE.

This episode is brought to you by Shop-Ware Shop Management. It's time to run your business at its fullest potential with the industry's leading technology. Shop-Ware Shop Management will increase your efficiency with lightning-fast workflows, help your staff capture more sales every day, and create very happy customers who promote your business. Shops running Shop-Ware have More Time and generate More Profit—join them! Schedule a free live demonstration and find out how 30 minutes can transform your shop at getshopware.com

This episode is brought to you by Shop Marketing Pros. Your guides are Kim and Brian Walker with a rich history as shop owners and industry veterans. When someone searches for a shop, who are they finding? Your competitors? It should be you! The good people over at Shop Marketing Pros know how to drive website traffic and make Google work for you! www.shopmarketingpros.com