Total Management Commitment to Training – BE BOLD with Karim Morsli [RR 651]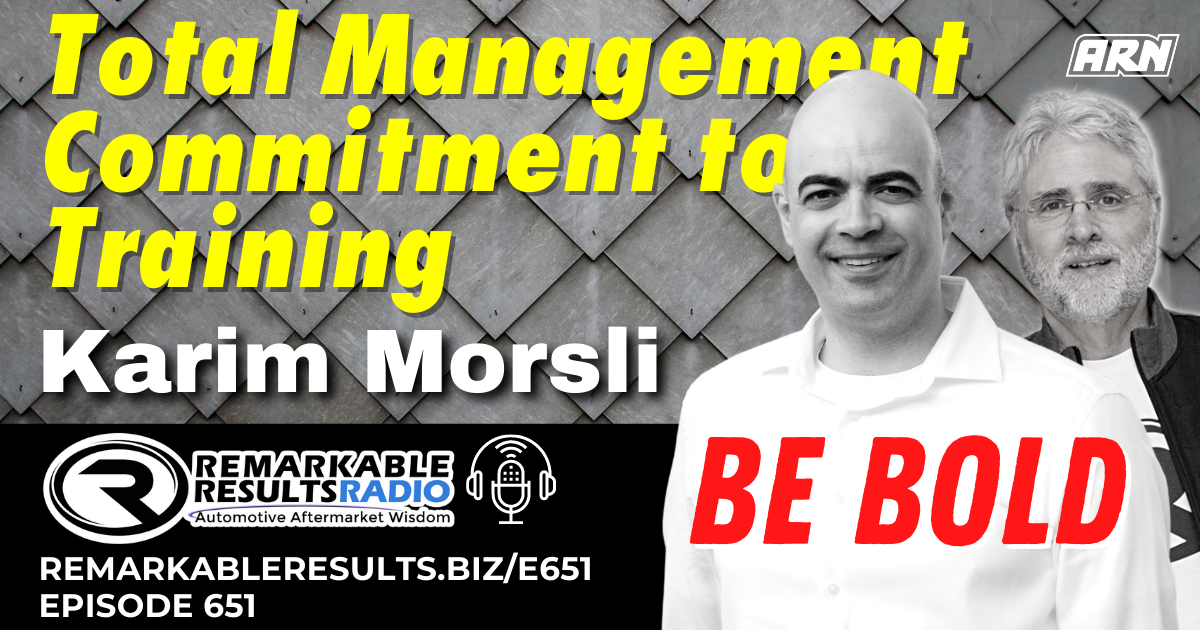 Karim Morsli owner of Winkler Automotive in Gaithersburg, MD, is an engineer by trade who has worked in the oil fields and information technology industry. Karim is passionate about the new direction the automotive industry is taking, and in particular, the critical role independent service centers will need to evolve into to ensure all present and future car owners will have the choice of where to have their vehicle serviced besides the dealership.
He is an innovator who works on multiple levels within the industry (education and legislative) to ensure his service center and others like his are ready for the challenges ahead. Always one to practice an open door approach, he is always willing to teach and share his knowledge and is also an avid learner. Listen to Karim's previous episodes HERE.
Key Talking Points
Training- to give someone the skills needed/upgrade skills to complete a job
Training approach- overarching similarity but there should be a difference depending on the position.
Technician training- has to be calculated, sustained, progressive, evolve with changes in technology. It will change the most in business. Learning is a part of your culture and ongoing. Starts from top-down.
Create self-awareness with your employees- how do you lead? Are you asking questions as a leader (not accusatory but leading questions)?
Do you have a marketing calendar? How about a training calendar?
ASE certifications- know your worth and grow from there and get a sense of fulfillment through achievement
Assessments/competence- all starts at recruiting/hiring. "Garbage in, garbage out." Constantly assess what their skill level is, never do cookie-cutter training. Be individualized. Also, train for what your business needs too. Assessments are launching off point for improvement. Unconscious Competence, Conscious Competence, Conscious Incompetence, Unconscious Incompetence
Has training become unprofessional? Ask employees to go after hours for training and not be paid.
On average if you spend $100 on training you'll receive $450 in return
Retention- how do you fight boredom with your employees? Put them in front of a challenge and be given the opportunity to grow themselves.
Comebacks- training opportunity. Technicians will work on it under the supervision of a manager as neutral pair of eyes. Mistakes happen and you can turn it into a positive by having the technician correct mistake and teach it to others in the shop.
Be proactive, not reactive- to be the best business it doesn't come easy or free.
What is your commitment to your employees? Provide the best working environment to allow them to achieve their highest potential
Inducting training: Condition of employment, need to be trained first before working on car/talking to customers to learn ways of business. Trainual software- take SOP's and transfer into digital format to go through it and be assets what they've retained with questions
Continuation training- second step, progression of training
Redeployment- changing positions especially when you have multiple locations
Remedial- refresher training
Cultural- all employees should understand your "why"
Developmental- acquiring self-awareness to grow as a person
Innovation- innovate on changing technology
Retirement- transitioning to a different path
Thanks to Karim Morsli for his contribution to the aftermarket's premier podcast.
Link to the 'BOOKS' page, highlighting all books discussed in the podcast library HERE. Leaders are readers.
Listen for free on Apple Podcasts, Google Podcasts, Spreaker, iHeart Radio, Spotify, Podchaser, and many more. Mobile Listening APP's HERE
Find every podcast episode HERE.
Every episode is segmented by Series HERE.
Key Word Search HERE.
Be socially involved and in touch with the show:
Facebook Twitter LinkedIn Instagram Youtube Email
Join the Ecosystem – Subscribe to the INSIDER NEWSLETTER HERE.

NAPA Autotech Training helps your technicians keep their skills sharp and their NAPA Know How up to date. It's the highest quality technical training that covers almost every vehicle system and every make and model. NAPA Autotech is presented by experienced instructors who are ASE master certified technicians. Even after a class is over, techs can access course information online with ClassPass. So when questions come up later they can get the answers. AutoCare Center owners who have taken advantage of Autotech Training say that well-trained technicians are helping to increase their shop's repair capability and raise bay productivity. That results in fewer comebacks, more satisfied shop customers, and reduced technician turnover.
Learn more about NAPA AutoCare and the benefits of being part of the NAPA family by visiting www.NAPAAutoCare.com.