Career Paths – Technician to Manager [THA 229]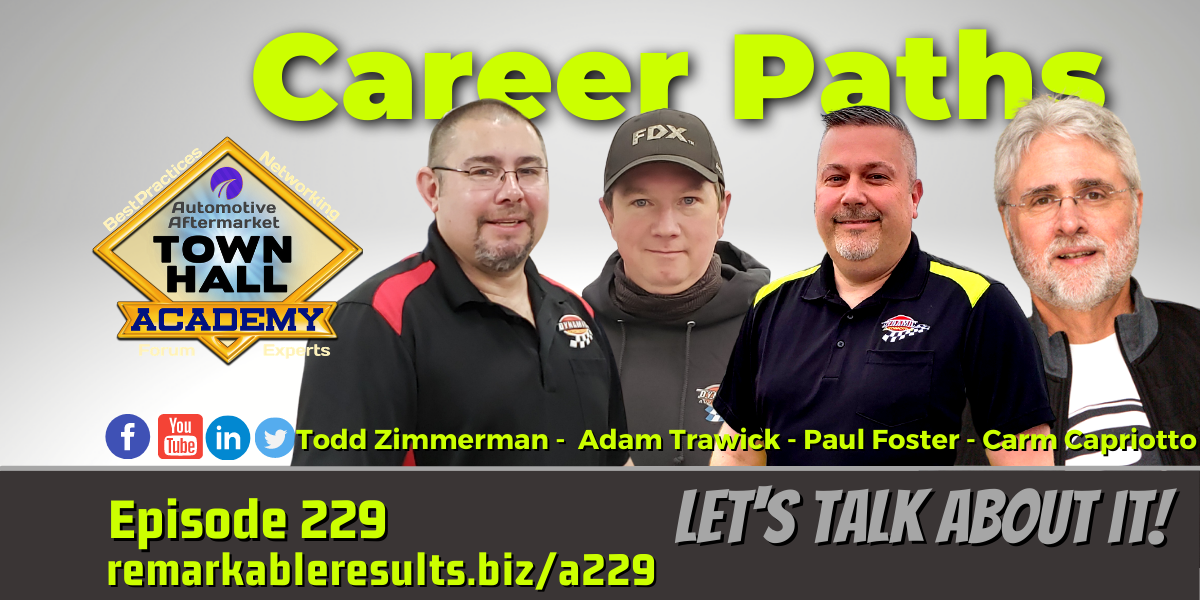 Todd Zimmerman, Dynamic Automotive's Location Leader. He developed a passion for automobiles at a young age and turned it into a career 28 years ago. Todd's early years were spent in Ford and Lincoln dealerships and the last 14 years working with Dynamic Automotive. He started as a technician and then a shop foreman and currently as a location leader. He's an ASE certified master technician, Maryland State Inspector and registered Maryland State emissions repair technician. Todd has worked with ASE as a subject matter expert and to develop the recertification mobile app. He also enjoys mentoring the next generations of technicians. Previous episodes HERE.
Adam Trawick, Dynamic Automotive's Location Leader
Paul Foster, Dynamic Automotive's Location Leader and Safety Committee Chairman. He has been in the auto repair industry for 28 years and with Dynamic for 13 years. Paul is a MD state inspector, ASE certified Master Tech with L1, L2 and L3 certifications. Worked in the shop for 23 years and have been the leader at Urbana for 5 years now with his sights set on the General Manager role with Dynamic Automotive.
Key Talking Points
Location leader (manager)
Paul- technician at a different independent location for 5 years, left, became shop foreman and then manager
Todd- 13 years in dealership world, wanted to look for something else and be more a part of the business and customers experience
Adam- worked at independent shop 18 years and plateaued, hired and within 6 months became manager of new location
Growing sales for new locations- marketing with mailers
Dynamic Automotive- one of the biggest business in the area and well known, everyone is willing to help each other and there is growth potential
Growth expansion to 5 stores- giving more people opportunities, the learning curve can be steep and fail forward. Letting your employees make their own mistakes and learn.
Future positions- district manager, location development role
Road map reviews- gives employees the opportunity to list goals and expectations
Training/mentorship- investment into employees and guides them on their career path, keep training resume on each employee. Also creates a networking outlet.
Advice- take time to think before you speak (filters), be thorough and don't rush, train your replacement and make sure they're aware
A special thanks to Todd Zimmerman, Adam Trawick and Paul Foster for their contribution to the aftermarket.
Books Page HERE
Listen to all Remarkable Results Radio, For The Record and Town Hall Academy episodes.
Facebook Twitter LinkedIn Instagram Youtube Email
Join the Ecosystem – Subscribe to the INSIDER NEWSLETTER HERE.

This episode is brought to you by Shop-Ware Shop Management. It's time to run your business at its fullest potential with the industry's leading technology. Shop-Ware Shop Management will increase your efficiency with lightning-fast workflows, help your staff capture more sales every day, and create very happy customers who promote your business. Shops running Shop-Ware have More Time and generate More Profit—join them! Schedule a free live demonstration and find out how 30 minutes can transform your shop at getshopware.com

This episode is brought to you by Shop Marketing Pros. Your guides are Kim and Brian Walker with a rich history as shop owners and industry veterans. When someone searches for a shop, who are they finding? Your competitors? It should be you! The good people over at Shop Marketing Pros know how to drive website traffic and make Google work for you! www.shopmarketingpros.com