What My Dad Taught Me with Emily Chung [RR 652]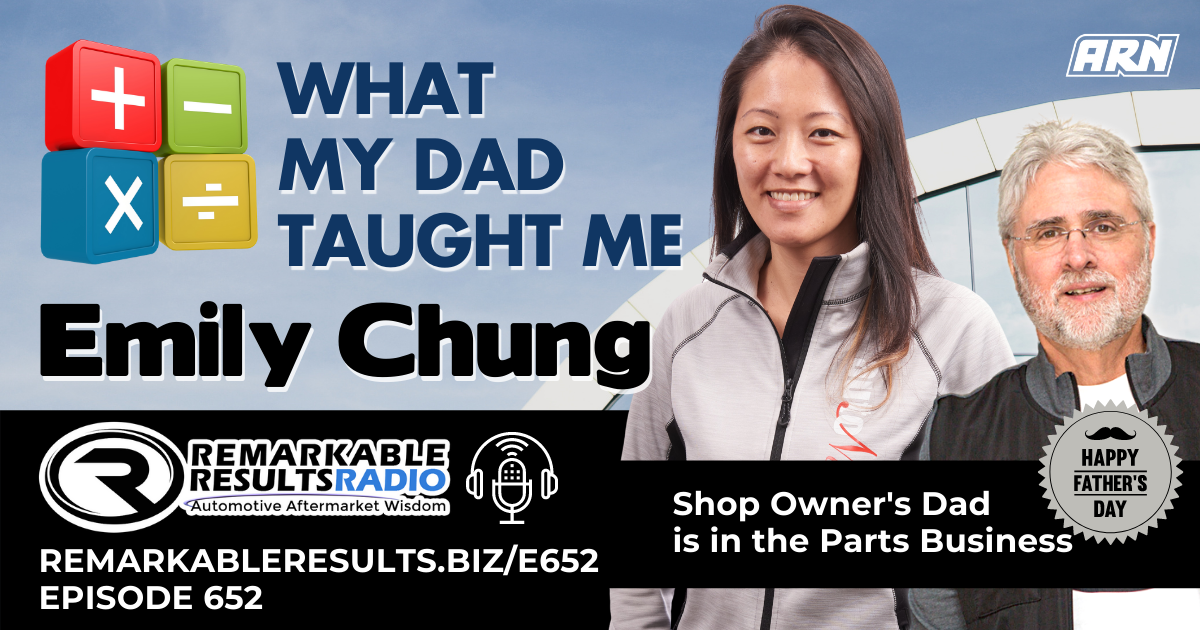 Emily Chung is a proud mom of two energetic boys. She owns and operates AutoNiche, a family-friendly auto repair shop in Markham. She is a licensed Automotive Service Technician, and Automotive Writer with various publications. She also teaches in the Automotive Business School of Canada at Georgian College. Emily holds a degree from the University of Waterloo in Psychology and Business, and her previous jobs include Psychometrist and Human Resources Associate.
She has appeared on various media including Breakfast Television, Cityline, and the Marilyn Denis Show. She is passionate about her work; together with her staff, AutoNiche's purpose is to bring better communication and client service to the auto repair experience. Check Emily's previous episodes HERE.
Key Talking Points
Emily's Dad- Owns a national wholesale auto parts business that he started in the 1990s. Both parents immigrated from Hong Kong. Emily used to put label stickers on boxes at the shop when she was little. Enjoyed spending time with him. Learned math by playing blackjack with him. The integrity of business- miscommunication will happen but everything is a discussion/conversation. Worked through racial discrimination by not having a victim mindset.
Emily has a commitment to purchase from the "jobbers" instead of buying directly from dad- respects the channel
Being an entrepreneur-"Kids will never remember the extra hours you put into work, they'll remember the extra hours you spent with them" COVID was a blessing in disguise, being able to spend more time with family.
Watching a live game vs highlight reel- the highs and lows of a game when you don't know the final outcome can seem overwhelming, but when you're watching a highlight reel and you know the score it doesn't hit as hard. In the end, everything is going to work out. Our day-to-day lives is only a small data point in the big picture. Mistakes are learning opportunities if you pay attention.
Thanks to Emily Chung for her contribution to the aftermarket's premier podcast.
Link to the 'BOOKS' page, highlighting all books discussed in the podcast library HERE. Leaders are readers.
Listen for free on Apple Podcasts, Google Podcasts, Spreaker, iHeart Radio, Spotify, Podchaser, and many more. Mobile Listening APP's HERE
Find every podcast episode HERE.
Every episode is segmented by Series HERE.
Key Word Search HERE.
Be socially involved and in touch with the show:
Facebook Twitter Linked In Email
Join the Ecosystem – Subscribe to the INSIDER NEWSLETTER HERE.

This episode is brought to you by AAPEX, the Automotive Aftermarket Products Expo. AAPEX represents the $740 billion global automotive aftermarket industry and has everything you need to stay ahead of the curve. The Virtual AAPEX Experience 2020 is in the record books. Virtual AAPEX lived up to presenting leading-technical and business management training from some of the industry's best and brightest. Now set your sights on the homecoming in Las Vegas in 2021. Mark your calendar now … November 2-4, 2021, AAPEX // Now more than ever.

This episode is brought to you by Shop-Ware Shop Management. It's time to run your business at its fullest potential with the industry's leading technology. Shop-Ware Shop Management will increase your efficiency with lightning-fast workflows, help your staff capture more sales every day, and create very happy customers who promote your business. Shops running Shop-Ware have More Time and generate More Profit—join them! Schedule a free live demonstration and find out how 30 minutes can transform your shop at getshopware.com/carm