Shop Owner has a Golf Cart Gold Mine – Mark Reopke [RR 655]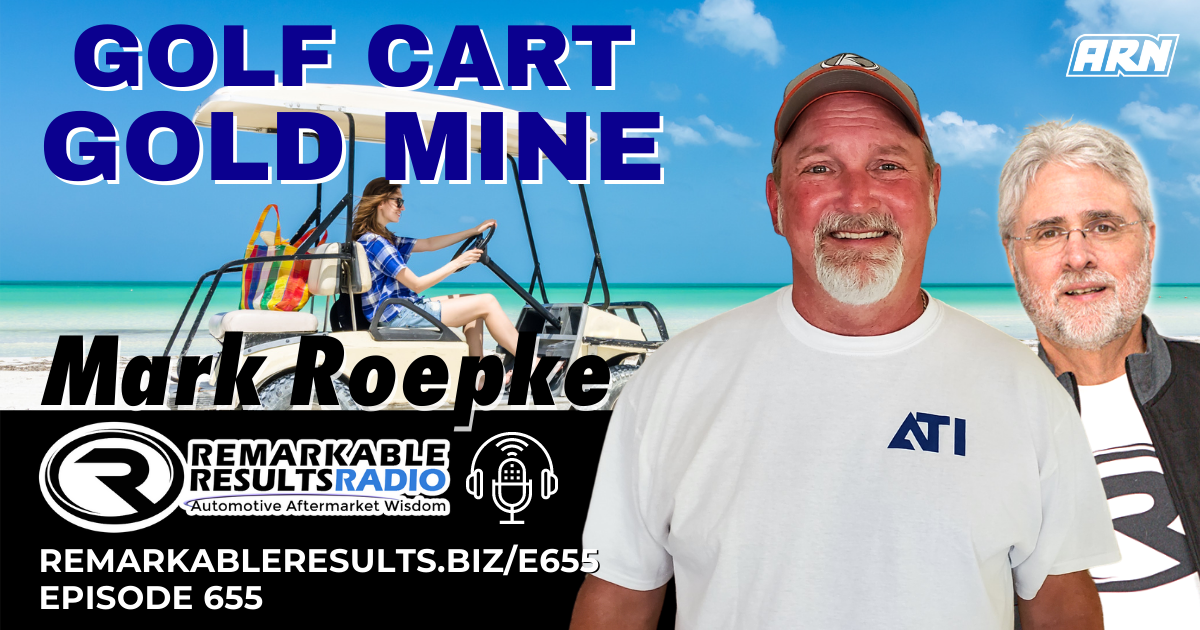 Mark Roepke, Quality Auto Mart & Service, Batesville, IN. When it comes to "Alternative Profit" centers Mark and Nancy Roepke have created a solid pathway for alternative incomes as the Owners of Quality Auto Mart, Quality Carts and Quality Storage.
Mark and his parents bought 4 acres in 1987, just outside of Batesville, IN, to build an auto repair facility and Quality Auto Mart & Service was born.  His parents, Charles and Betty Roepke, built a 100 unit Storage facility that was one of the first in the area.  After the passing of his parents, Mark and Nancy continue to operate Quality Storage.
While doing Auto Service, customers from the Campground across the street started asking for Golf Cart repair and service.  The word traveled quickly and Quality Carts was born and has proven to be one of the fastest growing parts of their business.  Quality Carts offers Sales, Service, Parts and Accessories and contributes about 70% of the overall income!
Key Talking Points
Across the street from the shop is a campground, 500 acres with over 700 golf carts- started servicing the golf carts. Started to repair more and more golf carts. 

Lightbulb moment- "I don't care what it costs, I just want my golf cart fixed now." 

Started charging accordingly with auto repair rate- average 30 per week, no competition, DVI process, treat it exactly like a vehicle. No waiters, drop off only. 

Golf carts need good maintenance once a year and can last up to 25 years

During slower winter months and holidays- free pick up and delivery for golf carts

Dealerships would rather sell new carts than repair existing

Everyone learns together how to repair golf carts- recurring problems and failures is a learning curve 

Built website and marketing campaign for golf cart repairs- backed up 2-3 weeks during busy summer months (golfcartdude.com)

2 parts vendors for carts (besides dealerships)

Also buys and sells carts- new runs $8-10K, became difficult to purchase new or used post-pandemic

Boneyard- carts get sold down to parts down to the frame, only a few in the country and people will drive hours to buy parts from them. All profit. 

Rental carts- $350 for 3 days

Golf courses- receive carts from the vendor, when the lease is done Mark buys them. 
Thanks to Mark Roepke for his contribution to the aftermarket's premier podcast.
Link to the 'BOOKS' page, highlighting all books discussed in the podcast library HERE. Leaders are readers.
Listen for free on Apple Podcasts, Google Podcasts, Spreaker, iHeart Radio, Spotify, Podchaser, and many more. Mobile Listening APP's HERE
Find every podcast episode HERE.
Every episode is segmented by Series HERE.
Key Word Search HERE.
Be socially involved and in touch with the show:
Facebook   Twitter  LinkedIn   Instagram  Youtube   Email  
Join the Ecosystem – Subscribe to the INSIDER NEWSLETTER HERE.

NAPA AutoCare's PROimage program makes it easy for you to make the most of the NAPA brand. A PROimage upgrade lets you maintain your shop's identity as a reliable, locally-owned business while letting your customers and potential customers know you're partnering with NAPA, the most recognized and trusted name in the automotive aftermarket. AutoCare Centers that have completed a PROimage exterior upgrade enjoy an average 23 percent sales increase during the first year. You can also choose to go PROimage on the interior and transform your customer waiting area from merely utilitarian to warm and welcoming. You can even get a free look by visting www.NAPAAutoCare.com and clicking on the NAPA PROimage link under the NAPA PROimage tab. Of course, the AutoCare site is also the place to go to find out about all the advantages being part of the NAPA family has to offer.