Playing the Long Game [THA 231]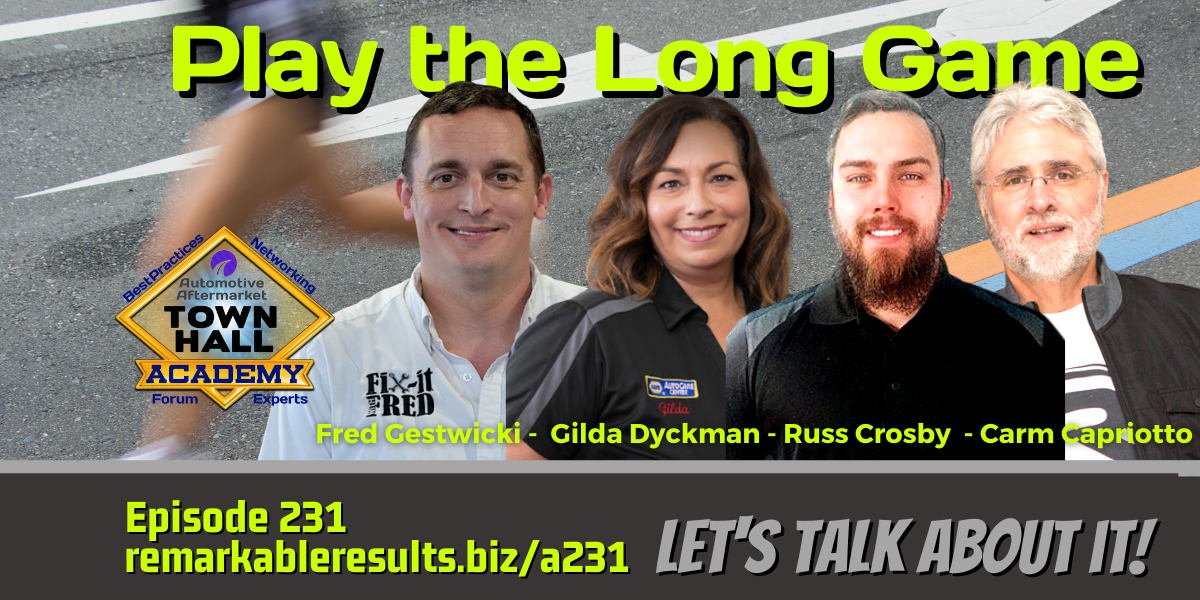 Fred Gestwicki, Jr, Fix-It With Fred, Canton, OH. Owner / Master Technician. 25 Years of Automotive Experience. ASE Master Technician, Hyundai and Kia Master Technician, Mitsubishi Master Technician. Fred is a graduate of Jackson High School. He worked in dealerships for 15+ years before starting Fix-it With Fred. In his spare time, he enjoys spending time with his wife Jessica and their two sons Eric & Reid. Fred is an active member of his Church Perry Christian Church. Listen to Fred's previous episodes HERE
Gilda Dyckman, Cars Automotive & Muffler, Redondo Beach, CA, with husband Michael. After 16 years working in the diamond industry, Gilda began her automotive career with Edelbrock in Torrance CA in their purchasing department. From there she joined in my husband's family business and have been there for 25 years. Listen to Gilda's previous episodes HERE
Additionally, Russ has been providing excellent service to the area's emergency vehicles for the last four years in previous shops- specializing in general maintenance, installation of emergency equipment and lighting, lettering and decaling, large diesel engines, and programming and installation of electronic equipment. Russ's Wrench will provide the necessary services to have these emergency vehicles operating at their maximum capacity with minimum downtime.
Russ's Wrench can handle all electrical installations, diagnostics, and repairs because we are one of the few shops in the area that has the necessary equipment and expertise for all foreign and domestic vehicles. Listen to Russell's previous episodes HERE
Key Talking Points
Technicians- you must be constantly growing technicians, hire out of local high schools/colleges and grow them. Apprenticeships are key. 

Shift mindset of the youth- open different pathways besides college education 

Don't wait until you lose a technician to hire a technician- being heavy on technicians leads to other opportunities (satellite location, more efficient). It's not a risk, it's an investment. No one complains they have too many techs.

Don't be afraid to have conversations with other technicians- build trust, if it doesn't work out they will find another job within a day

Fear prevents you to go into a new world of greatness- changing positions isn't comfortable but necessary to grow

Emerging technology- the future is here, training for new EV vehicles, start a marketing campaign for new clientele and technicians. Educating customers that hybrids need repairs. Look into charging ports. This is your opportunity to gain lifetime clientele. 

Total lifetime spent- customer personal ARO. Motivation isn't the bill today but the whole driving career. This is a service industry, not a repair business. What is your mission of the business? Investing in their car invests, in their community. Let them know what you do behind the scenes (helping the community). Put the plaques and newspaper clippings in the shop, Be proud and let your customers know. Be the inspiration.

Change mindset- we are financial advisors to customer's investments. Ask customers what their plan is for their vehicle, keeping it forever? Spare car? Are they looking for a new car and need advice?

A special thanks to Fred Gestwicki Jr, Gilda Dykman and Russell Crosby for their contribution to the aftermarket.
Facebook   Twitter  LinkedIn   Instagram  Youtube   Email  
Join the Ecosystem – Subscribe to the INSIDER NEWSLETTER HERE.

This episode is brought to you by Shop-Ware Shop Management. It's time to run your business at its fullest potential with the industry's leading technology. Shop-Ware Shop Management will increase your efficiency with lightning-fast workflows, help your staff capture more sales every day, and create very happy customers who promote your business. Shops running Shop-Ware have More Time and generate More Profit—join them! Schedule a free live demonstration and find out how 30 minutes can transform your shop at getshopware.com

This episode is brought to you by Shop Marketing Pros. Your guides are Kim and Brian Walker with a rich history as shop owners and industry veterans. When someone searches for a shop, who are they finding? Your competitors? It should be you! The good people over at Shop Marketing Pros know how to drive website traffic and make Google work for you! www.shopmarketingpros.com