Ask: What Are Your Car Pains? ™ [RR 656]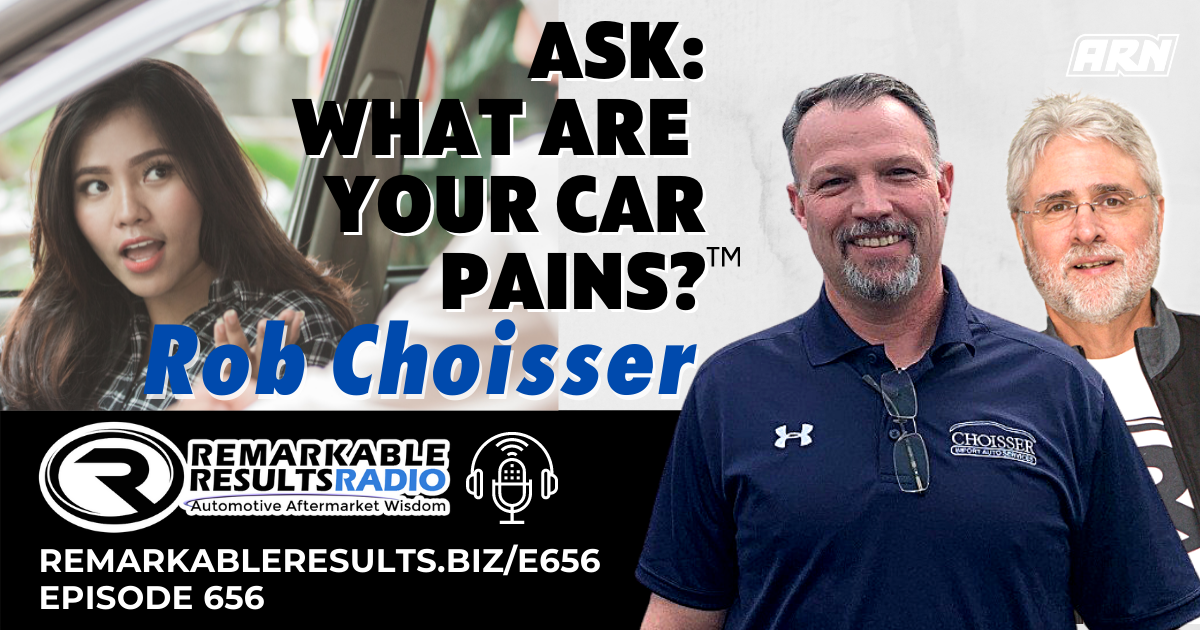 Rob Choisser– Choisser Automotive Services, Davidsonville, MD. Rob started in the industry as an oil change/apprentice under my step-father, Bob Owens, at a Honda dealer in 1989. He worked toward certification in every course HONDA would offer and ASE, achieving Platinum Level with Honda and ASE Master Auto Technician with L1 Advanced Engine Performance. Continuing on the training and certification path I became a Maryland Vehicle Safty Inspector, a Maryland Emissions Repair Technician, and a Maryland Licensed Locksmith. In 2002 he was recruited to open a new Honda dealership as the shop foreman, this experience was paramount in igniting his entrepreneurial spirit. In 2006 he launched Choisser Enterprises, Inc. DBA Choisser Import Auto Services, a mobile auto diagnostic service. He kept this business small and flexible so he could support and facilitate his two young son's activities. Fast forward, while running this small solo operation, he became an advanced level EMT-I (Nationally, Emergency Medical Technician – Intermediate or Cardiac Rescue Technician in Maryland) and volunteered with the local fire department from 2008 until 2013 when he was offered a career position with the Anne Arundel County Fire department. He used this training and experience to relate to people when discussing their vehicle "health". The modern automobile is more like a complex organism than one might think, each system is interdependent on the other's proper function.
This decision to serve the public on a different level is when he hired his first 2 employees and in 2014 we started operating out of our current 3 bay facility in Davidsonville, MD. They have grown to 9 member team, including himself. Their goal is to keep vehicles on the road for at least 15 years or 300,000 miles and to keep our customers out of new/used vehicle debt. We accomplish this through consumer education, preventative maintenance and proactive repair processes.
Key Talking Points
Educate customers- relate to them and guide them where they should be. Transparent communication that offers comfort.  

Maintenance- eating well, exercising, not living a sedentary lifestyle for both humans and vehicles 

Vehicles should be viewed as infinite instead of finite "good for few years then turn in"

"Car Pain™"- everything that is painful that surrounds a vehicle (breaking down, AC/heat doesn't work, getting new vehicle etc) Pay attention to predictable car pain.

Weak points in different makes and model vehicles- have your team understand and research and discuss openly. 

New customers- they are "breaking up" with their previous repair shop, ask them what their "car pains" are. Let them know your unique approach as a business- eliminate car pain and provide enduring confidence with vehicle (unless rusted out, been in flood, structural damage and less than 15 years old it is beneficial to keep it). What's in it for the customer- keep you on the road and provide a return on investment with their vehicle. 

Robert has 80% customer retention- based on old Honda maintenance practices. Uses Bolton for the pre-scheduling process. 

Hesitation with pre-scheduling appointments for customers- if they drop off their vehicle they lose their freedom. How do you overcome that? Consider loaner cars

Stubbing your toe-

you will limp and it affects your forward motion. Hitting pothole- activate ABS, stability, change shift points, throw the alignment off etc. When that goes unaddressed bigger issues will arise. 

SOAPE Note- Subjective (what you see), Objective (customer car pain), Assessment (inspection), Plan (what it will take to fix it), and Effect (this is what it means to customer and driveability of the vehicle going forward).   

Referrals- customers are the best marketing source. New customers that come in based on referrals and drop their keys are essential and their trust cannot be compromised. 
Thanks to Rob Choisser for his contribution to the aftermarket's premier podcast.
Link to the 'BOOKS' page, highlighting all books discussed in the podcast library HERE. Leaders are readers.
Listen for free on Apple Podcasts, Google Podcasts, Spreaker, iHeart Radio, Spotify, Podchaser, and many more. Mobile Listening APP's HERE
Find every podcast episode HERE.
Every episode is segmented by Series HERE.
Key Word Search HERE.
Be socially involved and in touch with the show:
Facebook   Twitter   Linked In   Email
Join the Ecosystem – Subscribe to the INSIDER NEWSLETTER HERE.

This episode is brought to you by AAPEX, the Automotive Aftermarket Products Expo. AAPEX represents the $740 billion global automotive aftermarket industry and has everything you need to stay ahead of the curve.  The Virtual AAPEX Experience 2020 is in the record books. Virtual AAPEX lived up to presenting leading-technical and business management training from some of the industry's best and brightest. Now set your sights on the homecoming in Las Vegas in 2021. Mark your calendar now … November 2-4, 2021, AAPEX // Now more than ever.

This episode is brought to you by Shop-Ware Shop Management. It's time to run your business at its fullest potential with the industry's leading technology. Shop-Ware Shop Management will increase your efficiency with lightning-fast workflows, help your staff capture more sales every day, and create very happy customers who promote your business. Shops running Shop-Ware have More Time and generate More Profit—join them! Schedule a free live demonstration and find out how 30 minutes can transform your shop at getshopware.com/carm