EOS Part 6 – Process with Barry Barrett [RR 657]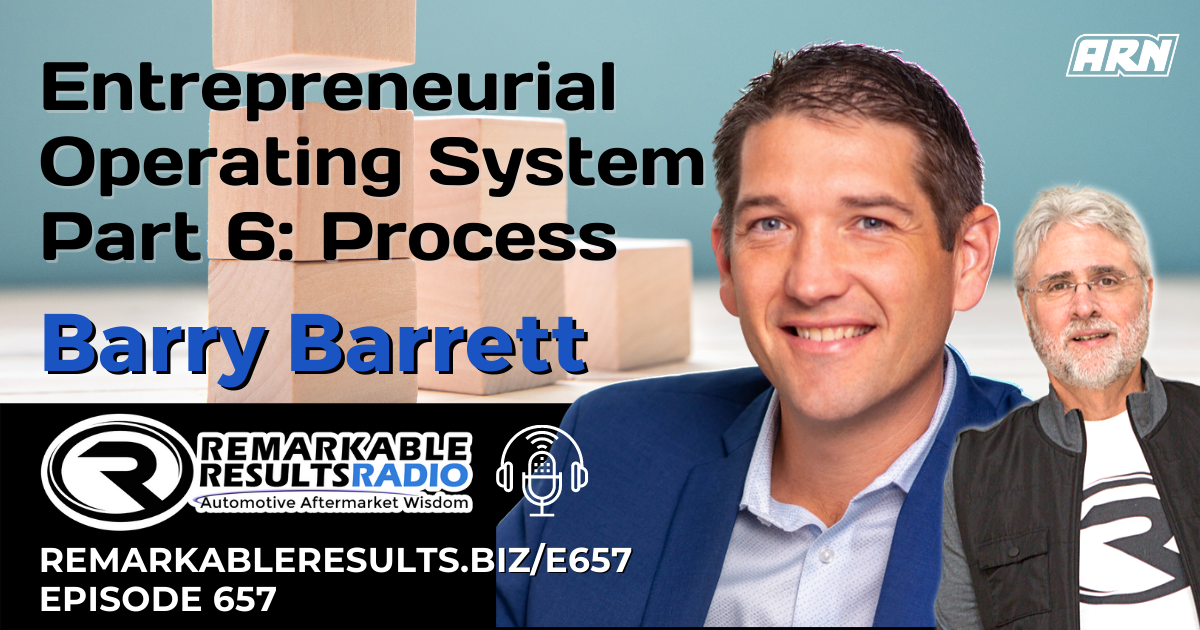 Barry Barrett, a Certified EOS Implementer
As an EOS Implementor in his company, Business With Purpose, brings dedicated support to Leadership and Sales teams in all types of organizations, helping them structure the six key components of their business to make it operate with the best processes for their specific industry, using the EOS Model.
Barry's energy is contagious no matter if he is in a session with a client, giving a keynote address, or rolling up his sleeves in a workshop. Barry is a business coach with his positive mental attitude, incredible work ethic, and determination for excellence, his results-oriented approach is matchless.
Barry is driven, caring, and passionate; traits that he uses to help his clients grow their businesses in a positive way. Find Barry's other episodes HERE.
Key Talking Points
Processes- often the most neglected of the key components of EOS. Documenting doesn't have to involve every single detail. No more than 5 pages, 1 page is ideal. Delegate and elevate to someone's genetic encoding. Also helps with scaling the business to multiple locations.

20% documented, 80% follow by all- don't expect to follow 100%, you'll end up frustrating everyone. Rigidity is the enemy of production- need flexibility.   

Scripts (professional presentation)- learn it word for word then can free up brain to think and listen to others

Example: Service advisor sales process- incoming call (what is the call trying to achieve? Get the right customer in, keep the wrong customer out. Use the presentation, get the key information, set a specific appointment, invite them in), reception, inspection, post-inspection presentation, reselling of value, 3-day call, 30 days follow up call 

"Systemize the predictable so you can humanize the exceptional."  

Who should create the process? The people doing the process so they own it and have buy-in. They are also the most qualified since they do it every day.  

Core procedures- identify core processes, document, and package

Leadership team- IDS (identify discuss and solve) the procedures and train. 

Best way to get started? START! What are your top 20 processes? Don't procrastinate. 

What do you learn from processes? Repeating multiple steps and inefficiencies .

EOS Life- do what you love, with the people you love, making huge impact, being properly compensated, and having time for other passions

Link to Who Not How: The Formula to Achieve Bigger Goals Through Accelerating Teamwork

HERE
Thanks to Barry Barrett for his contribution to the aftermarket's premier podcast.
Link to the 'BOOKS' page, highlighting all books discussed in the podcast library HERE. Leaders are readers.
Listen for free on Apple Podcasts, Google Podcasts, Spreaker, iHeart Radio, Spotify, Podchaser, and many more. Mobile Listening APP's HERE
Find every podcast episode HERE.
Every episode is segmented by Series HERE.
Key Word Search HERE.
Be socially involved and in touch with the show:
Facebook   Twitter  LinkedIn   Instagram  Youtube   Email  
Join the Ecosystem – Subscribe to the INSIDER NEWSLETTER HERE.

The NAPA Smart Sign, previously known as Digital Menu Board, gives your shop a professional, state-of-the-art look and feel. It's a great way to educate and inform your customers about needed repairs and service, plus increase awareness of your current promotions. NAPA AutoCare Center that have installed a Digital Menu Board found one out of five consumers ask for a repair or service they've seen on the board. Targeted promotions resulted in double-digit increases. You choose the content from a library of auto care service and repair topics. The latest NAPA national promotions are downloaded to you automatically. And with the Digital Menu Board it's easy to change your services, prices, and video content anytime you'd like. Talk to your servicing NAPA store to find out more.