How Strong Are Your Community Heart Strings? [RR 658]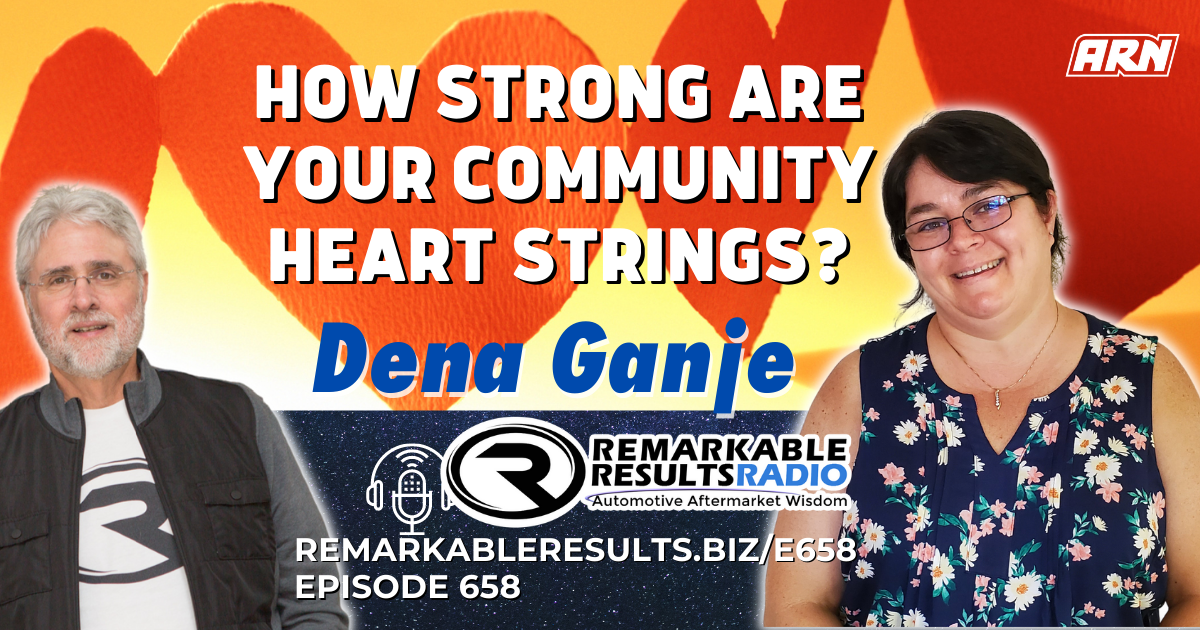 Dena Ganje, My Mechanic, Tuscon, AZ.  At 19 she received her first car as a surprise from her future husband Billy, this was a vehicle he restored and since then she have been a part of the automotive industry in one aspect or another.
Key Talking Points
Community help- you have the time even if you don't think you do. If you're thinking about it, you're already doing it and you need to put it into action. People think the little things don't add up but it does. If your customers or employees ask for your help (sponsoring little league) find a way to help. What's important to them should be important to you. Don't feel pressured to purchasing top-level sponsorships, consider smaller donations so you do more.  

"People don't care how much you know, they want to know how much you care."

Driving Forward by My Mechanic is an idea in process. They have to date given away 4 vehicles to persons in need. These vehicles are either donated to or purchased by My Mechanic, typically from customers. They also include a care package of support with the donation such as a gift certificate for future maintenance or repair needs that may come up within the next year.  

Community support for someone else's charity that helped with Dena's charity- Southern Arizona Book Heroes is a Tucson local nonprofit that provides books to first responders to distribute to the Children within their reach. For Example, when a Police Officer is responding to an event and there is a child present they will have a duffel bag of books to choose something to share with the child. This effort will hopefully provide a distraction to the child reducing trauma as well as break down the barriers that 1

st

responders often face when working with Children. Lastly and equally important is to encourage literacy. The founder of SABH is a single mom, working full time and volunteers for the American Legion as well as running her own nonprofit. When she said she needed help to sort, organize and fill the bags Dena organized a volunteer day at My Mechanic to fill that need.  Employees, customers, and friends came to help. They sorted thousands of books, we filled almost a hundred bags. Over the next two weeks, SABH was able to deliver bags of books to 5 precincts all over Arizona. During the volunteer day, Dena became aware of the condition of the founder's own vehicle. It was not reliable or safe. Everyone at My Mechanic nominated her for a car from driving forward. Following all that she posted about it on Facebook which created a great buzz online about our business and our charity. Resulting in another running vehicle to be donated to the program for the next person in need.   

"Cars are vessels of freedom."

Culture- employees are able to see an impact of what they do beyond the day-to-day work. They are helping their community, they see the donation vehicle they've worked on be donated to someone in need. It's more than a job.  

1999- Billy Ganje worked as a full-time technician at local shops while working on vehicles on his own on the side. In 2008 opened his own repair shop. 2013 moved to a bigger building. 

BNI (Business Networking International- making a commitment to learn about other businesses in the community
Thanks to Dena Ganje for her contribution to the aftermarket's premier podcast.
Link to the 'BOOKS' page, highlighting all books discussed in the podcast library HERE. Leaders are readers.
Listen for free on Apple Podcasts, Google Podcasts, Spreaker, iHeart Radio, Spotify, Podchaser, and many more. Mobile Listening APP's HERE
Find every podcast episode HERE.
Every episode is segmented by Series HERE.
Key Word Search HERE.
Be socially involved and in touch with the show:
Facebook   Twitter   Linked In   Email
Join the Ecosystem – Subscribe to the INSIDER NEWSLETTER HERE.

This episode is brought to you by AAPEX, the Automotive Aftermarket Products Expo. AAPEX represents the $740 billion global automotive aftermarket industry and has everything you need to stay ahead of the curve.  The Virtual AAPEX Experience 2020 is in the record books. Virtual AAPEX lived up to presenting leading-technical and business management training from some of the industry's best and brightest. Now set your sights on the homecoming in Las Vegas in 2021. Mark your calendar now … November 2-4, 2021, AAPEX // Now more than ever.

This episode is brought to you by Shop-Ware Shop Management. It's time to run your business at its fullest potential with the industry's leading technology. Shop-Ware Shop Management will increase your efficiency with lightning-fast workflows, help your staff capture more sales every day, and create very happy customers who promote your business. Shops running Shop-Ware have More Time and generate More Profit—join them! Schedule a free live demonstration and find out how 30 minutes can transform your shop at getshopware.com/carm