EOS Part 7 – Traction with Barry Barrett [RR 666]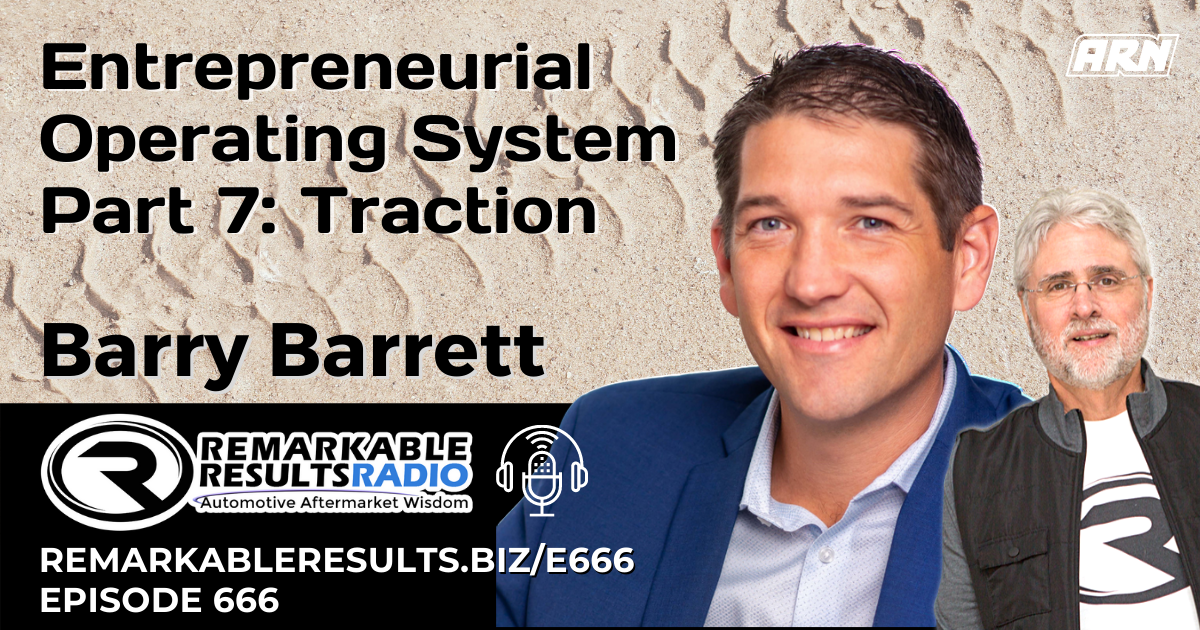 Barry Barrett, a Certified EOS Implementer
As an EOS Implementor in his company, Business With Purpose, brings dedicated support to Leadership and Sales teams in all types of organizations, helping them structure the six key components of their business to make it operate with the best processes for their specific industry, using the EOS Model.
Barry's energy is contagious no matter if he is in a session with a client, giving a keynote address, or rolling up his sleeves in a workshop. Barry is a business coach with his positive mental attitude, incredible work ethic, and determination for excellence, his results-oriented approach is matchless.
Barry is driven, caring, and passionate; traits that he uses to help his clients grow their businesses in a positive way. Find Barry's other episodes HERE.
Barry Barrett Contact info HERE 
Key Talking Points
Traction- bringing it all together

Measurables are most important- if missing measurables then you have "issues"

Level 10  Meeting pulse- how effective are your meetings? Start on time, end on time, same place, same agenda every week. Agenda every segment is 5 minutes each- good news personal, good news professional, review numbers being on track or off track, review rocks being on track or off track (big things trying to accomplish this quarter), people headlines (customer and employees good and bad). Reread the "to do" and deem done or not done. Complete update in 25 minutes. 60 minutes identifying, discussing, and solving issues and creating next week's "to do's" and verify everyone acknowledges it. Cascading messages -who needs to know, when do they need to know, and what do they need to know. Rate the meeting 1-10. 

Rocks- rocks in first, pebbles, sand, then water: full glass jar, are you getting the right things done every day?

Quadrant productivity- urgent and important, urgent not important, not urgent important, not important not urgent. Most people spend their time in "urgent important" because they don't focus on "not urgent important."

EOS only works on people willing to make it work when it becomes difficult and are abundance-minded. Trust people to lead. Ego is insecurity showing up as bravado. 

Free 90 minute session with implementer in your area- if you don't get your value you don't pay. No contracts.   

What the Heck is EOS book

– for employees

How to be a Great Boss book

– playbook to lead, manage and hold people accountable 
Link mentioned for AAPEX Award Nominations

HERE

.
Thanks to Barry Barrett for his contribution to the aftermarket's premier podcast.
Link to the 'BOOKS' page, highlighting all books discussed in the podcast library HERE. Leaders are readers.
Listen for free on Apple Podcasts, Google Podcasts, Spreaker, iHeart Radio, Spotify, Podchaser, and many more. Mobile Listening APP's HERE
Find every podcast episode HERE.
Every episode is segmented by Series HERE.
Key Word Search HERE.
Be socially involved and in touch with the show:
Facebook   Twitter   Linked In   Email
Join the Ecosystem – Subscribe to the INSIDER NEWSLETTER HERE.

This episode is brought to you by AAPEX, the Automotive Aftermarket Products Expo. AAPEX represents the $740 billion global automotive aftermarket industry and has everything you need to stay ahead of the curve.  The Virtual AAPEX Experience 2020 is in the record books. Virtual AAPEX lived up to presenting leading-technical and business management training from some of the industry's best and brightest. Now set your sights on the homecoming in Las Vegas in 2021. Mark your calendar now … November 2-4, 2021, AAPEX // Now more than ever.

This episode is brought to you by Shop-Ware Shop Management. It's time to run your business at its fullest potential with the industry's leading technology. Shop-Ware Shop Management will increase your efficiency with lightning-fast workflows, help your staff capture more sales every day, and create very happy customers who promote your business. Shops running Shop-Ware have More Time and generate More Profit—join them! Schedule a free live demonstration and find out how 30 minutes can transform your shop at getshopware.com/carm