Second in Command – A COO/GM Perspective [THA 236]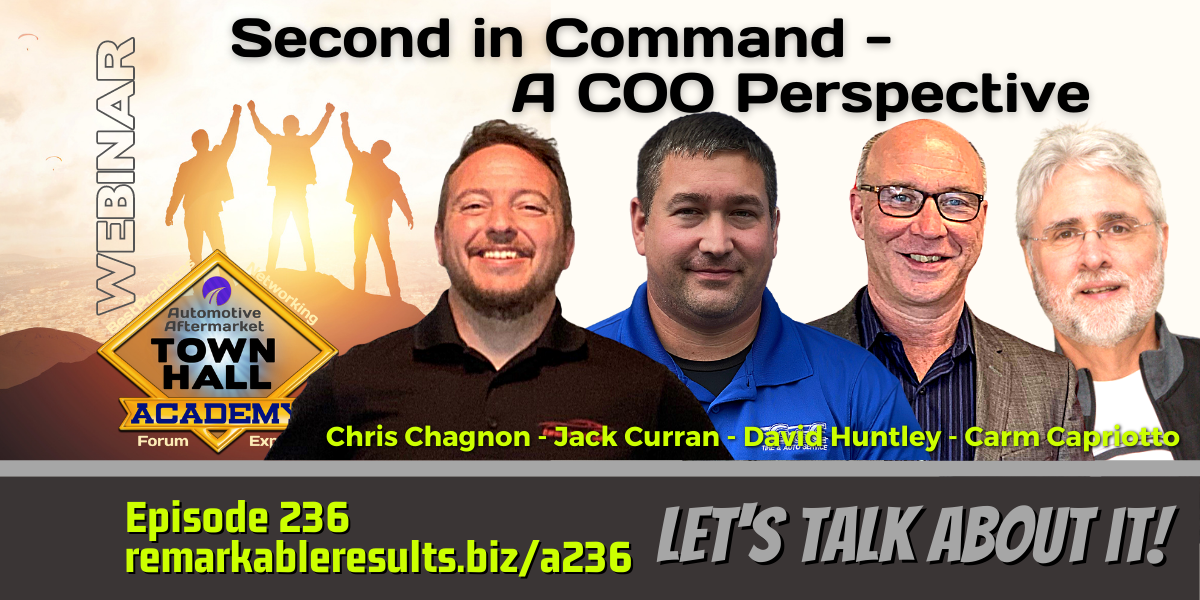 Chris Chagnon, GM and COO, Cardinal Plaza Shell, Springfield, VA
Jack Curran, G & C Tire and Auto Service, since 1996 two locations, Chantilly and Manassas, VA
David Huntley, GM/VP Greg's Japanese Auto, 8 Locations in Greater Seattle, WA
Key Talking Points
COO/General manager is a day-to-day role, the CEO is focused on the future. Implementing CEO vision.

No shop is too small for a COO role

CEO letting go- stepping back from the day-to-day customer-facing tasks, accepting and trust between each other with clearly defined roles and responsibilities. The CEO needs to want the business to grow and have COO role. 

COO training- promote from within business who has the insights and initiative, training classes for COO, mentor, networking groups, coaching groups

COO challenges- manage the CEO and them keep on track and direct reports below you

COO strengths needed- Challenge COO and have different approaches without fear of being yelled at or retribution. The memory of 'gold fish' at times-let any negativity behind. Can't be afraid to try new things. Stagnation kills businesses. Attention to detail- pay attention to the smallest things in business without being a micromanager. Adapt and make changes constantly. Continue to move employees forward with personal growth. Self-aware and constructive. Know the financials.
A special thanks to Chris Chagnon, Jack Curran and David Huntley for their contribution to the aftermarket.
Facebook   Twitter  LinkedIn   Instagram  Youtube   Email  
Join the Ecosystem – Subscribe to the INSIDER NEWSLETTER HERE.

This episode is brought to you by Shop-Ware Shop Management. It's time to run your business at its fullest potential with the industry's leading technology. Shop-Ware Shop Management will increase your efficiency with lightning-fast workflows, help your staff capture more sales every day, and create very happy customers who promote your business. Shops running Shop-Ware have More Time and generate More Profit—join them! Schedule a free live demonstration and find out how 30 minutes can transform your shop at getshopware.com