Social Media Marketing to Technicians – Kim and Brian Walker [RR 665]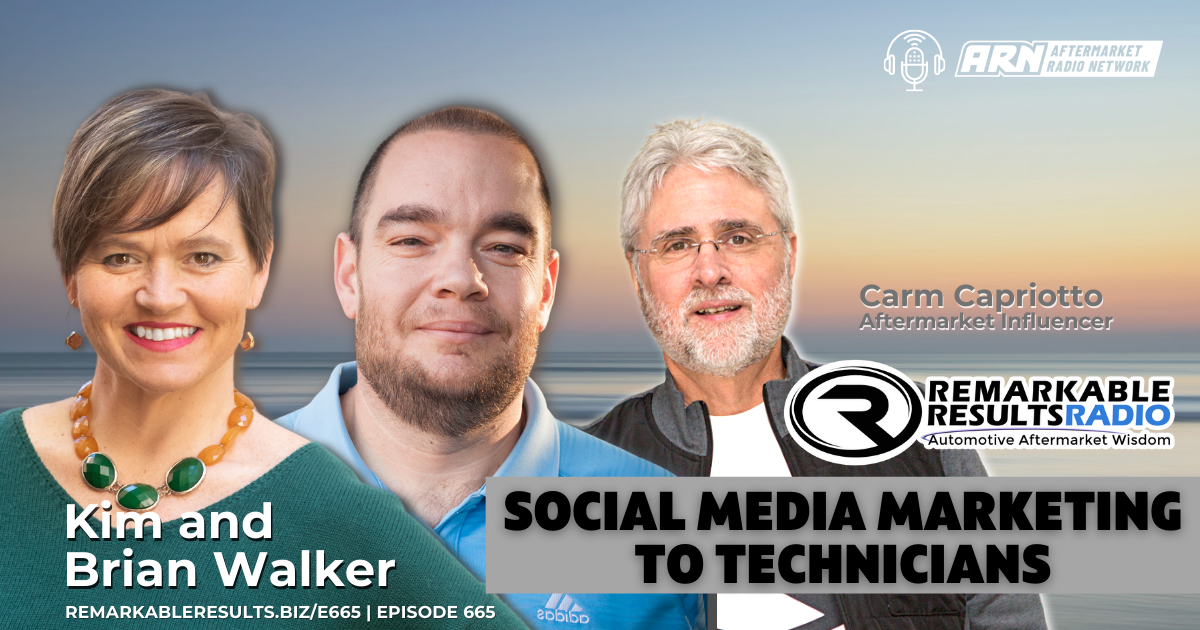 Kim Walker from Shop Marketing Pros is a social media expert. Kim's experience includes a school counselor and teacher. Her 
husband Brian, started his own shop while he was a Mercedes technician in North Carolina. Then asked Kim to leave her school job and join his service business. Then for specific reasons left to go back home to Louisiana. It was almost destiny that they launched Shop Marketing Pros. As a former shop owner, Kim's advice and expertise on social media is perfectly matched because she's been there and done that.
Kim is a member of Women in Auto Care, an ATI and Management Success Graduate, and their shop was a Motor Age Top Shop winner two years in a row. Their shop experience is without question, so when she talks about social media as it relates to the automotive service professional, she has the experience that matters. Look for Kim's other episodes HERE. Shop Marketing Pros Website HERE.
Brian Walker was a Mercedes Benz Master dealer technician and was ASE Master Certified. He owned Peak Automotive in Apex, NC and was recognized by Motor Age Magazine as a Top Ten Shops twice. Brian was also the ASA North Carolina Mechanical Division Director.
Brian is co-owner of Shop Marketing Pros. He does "Done for you" marketing services for auto repair shops. Brian believes that most people overcomplicate their marketing in an effort to make it easier. Look for Brian's other episodes HERE.
Key Talking Points
Technician shortage- does your marketing attract technicians? Technicians that are in the industry are already working. 

Marketing is attracting people- how does your shop look? What is your business culture?- show pictures/videos of training, milestones, employee gatherings etc. Did your shop get new equipment? Share a picture! Technicians want updated and efficient tools. Do you have air conditioning? How much work do you have? Do you promote events like marriage, children, anniversaries? Do you promote events like marriage, children, anniversaries?

Social media/website/emails- technicians aren't following every single shop but when their friends "like, comment, and interact" with posts it will show up on their social media feed. Consider adding "A Great Place to Work" to your posts. Plant seeds even for younger children that are middle schoolers/high schoolers. Virtual field trips/host classes at the shop, "touch a tool class." 

Working with trade schools/local schools- the best technicians are often the ones that were fidgeting in grade school and couldn't 'sit still.' Educate school counselors about the auto repair industry. 
Thanks to Kim and Brian Walker for their contribution to the aftermarket's premier podcast.
Link to the 'BOOKS' page, highlighting all books discussed in the podcast library HERE. Leaders are readers.
Listen for free on Apple Podcasts, Google Podcasts, Spreaker, iHeart Radio, Spotify, Podchaser, and many more. Mobile Listening APP's HERE
Find every podcast episode HERE.
Every episode is segmented by Series HERE.
Key Word Search HERE.
Be socially involved and in touch with the show:
Facebook   Twitter  LinkedIn   Instagram  Youtube   Email  
Join the Ecosystem – Subscribe to the INSIDER NEWSLETTER HERE.

As a member of the NAPA family, AutoCare Center owners can take advantage of the NAPA National Health Program from the NAPA Insurance Center. This "NAPA only" program gives you and your employees access to national "large group" rates on medical insurance with premiums discounted up to 30 percent. These rates are based on the collective purchasing potential of 22,500 NAPA locations including both NAPA AUTO PARTS stores and NAPA AutoCare Centers.
The NAPA Insurance Center can help you with a variety of other insurance benefits too. For more information about The NAPA National Health Benefits program as well as all of the insurance benefits available to your AutoCare Center and your employees, visit the NAPA Benefits Center, at www.napabenefitscenter.com or call the NAPA Benefits Center at 844-627-2123.