Dealer Technicians Build Shop Partnership [RR 667]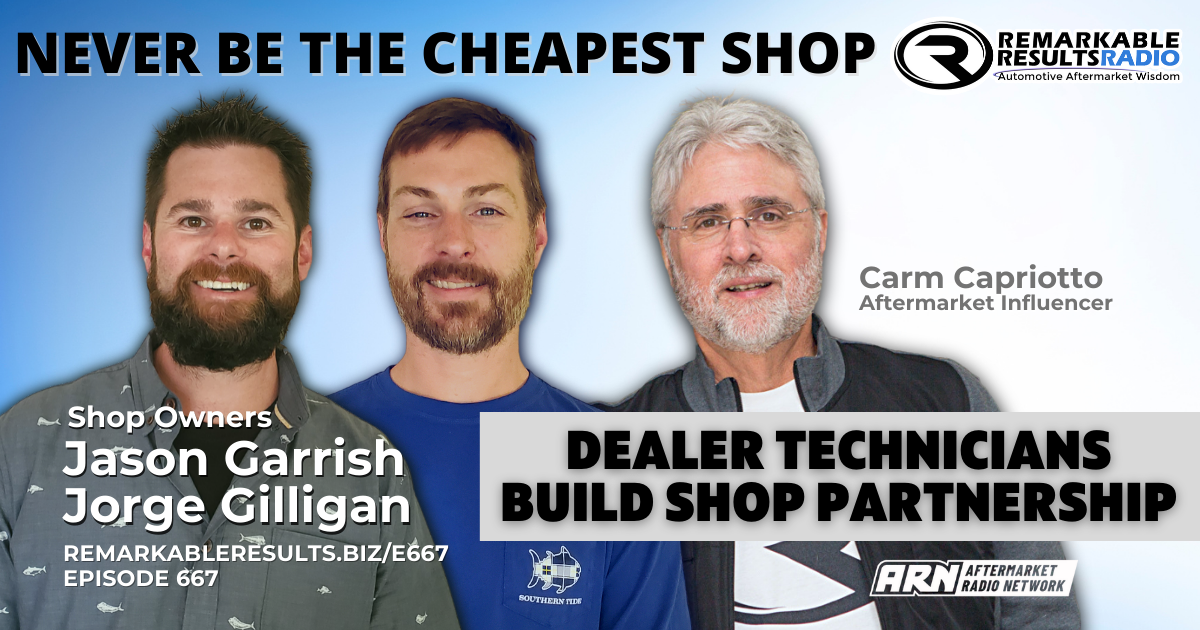 Jason Garrish and Jorge Gilligan, Revolution Motor Works, Finksburg, MD
Key Talking Points
Partnership agreement between Jorge and Jason- not written yet. Both came from the same dealership and wanted to open their own business.  

6 years in business- currently has 5 bays and 4 techs and 2 advisors. In process of expanding with the lease of a new building for a satellite location across the street. A bigger satellite location will open the business up for domestic repairs and fleet. 

Originally had the mindset that they wanted to be the 'cheap guys' but then 2 months into opening business ATI coaches started coming in and invited them to a Saturday boot camp.  

Apprentice- hired from a dealership and hired master technician as well who trains new employees and the new apprentice- natural mentor. 

Technician shortage- address younger generation better. On average 50% of graduates from 2-year college that go into dealerships quit the industry. Word of mouth through their existing technicians has been helpful. They enjoy their working environment and tell other friends in the industry about it- internal referral  

Goal posters- 1, 5 and 10-year goals for personal and business. Helps the owners connect with employees and see what their future aspirations are. 

In process of implementing EOS

Culture- growing with the right people. Realizing there needs to be a defined culture.  
Thanks to Jason Garrish and Jorge Gilligan for their contribution to the aftermarket's premier podcast.
Link to the 'BOOKS' page, highlighting all books discussed in the podcast library HERE. Leaders are readers.
Listen for free on Apple Podcasts, Google Podcasts, Spreaker, iHeart Radio, Spotify, Podchaser, and many more. Mobile Listening APP's HERE
Find every podcast episode HERE.
Every episode is segmented by Series HERE.
Key Word Search HERE.
Be socially involved and in touch with the show:
Facebook   Twitter  LinkedIn   Instagram  Youtube   Email  
Join the Ecosystem – Subscribe to the INSIDER NEWSLETTER HERE.

As a member of the NAPA family, AutoCare Center owners can take advantage of the NAPA National Health Program from the NAPA Insurance Center. This "NAPA only" program gives you and your employees access to national "large group" rates on medical insurance with premiums discounted up to 30 percent. These rates are based on the collective purchasing potential of 22,500 NAPA locations including both NAPA AUTO PARTS stores and NAPA AutoCare Centers.
The NAPA Insurance Center can help you with a variety of other insurance benefits too. For more information about The NAPA National Health Benefits program as well as all of the insurance benefits available to your AutoCare Center and your employees, visit the NAPA Benefits Center, at www.napabenefitscenter.com or call the NAPA Benefits Center at 844-627-2123.