Supply Chain: Getting Parts to Market Post Pandemic [THA 237]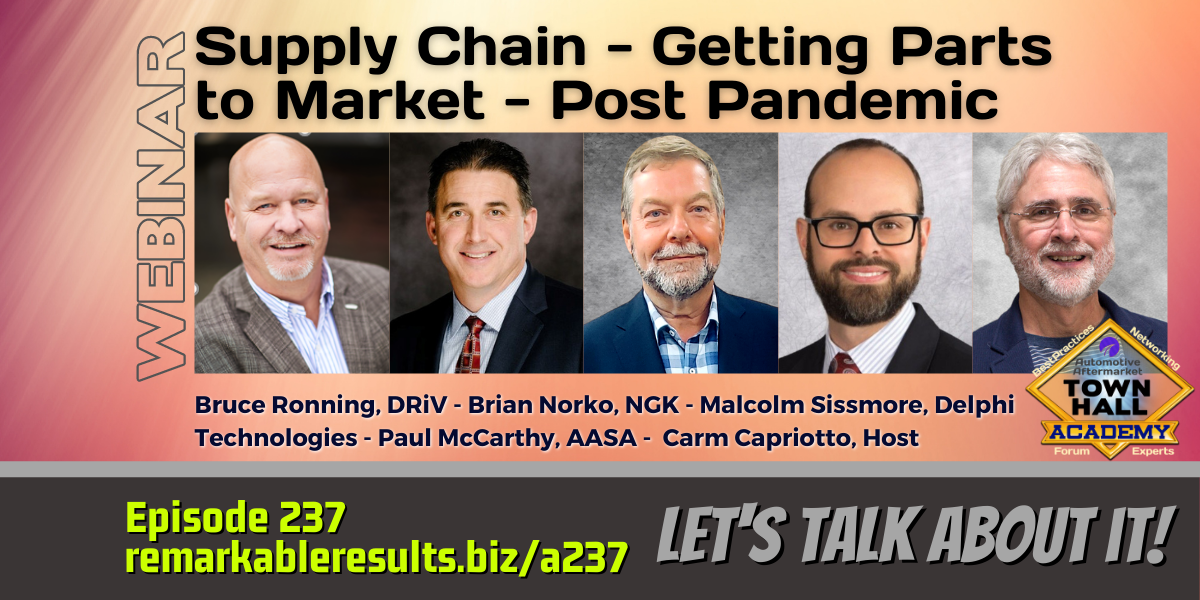 Bruce Ronning, DR1V Group Vice President and General Manager, Americas Aftermarket  
Brian Norko, SVP of Commercial Business Operations, NGKs aftermarket business 
Malcolm Sissmore, Vice President, Sales, North America Independent Aftermarket, Delphi Product and Service Solutions
Paul McCarthy, AASA President. Paul has over 23 years of experience in the automotive industry. Prior to joining MEMA, Paul led the Automotive and Industrial Products Strategy Practice at PricewaterhouseCoopers (PwC). He consulted at dozens of automotive suppliers, eight of the top ten global automakers, and at private equity firms and financial institutions. His past leadership roles include heading PwC Germany's Automotive Strategy advisory practice and leading global forecasting and analysis for a prominent vehicle forecast service, Autofacts. Paul has an MBA from Duke's University's Fuqua School of Business. Find Paul's other episodes HERE.
Key Talking Points
The biggest disruption in the supply chain since World War II- demand coming out of the pandemic, the reason for inflation. Not a singular problem, it's the entire system being overwhelmed. COVID restrictions with overseas ports. 

Shipping issues and delays- ports backed up, just being able to get space on a truck or shipping containers. Shipping container fee for the boat is 20K. Starting to use more airfreight. 

Truck issues- access and drivers

Raw material shortage- chemicals, oil, microchips, steel etc.  

Labor issues- working in plants and warehouses. Stimulus is keeping a lot of people at home. Labor inflation

7,000 workshops in the USA- busy as they want to be as they manage their capacity. 

1 million jobs available in industry plus retirement is a double edge sword. 

Nearshoring is growing- less supply risk but labor issue is still prevalent 

Quality issues- competitors with the same part available are made in low-cost countries. You need customer satisfaction, the brands that you long trust for quality are still brands to trust. Top shops want the best quality parts. 

Manufacturer website- Knowyourparts.com 

How long will it last? How long will we see this level of demand for repair shops? This year that will have over 11% growth over last year. Next year over 5% growth. 2023 and 2024 growth slow of course, but is still above the pre-pandemic trend.

Electrification- more opportunity than threat for the aftermarket, be ahead of the curve.
A special thanks to Bruce Ronning, Brian Norko, Malcolm Sissmore and Paul McCarthy for their contribution to the aftermarket.
Facebook   Twitter  LinkedIn   Instagram  Youtube   Email  
Join the Ecosystem – Subscribe to the INSIDER NEWSLETTER HERE.

This episode is brought to you by Shop-Ware Shop Management. It's time to run your business at its fullest potential with the industry's leading technology. Shop-Ware Shop Management will increase your efficiency with lightning-fast workflows, help your staff capture more sales every day, and create very happy customers who promote your business. Shops running Shop-Ware have More Time and generate More Profit—join them! Schedule a free live demonstration and find out how 30 minutes can transform your shop at getshopware.com