Mergers and Acquisitions Explained – Rick Schwartz [RR 668]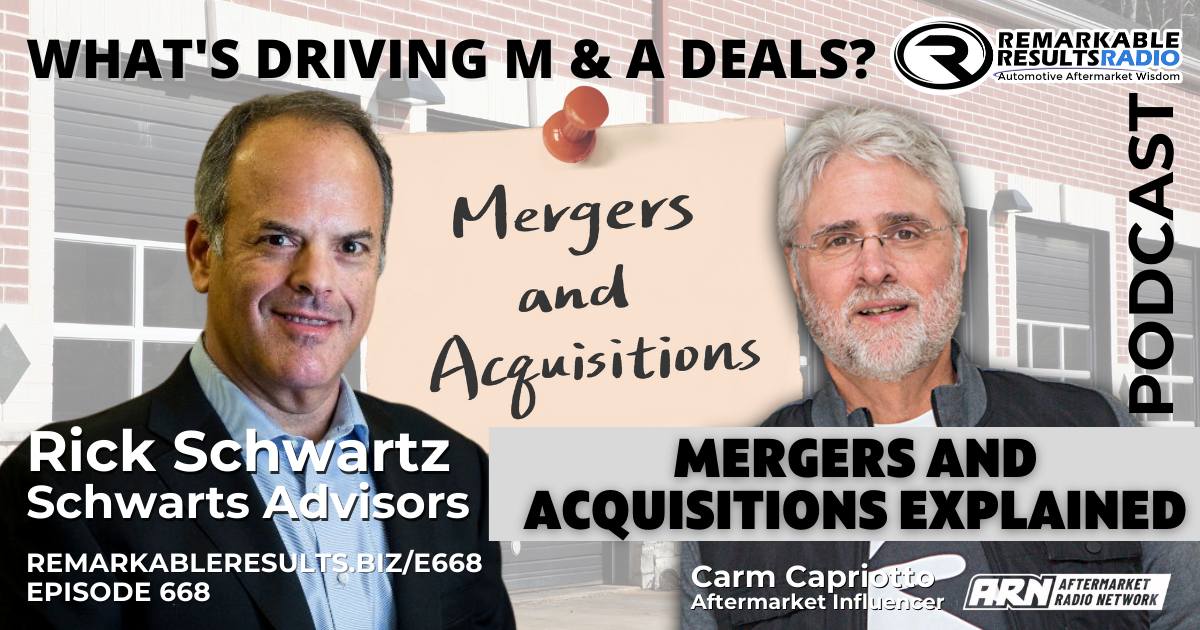 As co-founder of Schwartz Advisors, Managing Partner Rick Schwartz specializes in working with clients on strategic planning, growth, performance improvement and M&A strategy related to the motor vehicle aftermarket. Rick is a recognized leader in the aftermarket and has a critical eye for what it takes to drive value.  He is the lead Schwartz Advisors partner in support of projects with private equity firms, boards of directors and management teams.
Rick is a Trustee of the University of the Aftermarket Foundation and a member of the Auto Care Association Board of Directors. He is a recipient of the prestigious Northwood University Automotive Aftermarket Management Education Award. Prior to starting Schwartz Advisors, Rick held various senior level positions at Nestle, Macy's and The Upper Deck Company. Rick received an MBA from the University of Southern California Marshall School of Business and a BA in International Relations from USC.
Key Talking Points
What is going on in overall M&A – not just the aftermarket- Many of the investment bankers are reporting record deal flow. A few key factors driving the abundance of M&A deals- catch up to deals that were put on hold in 2020. Excess "dry powder" (cash)- financial buyers (private equity firms & family offices) had an abundance of capital ready to deploy last year. Potential tax changes- the change in political administrations in the U.S. has caused concern among business owners that the capital gains tax will increase substantially upon exit. Low-interest rates- easier for buyers to finance acquisitions 

The aftermarket has slow steady growth- making it appealing to private equity 

Business owner- opportunity to cash out and next owner could do a lot to recruit, market, and grow.  

Why are some family-owned businesses selling? Timing – it is time to exit, (not related to the economy), competition, diversify personal investments and net worth, concern about changes in the tax code

How long will the current M&A activity keep up? Looks like M&A activity will remain very active through the end of this year and into early 2022, perhaps longer. Big changes in tax laws could slow down M&A, but will Congress pass big changes?

What is driving M&A in the service sector, from a buyer's perspective? What are buyers looking for? Growth beyond simple organic growth (i.e., growth beyond same-store sales growth). Acquire businesses before competitors. Buy distribution. 

No matter who is selling what preparation is necessary? Even if you are not thinking about selling, be prepared: Documentation in order: 3 years financials, 5 years is better, copies of all contracts/leases. Have your estate plan in order. Hire advisors who can help- hire a lawyer who knows how to do M&A – might not be your regular business lawyer (and don't bring in a lawyer who might be experienced in other areas but not M&A). Talk to your CPA.
Link mentioned for AAPEX Award Nominations

HERE

.
Carm interview with Rick's dad, Mort Schwartz in episode 332 HERE.
Thanks to Rick Schwartz for his contribution to the aftermarket's premier podcast.
Link to the 'BOOKS' page, highlighting all books discussed in the podcast library HERE. Leaders are readers.
Listen for free on Apple Podcasts, Google Podcasts, Spreaker, iHeart Radio, Spotify, Podchaser, and many more. Mobile Listening APP's HERE
Find every podcast episode HERE.
Every episode is segmented by Series HERE.
Key Word Search HERE.
Be socially involved and in touch with the show:
Facebook   Twitter   Linked In   Email
Join the Ecosystem – Subscribe to the INSIDER NEWSLETTER HERE.

This episode is brought to you by AAPEX, the Automotive Aftermarket Products Expo. AAPEX represents the $740 billion global automotive aftermarket industry and has everything you need to stay ahead of the curve.  The Virtual AAPEX Experience 2020 is in the record books. Virtual AAPEX lived up to presenting leading-technical and business management training from some of the industry's best and brightest. Now set your sights on the homecoming in Las Vegas in 2021. Mark your calendar now … November 2-4, 2021, AAPEX // Now more than ever.

This episode is brought to you by Shop-Ware Shop Management. It's time to run your business at its fullest potential with the industry's leading technology. Shop-Ware Shop Management will increase your efficiency with lightning-fast workflows, help your staff capture more sales every day, and create very happy customers who promote your business. Shops running Shop-Ware have More Time and generate More Profit—join them! Schedule a free live demonstration and find out how 30 minutes can transform your shop at getshopware.com/carm