Leadership Series Part 5 with Mike Davidson – Rewards of Growing as a Leader [RR 673]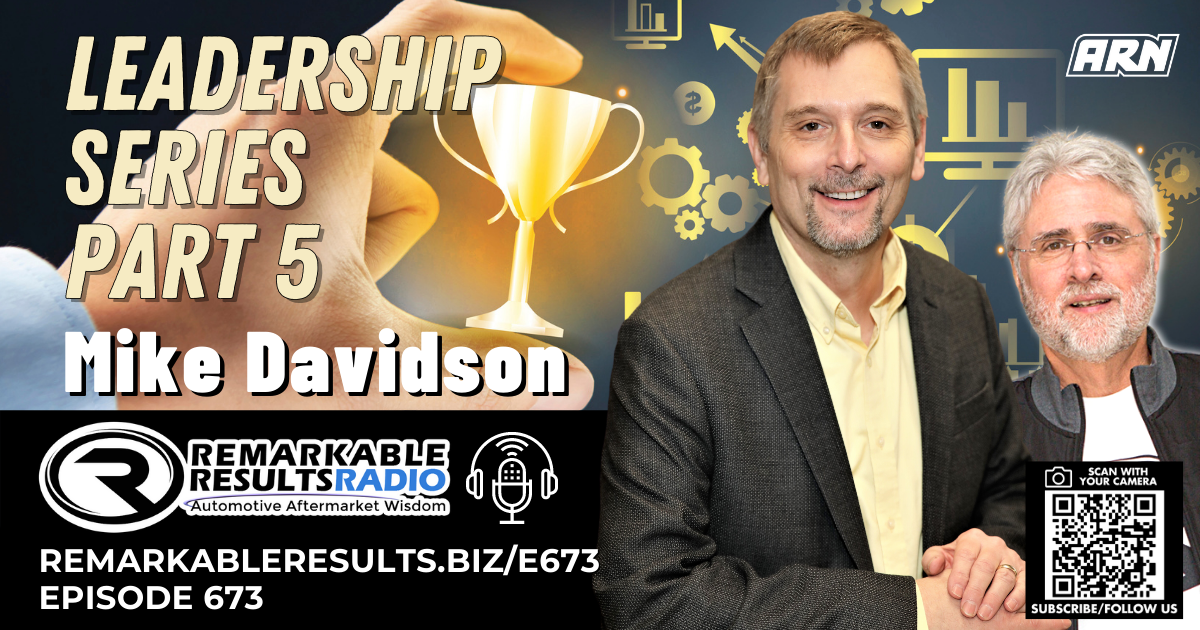 Mike Davidson is passionate about growing as a leader and helping others achieve a better life through leadership.  He believes that your growth is the only guarantee for a better tomorrow. Mike began his automotive career in 1984 as a car detailer at a GMC dealership. He started working in independent shops in 1992 and opened Parkway Automotive in 1998. He joined RLO Connor's Bottom-Line Impact Group in 1999 and graduated from the Automotive Management Institute in 2000.
Mike was voted Arkansas' NAPA/ASE Technician of the Year from 2001 to 2008,  joined Elite Pro Service Peer Group in 2008, and continues to be an active member. He has been a business coach for Elite Worldwide, a published author, and a presenter at multiple conferences across the United States. He created a live interview seminar called Hiring for Keeps in 2013 and developed an automotive apprentice program approved by the United States Department of Labor in 2016.
As a John Maxwell, certified speaker, trainer, and coach, Mike has developed a training program to assist shop owners to develop leaders within their organization. He is married with four grown children, resides in Alexander, Arkansas, and is a member of The Bible Church of Little Rock, where he has served as an elder, a deacon, and a Children's Ministry Director.
You can reach Mike at miked@parkwayautomotive.net    Listen to Mike's other episodes HERE.
https://www.leadershiplane.net/
Key Talking Points
Create the environment you desire- businesses don't run themselves, people (leaders) run businesses. You don't always get what you want, but you always get what you choose. Are you choosing to be in the weeds of business every day or do you want your business to run without you? Determine what you value and your culture will follow.
Transitions in the business- be an owner, you hired employees to do a job so let them. Train them well so they can leave, but treat them so well that they don't want to. Don't micromanage.
What I've learned- learn from everyone no matter what their status or level is. Everyone learns based on their experience, knowledge, and skill. Allow people to grow, owners are often the biggest obstacle. Think about the vision, cast the vision, and let your employees make the vision.
lifted burdens- watch people grow from where they are to where they want to be.  Don't create more work for you as an owner, grow employees.
Employees who lead- should be taught the responsibility they have of leadership no matter their position. They will continue to grow. Your business is only as strong as the weakest employee. They need to reflect your values.
 Your responsibility as an owner- coachability, valuing people, mentors, communicating vision
Leadershift- based on the 15 laws of growth written by John Maxwell. 15-week course for employees of businesses. Grow employees in their current roles. Owners choose who their leaders will be based on current behavior. Leadership is learned, everyone has the ability.
Thanks to Mike Davidson for his contribution to the aftermarket's premier podcast.
Link to the 'BOOKS' page, highlighting all books discussed in the podcast library HERE. Leaders are readers.
Listen for free on Apple Podcasts, Google Podcasts, Spreaker, iHeart Radio, Spotify, Podchaser, and many more. Mobile Listening APP's HERE
Find every podcast episode HERE.
Every episode is segmented by Series HERE.
Key Word Search HERE.
Be socially involved and in touch with the show:
Facebook   Twitter  LinkedIn   Instagram  Youtube   Email  
Join the Ecosystem – Subscribe to the INSIDER NEWSLETTER HERE.

Gold Certification recognizes top tier NAPA AutoCares with a high level of participation in the AutoCare program. The program was built by AutoCare Centers for AutoCare Centers to provide a consistent consumer experience, maximize technology leverage, and reward NAPA's most committed partners. In other words, Gold Certified AutoCare Centers are the standard bearers for the AutoCare brand nationwide. Simply put, the Gold Certified NAPA AutoCare program, powered by your local shop brand, will separate you from the rest helping you boost your bay counts and your average repair orders.
Learn more about NAPA AutoCare, Gold Certification, and the hundreds of other benefits the NAPA family has to offer by talking with your servicing NAPA store or visiting www.NAPAAutoCare.com.