I Want $1 Million For My Business [THA 240]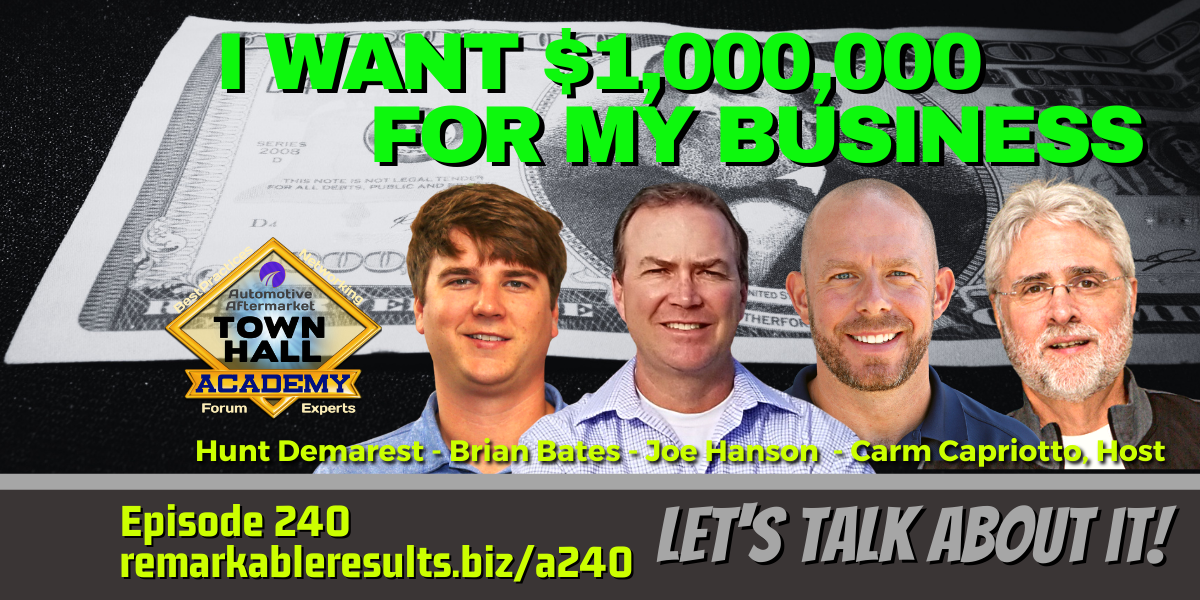 Hunt Demarest, 
CPA Paar-Melis. Hunt is Accredited in Business Valuation and a licensed Certified Public Accountant that has been with the firm since 2006. He specializes in business taxes, valuations, and does consult work with our clients all across the country. When he's not in the office, Hunt enjoys spending time with his family, golfing, working on and racing his cars. Look for Hunt's other episodes 
HERE
.
Brian Bates, the owner of Eagle Automotive Service, 5 locations, bought the neighborhood shop in Columbine Hills back in 2004 as a way to serve the community by offering quality repairs and services while living out his dream of running his own business.
Brian has served as a President of the local NAPA Autocare Business Development group, served on the national AutoCare council with the president and directors of NAPA Auto Parts, and is proud of his team's achievements in becoming an AAA auto repair certified and holding a BBB A+ rating since the inception of the grading system in 2007. Listen to Brian's previous episodes HERE
Joe Hanson owns Gordie's Garage. Joe has attended Management Success, NAPA training, Lawrence Tech University and most recently he is a member of the RLO 20 Group 13. He has earned his ASE C1: Automobile Service Consultant Certification. Under his father's leadership, he has seen what it really takes to make a business like this work. Listen to Joe's Episodes HERE.
Key Talking Points
Value your business before you sell or begin to think about selling-

need to figure out value today so that you know what to do to change the value of the business in the future. Find an objective process to value your business before you start talking to a seller. 

Use an objective third party to negotiate with buyer and seller- CPA/accountant/business valuators.

"Higher than what you want to pay and lower than what you want to sell." Work together instead of against. 

The best tool to evaluate/estimate what a shop is worth- multiple of net income, what does it make at foundation over 3-5 years? Multiply 2.5-3X

SDE- seller discretionary earnings, do you add it back in? If the owner is an integral part of the organizaion (owner and service advisor/technician etc) then you can't justify adding back payroll.

Financial forecast- creating a roadmap for bank/SBA, prepare financials, marketing campaigns, write assumptions for expenses

The end game isn't closing on the business, it is succeeding in new business 

Know your buyer- price is important but the representation of price is where the value is

Key advantages- finding out what motivation of the seller, most time it is about legacy and wellbeing for employees and customers. 

Trust and transparency with both parties

Take emotion out- need to be in a logical state of mind, you are purchasing and selling an asset

Growing after purchasing- as an owner, business, and employees

Support during venture- at home, professional network as you go through all the ups and downs. Learn from other people's successes and failures. 
A special thanks to Hunt Demarest, Brian Bates and Joe Hanson for their contribution to the aftermarket.
Facebook   Twitter  LinkedIn   Instagram  Youtube   Email  
Join the Ecosystem – Subscribe to the INSIDER NEWSLETTER HERE.

This episode is brought to you by Shop-Ware Shop Management. It's time to run your business at its fullest potential with the industry's leading technology. Shop-Ware Shop Management will increase your efficiency with lightning-fast workflows, help your staff capture more sales every day, and create very happy customers who promote your business. Shops running Shop-Ware have More Time and generate More Profit—join them! Schedule a free live demonstration and find out how 30 minutes can transform your shop at getshopware.com

Are you seeing auto shops in your area get hundreds of 5-star Google reviews and are you feeling left behind because your shop only has a few?
Hey look, Broadly is your answer to getting more online reviews. With more reviews, your business will rank higher in search results — and that means more customers coming into your shop every day.
Broadly helps you automatically request reviews so that your customers can promote your business with just one click.
When you immediately ask for a review after service, when the experience is still fresh in their mind, you're more likely to get a 5-star positive review.
Plus, asking for feedback makes your customer feel valued and more connected to your business. Isn't that what you want a connected customer? See how Broadly can help grow your auto shop.  Visit www.getbroadly.com/chat to learn more.