Social Media 101: Lead Gen, IOS Changes, Boosting [RR 674]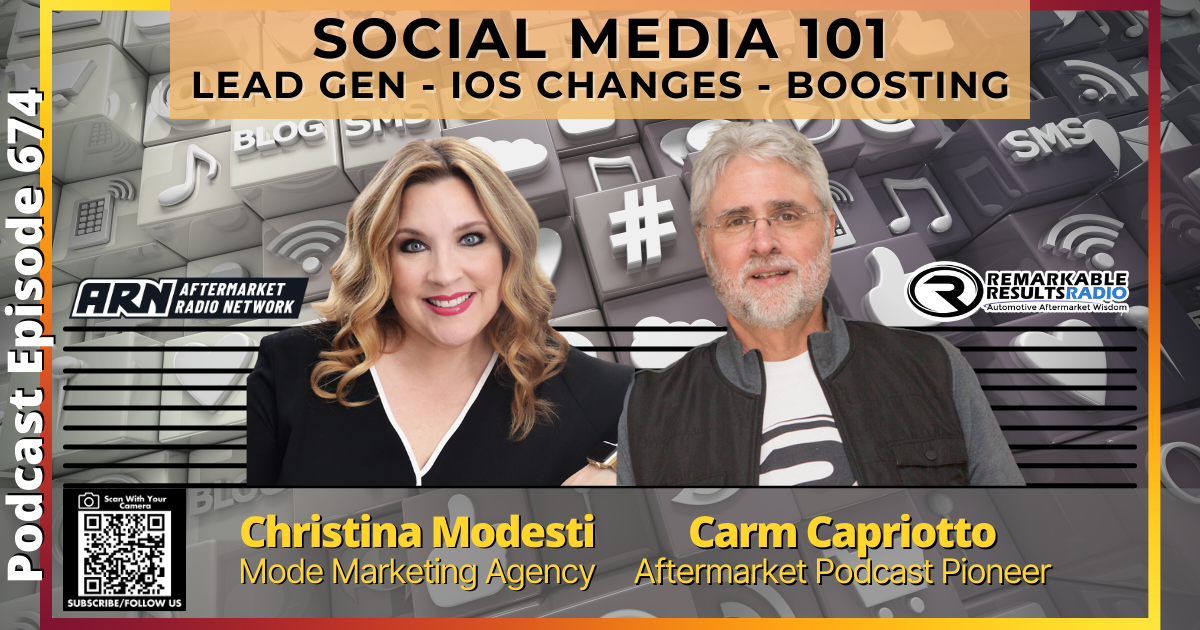 Christina Modesti began her career path in retail sales, management, marketing and advertising in the totally awesome 80's. With a passion for entrepreneurship, Christina bootstrapped her way to success by becoming a pioneer in the new (and virtually uncharted) territory of eCommerce selling her handmade products around the globe. Working in many different industries since then, Christina has spent the past 13 years as the Marketing Strategist & Director for Modesti's Car Care Center helping them expand their brand both online and offline. As trends in technology come and go, Christina has always stayed on the cutting-edge of digital marketing by continuously updating and refining her skills. Now, she helps other businesses reach their full potential using today's most effective strategies in marketing and advertising. Christina brings her heart-centered work ethic, outstanding customer service skills and decades of experience to every client relationship so you can maximize your impact in the marketplace and explode the growth of your business!
Key Talking Points
iOS 14 changes; why it's not all gloom and doom for advertisers- disagreement over who owns the information. Opportunity when login and refresh apps – pop up screen to provide permission for "tracking." Most people opt out but the information is still there. Every advertiser is being affected equally. Opting in allows you to see ads more relevant to your interests. 

Facebook tracking- every click, video watch, and comments are all collected

How FB ads complement direct mail campaigns (different audiences, direct vs indirect advertising)

Magnetic Ad creative that converts- ads that don't look like ads, still personal photos with action involved, videos with motion (raw videos that are candid can capture people even more, audience can relate to it). Creates trust with customers prior to meeting in person.   

COVID 19- the attitude of being essential should never be over

Lead Gen strategy that works: Copy/Video that tells a story to a cold audience combined with retargeting a warm audience with a killer offer

Target ideal customers – get specific on who you serve. Run campaigns to owners of certain makes/models of vehicles, people with certain interests (dog lovers, business professionals), target people's birthdays.

Don't BOOST posts from your FB business page! Little to no results, no data collected, limited on your target audience. Use your ad dollars on the ads manager section. 

Types of ads that work well for local businesses: Brand Awareness (provide value or information with no call to action; get to know us, meet the team, behind the scenes, customer testimonials, tip of the day). Deals/Offers (general coupon/discount, specific services/products, etc.) 

DYI marketing campaigns- is it the best use of your time? Should you hire?

Google ads: the modern-day yellow pages, the best use for people in the moment of need.
Thanks to Christina Modesti for her contribution to the aftermarket's premier podcast.
Link to the 'BOOKS' page, highlighting all books discussed in the podcast library HERE. Leaders are readers.
Listen for free on Apple Podcasts, Google Podcasts, Spreaker, iHeart Radio, Spotify, Podchaser, and many more. Mobile Listening APP's HERE
Find every podcast episode HERE.
Every episode is segmented by Series HERE.
Key Word Search HERE.
Be socially involved and in touch with the show:
Facebook   Twitter   Linked In   Email
Join the Ecosystem – Subscribe to the INSIDER NEWSLETTER HERE.

This episode is brought to you by AAPEX, the Automotive Aftermarket Products Expo. AAPEX represents the $740 billion global automotive aftermarket industry and has everything you need to stay ahead of the curve.  The Virtual AAPEX Experience 2020 is in the record books. Virtual AAPEX lived up to presenting leading-technical and business management training from some of the industry's best and brightest. Now set your sights on the homecoming in Las Vegas in 2021. Mark your calendar now … November 2-4, 2021, AAPEX // Now more than ever.

This episode is brought to you by Shop-Ware Shop Management. It's time to run your business at its fullest potential with the industry's leading technology. Shop-Ware Shop Management will increase your efficiency with lightning-fast workflows, help your staff capture more sales every day, and create very happy customers who promote your business. Shops running Shop-Ware have More Time and generate More Profit—join them! Schedule a free live demonstration and find out how 30 minutes can transform your shop at getshopware.com/carm