Succession Planning Blueprint – Bryan Stasch [RR 677]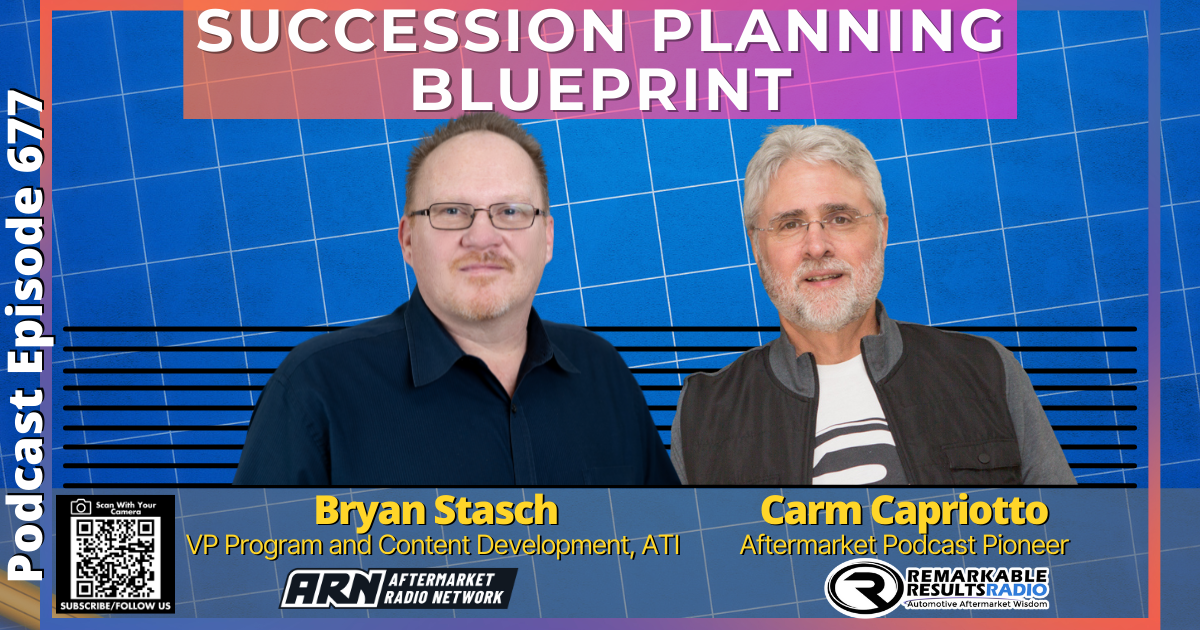 Bryan Stasch, Vice President of Product and Content Development, ATI. Bryan Stasch began in the auto industry in 1984 as a technician before becoming general manager at a national franchise store and eventually sharing ownership of three successful auto repair shops. In 2000, he joined ATI as chief instructor and became deeply involved in developing and presenting all aspects of ATI's coaching and training programs. In 2006, he became head of ATI's member fulfillment department, overseeing all ATI coaches and related administrative staff. In 2019, he took on the role of VP of Product and Content Development, an area of expertise that he excels in.
Key Talking Points
Four words of death – "I don't have time"

.

Don't have time to focus on the things that create market value.

Where does the sale price derive from-

The profitability of the business, the owners take home money, times a multiplier of 2 or 3, is what automotive repair shops are selling for. 

N.O.P. (Bottom line and owner's salary (expensed) if not part of production) + Interest expense + Depreciation + Amortization + Toys + One Time Expenses + Discretionary N.O.P. = Owners Cash. (Average of last 3 years) Multiply times 2.5 (?) = Sale Price

Get the shop ready for an exit (planned or unplanned)- considering hiring a coach during the process and transition. The coach is your insurance and holds the owner accountable. Build a model you can duplicate so someone other than the owner can run. Could your business survive 60 days without you? Train others so the business isn't dependent on the owner. Develop a second in command. Get systems and processes documented.

What is goodwill? Once the sale price has been determined that number is broken down into assets and goodwill to determine who, and how much, is paying taxes. Sale price, minus assets, equal goodwill.

What does walk away money look like- Selling Price (100%) Broker/attorney (10%) Debt (10%)

Taxes (20%)

=  Walk Away (60%)

Owning property- using it as a retirement plan. Could sell the business and become the landlord for recurring retirement income. If you want to sell the property it should be two different transactions. 

Get the owner ready- what's next for them? What do they need for retirement? How many years are planned for retirement? Is your family ready? What are their expectations?

Get shop ready for the market: Financially-Maximize Owner's CASH (Clean P&L), Drive Sales, Gross Profits Dollars and NET Dollars, 3 Years' worth of Financial Data to PROVE IT. Operationally- Crew and Culture, Process Book/Operations Manual, Software and Equipment
Thanks to Bryan Stasch for his contribution to the aftermarket's premier podcast.
Link to the 'BOOKS' page, highlighting all books discussed in the podcast library HERE. Leaders are readers.
Listen for free on Apple Podcasts, Google Podcasts, Spreaker, iHeart Radio, Spotify, Podchaser, and many more. Mobile Listening APP's HERE
Find every podcast episode HERE.
Every episode is segmented by Series HERE.
Key Word Search HERE.
Be socially involved and in touch with the show:
Facebook   Twitter  LinkedIn   Instagram  Youtube   Email  
Join the Ecosystem – Subscribe to the INSIDER NEWSLETTER HERE.

As a member of the NAPA family, AutoCare Center owners can take advantage of the NAPA National Health Program from the NAPA Insurance Center. This "NAPA only" program gives you and your employees access to national "large group" rates on medical insurance with premiums discounted up to 30 percent. These rates are based on the collective purchasing potential of 22,500 NAPA locations including both NAPA AUTO PARTS stores and NAPA AutoCare Centers.
The NAPA Insurance Center can help you with a variety of other insurance benefits too. For more information about The NAPA National Health Benefits program as well as all of the insurance benefits available to your AutoCare Center and your employees, visit the NAPA Benefits Center, at www.napabenefitscenter.com or call the NAPA Benefits Center at 844-627-2123.


https://aftermarketradionetwork.com