Profit Strategies with Natalie Paris [RR 679]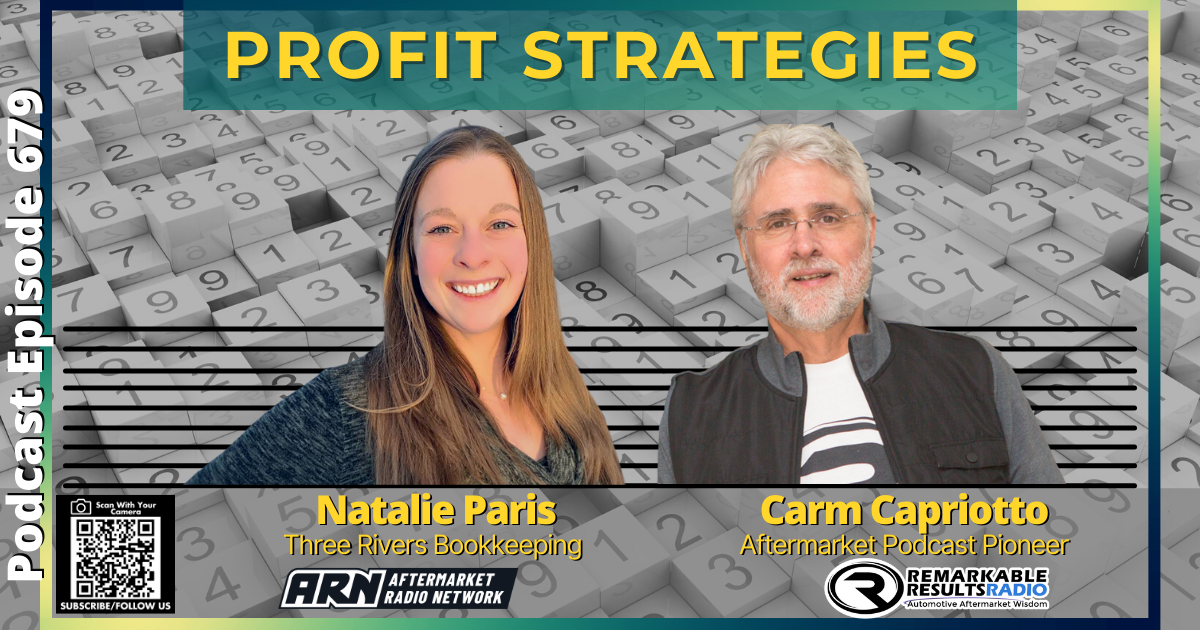 Natalie Paris, Three Rivers Bookkeeping, is a Profit Strategist that serves the automotive aftermarket. She's a numbers person and a planner. She uses her bookkeeping and profit strategy superpowers to help business owners achieve financial security and success. Her first job in the aftermarket auto world was Outside Sales at NAPA Auto parts which transitioned into a service management position at one of the local shops in Frisco, Colorado. She realized right away that she had a particular knack for the numbers surrounding aftermarket parts and service. She then discovered a niche that she could be most effective in as a bookkeeper and profit strategist, and next, Three Rivers Bookkeeping was born.
Her services don't stop at the shop door, after all everyone's business is a part of their life. She finds great joy in helping her clients create a clear road map to business growth AND personal financial peace of mind. She is more than just a bookkeeper. When not performing mathematical wizardry, you'll find her enjoying the Alaskan outdoors with her dog Bailey and close friends or serving on the Talkeetna Fire Department.
Key Talking Points
Virtual bookkeeping- software is accessed virtually, receipt management via email/scanner/text

CPA/Business Coach/Bookkeeper- "Where the magic happens." The bookkeeper gets financial reports ready and organized to pass along to the CPA and has communication with the business owner and coach on weekly/monthly reports. Are there variables that are affecting your bottom line? Is it your culture? Is it an employee?

Know the breakeven point- know how much money you need to generate to pay the expenses. Two types of expenses – fixed and variable. Fixed expenses – constant every month like rent and mortgage. Variable – vary from month to month but are usually fairly predictable, parts cost, labor cost. Know all the expenses, including what to pay the owner.  Example: Shop A has expenses of around $50k per month. we know parts/labor needs to be around 50/50, so we know we need to sell 25k in parts and 25k in labor.

Do you make a profit on parts and labor? Parts profit needs to be parts 50% markup. Labor profit needs to be labor rate/labor costs at 70%.

Review the cash flow- #1 killer of any business. What is happening to my cash, where is it going? Why isn't it all on the P&L? The statement of cash flows brings those two reports together and shows how much is coming and how much is going out. Net change in cash- if it's negative then the business is spending more cash than what it's bringing in

Have a cash reserve- equipment breaks, sales dip, employees need to be hired, natural disasters. How many months should a shop have? 3-6 months
Connect with the show:
Check out today's partners:

NAPA AutoCare's PROimage program makes it easy for you to make the most of the NAPA brand. A PROimage upgrade lets you maintain your shop's identity as a reliable, locally-owned business while letting your customers and potential customers know you're partnering with NAPA, the most recognized and trusted name in the automotive aftermarket. AutoCare Centers that have completed a PROimage exterior upgrade enjoy an average 23 percent sales increase during the first year. You can also choose to go PROimage on the interior and transform your customer waiting area from merely utilitarian to warm and welcoming. You can even get a free look by visting www.NAPAAutoCare.com and clicking on the NAPA PROimage link under the NAPA PROimage tab. Of course, the AutoCare site is also the place to go to find out about all the advantages being part of the NAPA family has to offer.


https://aftermarketradionetwork.com