The Courage to Make Tough Decisions [THA 243]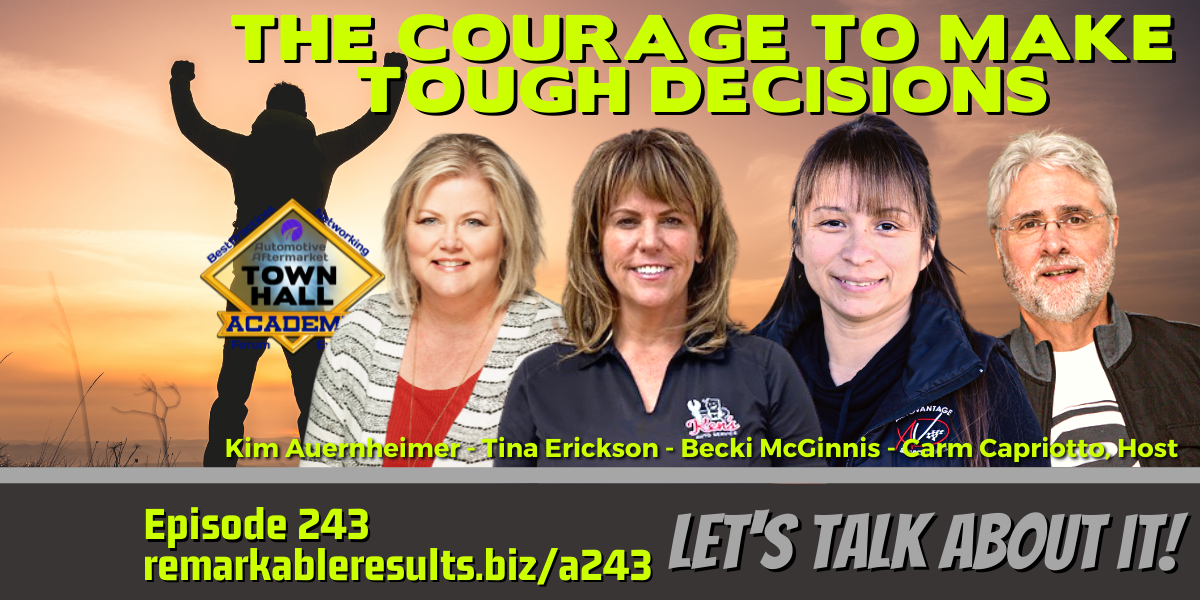 Kim Auernheimer, CS Automotive, Brentwood, TN.Kim Auernheimer, AAM is the Co-Owner & Business Manager of CS Automotive in Brentwood, Tennessee. CS Automotive was opened in October of 2006 in the back of a warehouse and now they call a 6,400 square foot, 10-bay shop home. Prior to joining her husband Rob in the business on a full-time basis, Kim had a career in Commercial Real Estate and Property Management. In July of 2011, she stepped out from the background of the business and joined her husband in the venture of creating an industry-leading standout. Kim continuously seeks out training for her and her entire team and put the teachings to use. Her belief in industry education has been a large influence on how much success and growth they have had over the last few years. She has a passion to improve the reputation of the Automotive Repair industry working alongside other shop owners and industry leaders to improve the overall experience of the customer from the moment they make that first call to the shop until they drive their car off the lot instilling transparency and developing trust during the entire process. In 2017, she obtained her Accredited Automotive Manager (AAM) designation. This is a result of 120-credit hours of coursework in several core competencies including leadership, marketing, customer relations, accounting, and several other areas of automotive repair business management.
Listen to Kim's Episodes HERE.
Becki McGinnis, Autovantage Service Center, Auburn, CA. Becki is the Co-owner of Autovantage Service Center. Autovantage Service Center opened in June of 2008 in a 3,000 sq foot space.  In April 2018 they were able to purchase and moved the business into an 11,000 sq foot building.  Currently, they have 2 Service Advisors, a Customer Care Coordinator, Lot Porter & 4 Technicians.  Last year (2020) their sales were at $1.3 Million and this year (2021) they are on track to hit $1.6 Million.  Becki's current role is as an active supporting member in the office while also performing all of the back-office needs. Finding a balance between work and personal life has been a struggle.  Becki's greatest joys in life are being married to Bryan for the past 24 years and raising three amazing kids.  This is why she is planning to take on the world to offer them more than she had as a child.  Since joining Shop Fix Academy Pro Group last July she has never felt as empowered as before and is ready to be of service to other women in this industry.
Tina Erickson, Ken's Auto Service, Aurora, CO. In 1993 Tina's mom and stepdad purchased a Napa Auto Care branded 14 bay shop in Sheridan, Colorado. In August 1998 she met and later married their Master Technician and shop manager Ken Erickson. In May 2002 Tina and Ken rented their first shop in an industrial area nearby. They grew rapidly into 8 bays, with 3 techs. She helped with the marketing and bookkeeping while being a mom and still working as a dental assistant and later practice manager. On October 22, 2012 Ken was diagnosed with kidney cancer and passed away in Feb. 2014. Tina left her career as a dental assistant to become the sole owner of Ken's Auto Service. She later joined the Napa Business Development Group for Denver. Tina is on the Advisory Board for Automotive Repair and Career Mentoring at the Pickens Technician College in Aurora, CO.
Key Talking Points
Growth takes change.  Without growth, you will become stagnant and in this era of the aftermarket, probably die. 

Kim Auernheimer- changing point of sale system. Things to ask yourself: Is it the right decision for business for you and/or your staff? Is it the right time? (It will never be the right time) How do you know when you definitely have all the information to make the right decision? Or do you just take the leap without even looking? Get buy-in from employees. It won't be perfect, there will be continual transition periods. 

Becki McGinnis- About a  month ago she finally pulled the trigger and moved out of the daily whirlwind of the business and moved upstairs to an office that is not involved with the dailies to focus on working on the business and not in it. She had been talking about moving to this office for the past 3 1/2 years but was too scared of what would happen if I wasn't part of the dailies. Started relying on the employees on doing what they were hired to do. Refocus mindset to take care of employees and the employees take care of the customers. 

Tina Erickson- left her career in the dental field, married a technician and they decided to start their own shop. Her husband Ken was diagnosed with kidney cancer. Tina made the decision to run the shop. Fear will drive you to do incredible things. She is now down to working in the shop 2 days a week. Having policies/systems and procedures in place for employees. Reached out to a coaching company that pushed her forward.

Trust your employees- understanding everyone is different and no one will be "you." Your employees will step up once you allow it. 

Fear of "losing who you are" when you change paths and careers- you are growing, not losing. "Hard conversations make an easy life." Rely on the support of mentors and network of friends and colleagues. 

Courage- to try and change. Be open-minded and push forward. Remember the cowardly lion wanted to change. Have faith and believe in yourself.
Connect with the show:
Check out today's partners:

This episode is brought to you by Shop-Ware Shop Management. It's time to run your business at its fullest potential with the industry's leading technology. Shop-Ware Shop Management will increase your efficiency with lightning-fast workflows, help your staff capture more sales every day, and create very happy customers who promote your business. Shops running Shop-Ware have More Time and generate More Profit—join them! Schedule a free live demonstration and find out how 30 minutes can transform your shop at getshopware.com

Are you seeing auto shops in your area get hundreds of 5-star Google reviews and are you feeling left behind because your shop only has a few?
Hey look, Broadly is your answer to getting more online reviews. With more reviews, your business will rank higher in search results — and that means more customers coming into your shop every day.
Broadly helps you automatically request reviews so that your customers can promote your business with just one click.
When you immediately ask for a review after service, when the experience is still fresh in their mind, you're more likely to get a 5-star positive review.
Plus, asking for feedback makes your customer feel valued and more connected to your business. Isn't that what you want a connected customer? See how Broadly can help grow your auto shop.  Visit www.getbroadly.com/chat to learn more.