Catching Up With Your Mentor [RR 680]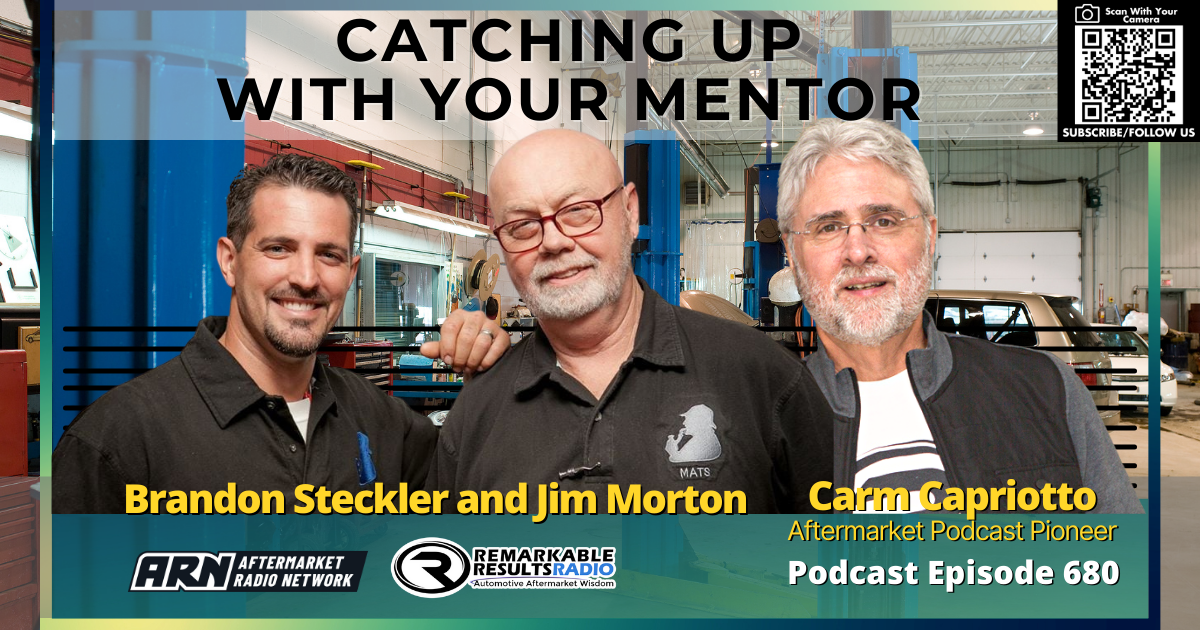 Jim Morton has recently retired as an Advanced Engine Performance instructor at Automotive Training Center in Exton and Warminster, PA. He and his wife Mary own and operate Morton's Automotive Technical Services (MATS), which offers training for working technicians. Jim was selected by Import Service Magazine as one of the top independent trainers. With more than 45 years in the industry as a technician, shop owner and trainer, Morton has been a requested presenter at National Training expos around the country including NACAT, CARS, TST Big Event, VISION KC and ASA. Jim has written diagnostic procedure articles for MotorAge, Import Service and ASA Auto Inc magazines.
Listen to Jim's previous episodes HERE
Brandon Steckler began his career in Northampton County Community College in Bethlehem, PA. There, he was a student of GM's Automotive Service Educational program. In 2001, he graduated top of his class and earned the GM Leadership award for his efforts. He later began working as a technician at a Saturn dealership in Reading, PA where he quickly attained Master Technician status. He later transitioned to working with Hondas where he aggressively worked to attain another Master Technician status. Always having a passion for a full understanding of system/component functionality, he rapidly earned a reputation for deciphering strange failures at an efficient pace and became known as an information specialist amongst the staff and peers at the dealership. In search of new challenges, he once again transitioned away from the dealership and to the independent world, where he specializes in diagnostics and drivability. Today, he is a working technician at a large facility near the NE side of Philadelphia, PA. Along with beta testing for Automotive Test Solutions, he writes for MotorAGE Magazine, teaches for CARQUEST Technical Institute as well as WORLDPAC, INC. and develops curriculum/submits case studies for other training companies. Brandon contributes weekly to Facebook Automotive Chat groups and truly enjoys helping others to attain a level of understanding that will serve them well throughout their careers.
Listen to Brandon's previous episodes HERE
Key Talking Points
Being a lifelong mentor- you can't mentor something you don't know. Answer questions with more questions as a mentor. Guide, don't push.   

Let your ego go- ask for help, no one knows everything 

Know the basics as a diagnostician- common sense and foundation should be 85% and the last 15% you should know where to find it.

Developing mentees- looking inside industry and outside of the industry. Excite the individuals that have a passion for electronics and programming. Teach at a deeper level besides just passing tests. Retention is key. Case studies- live examples 

Are you finding the problem or the effect of the problem?

Being a mentor/teacher- showing what worked for you 

Know your opponent- stop every 5 minutes and ask yourself if you are further along than you were 5 minutes ago  

Proper interview with the customer
Connect with the show:
Check out today's partners:

This episode is brought to you by AAPEX, the Automotive Aftermarket Products Expo. AAPEX represents the $740 billion global automotive aftermarket industry and has everything you need to stay ahead of the curve.  The Virtual AAPEX Experience 2020 is in the record books. Virtual AAPEX lived up to presenting leading-technical and business management training from some of the industry's best and brightest. Now set your sights on the homecoming in Las Vegas in 2021. Mark your calendar now … November 2-4, 2021, AAPEX // Now more than ever.

This episode is brought to you by Shop-Ware Shop Management. It's time to run your business at its fullest potential with the industry's leading technology. Shop-Ware Shop Management will increase your efficiency with lightning-fast workflows, help your staff capture more sales every day, and create very happy customers who promote your business. Shops running Shop-Ware have More Time and generate More Profit—join them! Schedule a free live demonstration and find out how 30 minutes can transform your shop at getshopware.com/carm