Growing Pains When Scaling Your Business [RR 683]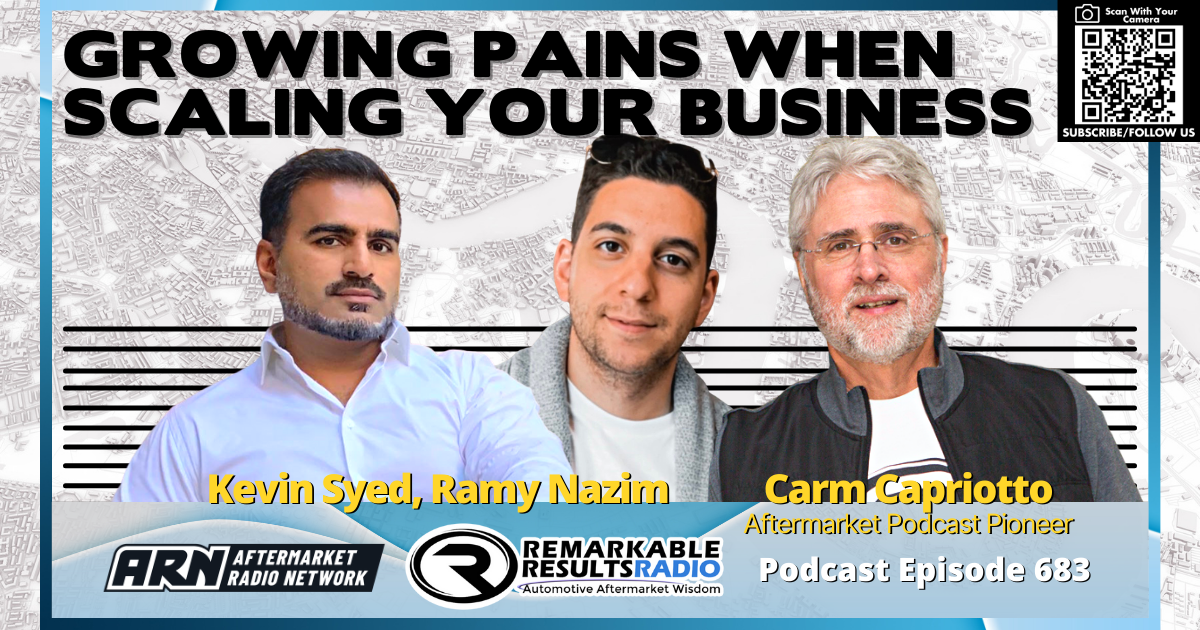 Kevin Syed, Owner of Integrity 1st Automotive, grew up with an entrepreneurial father and was always encouraged to lead. Having successfully earned a Bachelor's degree in Business Management from University at Buffalo, Kevin went on to become a franchisee with Getty Petroleum / British Petroleum service centers for the better part of a decade in New York City. After gaining the knowledge, experience, and funding required to produce his own operation, Kevin went on to operate his own independent shops in New York. Kevin sought to find a new place to call home with his wife and twin girls; he longed for the community values and environment of the South and so his family made the decision to move to Texas. Integrity 1st Automotive was then born in Texas and Kevin has scaled his business to multiple locations across the Dallas Fort-Worth Metroplex. When he's not working, Kevin enjoys local car rallies (e.g. Lamborghini Club Dallas), traveling, and hunting.
Ramy Nazim, Director of Integrity 1st Automotive, graduated from the University of Toronto in 2014 with a HBSc. in Biology & Psychology. While he continues to have an affinity for academia and the life sciences; he found his technical prowess to be of vast usage in the working world. Post-graduation, he went on to work with a local software startup specializing in real estate marketing tools. The startup experience allowed Ramy to engage with virtually every facet and department of the business. Insofar as the automotive repair industry, Ramy works to leverage technological solutions to help increase operational efficiency, develop automations, create event-driven communication flows and more! When he's not working, Ramy enjoys traveling with his wife, cooking with the help of Youtube tutorials, and reading about science and history.
Key Talking Points
Put it in writing- a discussion on the importance of standard operating procedures, processes, training paradigms in order to scale the business to multi-locations. Put the system into place. 

Is it auditable? Having things written is one thing – but how are you tracking compliance? Every process should have a check and balance behind it- quality assurance on whether it is being done. Area Manager (or yourself as an owner) with a preset checklist or leverage technology (software management system).

Prioritizing- If you are ambitious on growth, then you've likely got a laundry list of goals and tasks; some are working ON the business and some are working IN the business. Develop a methodology of prioritization- tie your task to a specific KIP, goal or ROI. Eliminates redundancy. Be open to change.  

Incentivized Extraordinary Performance- empower and develop your employees. Incentives that promote entrepreneurial thinking work the best. Profit-sharing- share part of profits with managers/lead technicians and share P & L. Being transparent. 

Keep your eyes on Customer Churn- We are in the people's business, one of the most important KPI's to focus on whether one shop or multi shops is to know how many customers are churning from your business annually. (SAS- software as a service). Track weekly/monthly/quarterly/annually- how much of car count is return vs net new customers. Touchpoints for every life cycle of a customer's vehicle. Remarket and reengage with customers. Churn is inevitable but control it as much as possible. 

Automation- there are only so many hours in the day; with compartmentalized thinking and technology, you can get more out of each day by offloading redundant tasks to technology without one size fits all solutions. 

The Customer Experience- we know that it's all about the little things when it comes to curating a memorable experience. That being said, how do you make sure the little things are being followed when you're not there?

Your model should work for ANYONE- If you build scalable models, then you can confidently scale to prospective franchisees and feel confident that your customers will
Connect with the show:
Check out today's partners:

Since 1989 TRACS has been the industry's leading shop management system. And in the last 30 years it's gotten better and better. Today TRACS Enterprise offers even more of the features AutoCare Center owners want—things like a powerful interactive scheduling calendar, faster and streamlined work flow, plus streamlined parts ordering and purchasing options. And there's more—Punch-out to Mitchell ProDemand, mobile VIN capture, and multi-shop capabilities. That means you can count on TRACS Enterprise to help drive your success today and well into the future. Learn more about TRACS Enterprise and the hundreds of other benefits the NAPA family has to offer. Talk with your servicing NAPA store or visit www.NAPAAutoCare.com.