Service Advisor Role Play #6 [THA 245]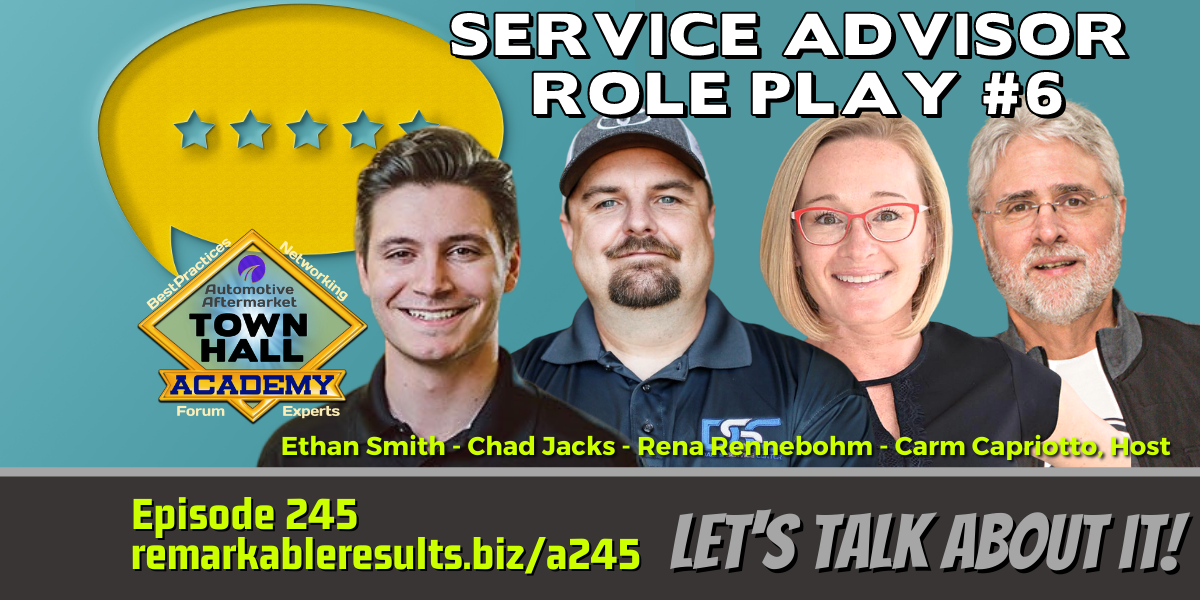 Ethan Smith, Service Advisor, Casey Automotive, Chantilly and Sterling, VA
Chad Jacks, Service Advisor, Dale's Service Center, Davenport, IA
Rena Rennebohm, CEO and Creator of Empowered Advisor. With over 20 years of experience in the automotive industry, Rena has always had a passion for helping people. As a Service Advisor, she found every way possible to improve and utilize her skills. Implementing new techniques with basic fundamentals gave Rena the ability to become one of the most sought after Trainers and Coaches in our field. Dedicating her time training Service Advisors with one-on-one calls, webinars, and classes is what she lives for. With high energy and understanding, rapid and continued improvement has been shown across the board from her clients.
Listen to Rena's previous episodes HERE.
Key Talking Points
Role Play 1: Need a Transmission
Ethan: Customer- Wants price, the vehicle doesn't drive well, doesn't feel confident from phone conversation
Chad: Service Advisor- Distracted, asked to repeat the question, unenthusiastic, gives price for just transmission and when appt is, "maybe 6K"
Rena: Coach- 3 steps price shopper- get to know the customer, what are symptoms of car, offer inspection. Giving only price gives customers something to compare.
Redo
Ethan: Customer- He did research online and thinks its a transmission
Chad: Service Advisor- Greets customer with his name, asks his name and phone number, asks about the vehicle, asks if the vehicle has ever been to the shop, explains what they would do to the vehicle once it is brought in, testing price, explains shop amenities and warranties, asks about an appointment, offers rental ride/shuttle
Rena: Coach- Vehicle is vetted, it has been maintained, converting good customer to shop
Role Play 2: Check engine light is on
Chad: Customer- Asks about price, looked online at pricing for parts
Ethan: Service Advisor- Asks what car, if codes have been pulled, hasn't asked name, throwing different parts names out, $150-170 for repair
Rena: Coach- Customer is probably frustrated, was told no, hasn't received help, become a little grumpy, vehicle coming into the shop is the priority before giving price, every phone call is opportunity
Redo
Chad: Customer- Will the car be ready that day? The car pulls to the left when driving, asks about drop off/night pick up
Ethan: Service Advisor- Asks for customer's name/phone number, "sorry this is happening," "so happy you called," asks if the car has been to shop, thanks the customer for giving him the opportunity, asks if the car has been worked on, what is make/model, explains difficulties with check engine light, mentions certified technician, asks what time/day would work, test drive with the customer
Rena: Coach- Express empathy, don't use acronyms, have great tone
Role Play 3: Tune-up
Ethan: Customer- Asks what parts will the shop be using? What different services?
Chad: Service Advisor- Unenthusiastic, gives price, "stuff to dump in the tank," didn't ask for name, "I can check it if you want"
Rena: Coach- Secret shop local businesses, more common than not, you can't flip a switch to be professional, you need business culture, training, mentoring
Redo
Ethan: Customer- Asks what a tune-up entails, asks costs
Chad: Service Advisor- Gives name, asks name and phone number, asks how he found the shop, shows interest in-vehicle, explains details of service, build estimate, explains warranty, offers loaner car
Rena: Coach- "My customer's love it" go with the customer without arguing, ask about symptoms, don't tell customers they don't need something
Connect with the show:
Check out today's partners:

This episode is brought to you by Shop-Ware Shop Management. It's time to run your business at its fullest potential with the industry's leading technology. Shop-Ware Shop Management will increase your efficiency with lightning-fast workflows, help your staff capture more sales every day, and create very happy customers who promote your business. Shops running Shop-Ware have More Time and generate More Profit—join them! Schedule a free live demonstration and find out how 30 minutes can transform your shop at getshopware.com

Are you seeing auto shops in your area get hundreds of 5-star Google reviews and are you feeling left behind because your shop only has a few?
Hey look, Broadly is your answer to getting more online reviews. With more reviews, your business will rank higher in search results — and that means more customers coming into your shop every day.
Broadly helps you automatically request reviews so that your customers can promote your business with just one click. When you immediately ask for a review after service, when the experience is still fresh in their mind, you're more likely to get a 5-star positive review. Plus, asking for feedback makes your customer feel valued and more connected to your business. Isn't that what you want a connected customer? See how Broadly can help grow your auto shop.  Visit www.getbroadly.com/chat to learn more.