Creating Lifetime Customers – Brittany Schindler [RR 684]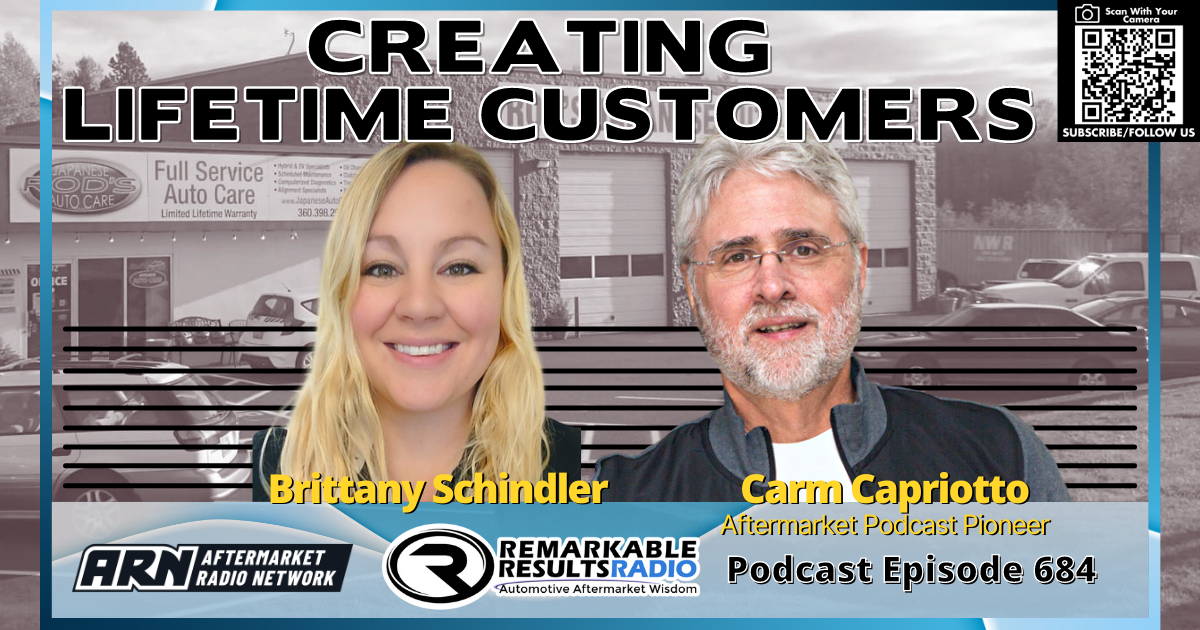 Brittany Schindler, GM of her father's shop in Rod's Japanese Auto Care in Bellingham, WA for over 10 years. She loves working at the shop and being able to help people every day. Brittany has learned so much over the years by going to classes with great trainers and having a great business coach. One of her main focuses is to raise the standard of the automotive service and repair industry.
Listen to Brittany's previous episodes HERE
Key Talking Points
No prices over the phone- This can be challenging at first. Giving prices can be wrong or misleading depending on the vehicle. Instead explain why prices can vary, ask them to come in first, explain warranty, DVI's, rental cars, etc. Vet the customer- are they looking for the cheapest price? Not every customer is right for your business.
Performing the best digital inspections so your customers don't have to google anything and be consistent. Continue to simplify the writing so someone who doesn't know anything about cars can understand and learn about their vehicle. Add "what happens if you don't do XYZ" Write and edit inspections/customer reviews with your whole team for team buy-in.
Getting customers to fix their "old" cars- list pros and cons of getting new/used cars. Make the investment and let them know the vehicle will be maintained properly, the laundry list won't grow and be behind.
Selling Maintenance- oil changes, fluid changes etc. It is an easy win once everyone has to buy in for selling maintenance. Educate customers on why fluid changes are important. Cheaper to change fluid than change apart
Making customers feel confident about repairs- texting DVI, lifetime warranty, "what to expect" card at dropoffs
Connect with the show:
Check out today's partners:

This episode is brought to you by AAPEX, the Automotive Aftermarket Products Expo. AAPEX represents the $740 billion global automotive aftermarket industry and has everything you need to stay ahead of the curve.  The Virtual AAPEX Experience 2020 is in the record books. Virtual AAPEX lived up to presenting leading-technical and business management training from some of the industry's best and brightest. Now set your sights on the homecoming in Las Vegas in 2021. Mark your calendar now … November 2-4, 2021, AAPEX // Now more than ever.

This episode is brought to you by Shop-Ware Shop Management. It's time to run your business at its fullest potential with the industry's leading technology. Shop-Ware Shop Management will increase your efficiency with lightning-fast workflows, help your staff capture more sales every day, and create very happy customers who promote your business. Shops running Shop-Ware have More Time and generate More Profit—join them! Schedule a free live demonstration and find out how 30 minutes can transform your shop at getshopware.com/carm