We Are Signal Intelligence Specialists – Gary Smith [RR 685]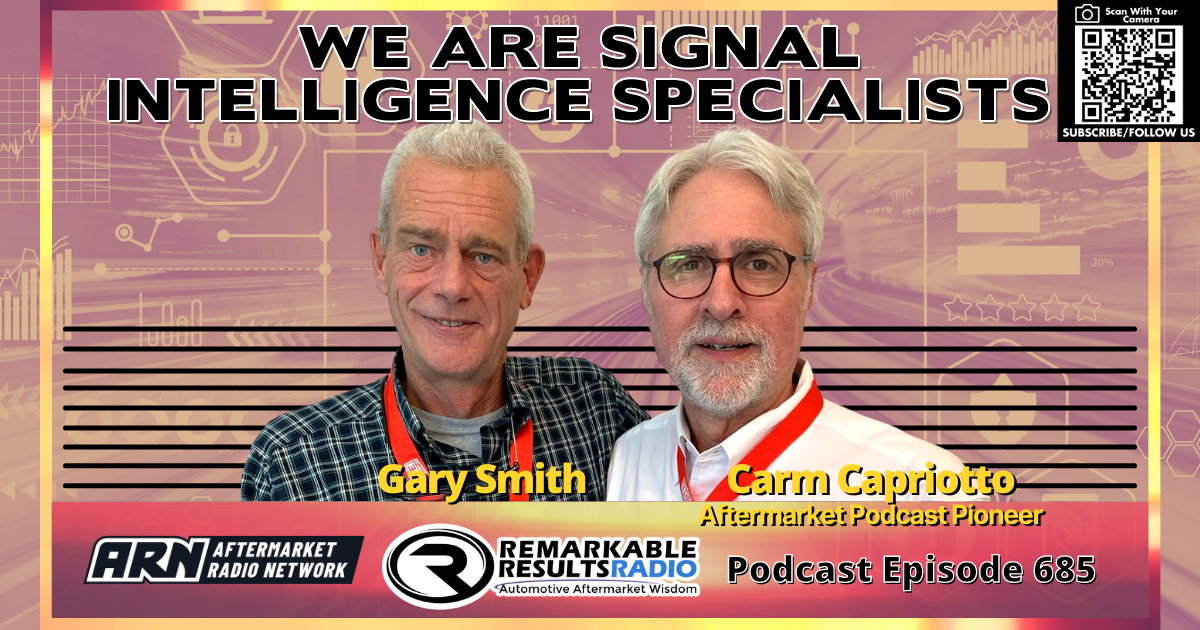 Gary Smith started in the car business in 1979 and never looked back. Throughout a 25 plus year career with new car dealerships and OEMs, he was blessed to have experienced all fixed operations positions, having been a Certified ASE and GM Master Technician, Shop Foreman, Service Advisor, Parts & Service Manager and Fixed Ops Director over many years for Cadillac/Oldsmobile, Mercedes, VW and Chevrolet stores. Gary worked as a technical field engineer and warranty audit consultant to OEMs and dealership groups in the late 80s and 90s, this experience uniquely positioned Gary to form GSS Enterprises, Inc. in 2000. Gary specializes in teaching advanced diagnostic techniques and methodology; including physical testing (Lab Scopes, Pressure Transducer, Scan Data and 5-Gas Analysis), signal acquisition & analysis, fuel and lubrication technology as well as vehicle communications data bus diagnostics. Gary teaches technical and management classes and his www.automastertraining.com hotline currently supports technicians with on-car remote technical assistance in 8 Metro markets. Gary also teaches "Train the Trainer" sessions for schools and college automotive programs.
Listen to Gary's previous episodes HERE
Key Talking Points
"Diagnosing difficult deposit related drivability concerns" Carbon build-up affecting engine 

Cars are what they eat- drivability problems/check engine lights  

Diag Nation- remote support line, single call or membership base. Remote in and take control, guide technician through the repair.  

"Technology is exceeding the human's brain ability to absorb it."

Basic electricity laws is a critical foundation for correct interpretation 

The definition of a new, desperately needed class of technician; The Automotive SIGINT (signal intelligence) Specialist. COMMINT (communication intelligence) understanding the network, MASSINT (measurement and signature) measure circuit and signatures of signals, IMINT (image intelligence) circuit description and operation, wiring diagrams, HUMINT (human intelligence) service advisor, technician, owner. MECCINT (mechanical intelligence). Process for productive and accurate diagnosis. 

gsmith@diagnation.com
Connect with the show:
Check out today's partners:

Gold Certification recognizes top tier NAPA AutoCares with a high level of participation in the AutoCare program. The program was built by AutoCare Centers for AutoCare Centers to provide a consistent consumer experience, maximize technology leverage, and reward NAPA's most committed partners. In other words, Gold Certified AutoCare Centers are the standard bearers for the AutoCare brand nationwide. Simply put, the Gold Certified NAPA AutoCare program, powered by your local shop brand, will separate you from the rest helping you boost your bay counts and your average repair orders.
Learn more about NAPA AutoCare, Gold Certification, and the hundreds of other benefits the NAPA family has to offer by talking with your servicing NAPA store or visiting www.NAPAAutoCare.com.